More of the 1998 Bunny Clark Guestletter
January 15, 1998
| | | | |
| --- | --- | --- | --- |
| NAME (STATE) | FISH/POUNDS | LENGTH | TRIP |
| | | | |
| --- | --- | --- | --- |
| Steve Haisley (VT) | Cusk-17 | 35.5-20 | 9-5-97 |
| Nick Galiette (CT) | Cusk-15 | 33-11.5 | 8-15-97 |
| Paul Revels (NH) | Cusk-14.5 | 32.5-19 | 9-16-97 |
| Frank Larue (NH) | Cusk-13.5 | | 9-16-97 |
| Dan Bolduc (NH) | Cusk-12.75 | 32.25-17 | 9-16-97 |
| | | | |
| --- | --- | --- | --- |
| Lester Paul (ME) | Cod-51.5 | 49 X 32 | 11-3-97 |
| Al Turner (NY) | Cod-44 | 47 X 27 | 9-24-97 |
| Dave Bistany (MA/NH) | Cod-41 | 48 X 27 | 10-7-97 |
| Ron Krause (NH) | Cod-40.25 | 43 X 28 | 9-22-97 |
| Jim Mailea (MA) | Cod-40 | 49.75 | 7-21-97 |
Lester Paulís 51.5 pound cod was a special surprise when it was caught on November 3rd. I wasnít sure if we were going to see a whale cod last season. I was getting prepared to tell everyone that 1997 was the first season where we didnít land a cod over 50 pounds. Of course, Les changed all that, thank you very much. Don Johnsonís 38 pound pollock was his personal largest pollock and the largest pollock we have seen for two seasons. Don had the most trophy fish for an angler on a single trip with four pollock over 21 pounds on September 22, 1997. Mike LaBrecque (MA) landed the most trophy haddock for a trip with two fish on the last day of the season, an 8.5 pound haddock and a 7 pound haddock. Lyle Chernoffís 10-pound haddock ties with Jim Budnessí 10 pound haddock of the 1996 season and remains the largest haddock caught on the Bunny Clark during the last three seasons. Mike Polacinskiís and Ron Bachandís halibut were the only halibut the Bunny Clark has seen for five seasons. Both halibut were released alive. April Blissí banana cusk caught with Captain JD is the only cusk of its type that has ever been caught on the Bunny Clark. I caught one during the winter of 1978 on my previous boat, the F/V Mary E, but that was the only other one I have ever seen. Both fish were bright yellow in color with a few black spots throughout the body. The photo of the fish with April made a colorful picture on the Bunny Clark web site.
Jim Mailea fished with me a few times last season. Later in the season, when the larger cod and pollock have filtered into the coastal areas of New England, Jim likes to fish for these fish with light line. Last year was no exception. Jim fished with 12-pound test line on the four-hour half-day trip of July 21 with Captain Howard Cutler, the eve of the ultra-marathon trip, and landed, what was at that time, the largest cod of the season, a 40 pound fish. On the ultra-marathon, Jim caught the largest fish of the trip, a 38.5 pound cod, while using 12 pound test. I might add that the second largest fish on the ultra was a cod of 31 pounds caught by Mark Williams (CT) using 50 pound test line. The second largest fish caught during the evening trip the day before was a cod of 4.5 pounds! Jim currently holds the IGFA all tackle haddock world record with a fish of about 12 pounds, the Maine State haddock record and the IGFA menís 16 pound test cod world record with a fish of 63 pounds 14 ounces. Both fish were caught on the Bunny Clark.
Three anglers were noted for their haddock catches this season. John Hamilton (NY) caught the most legal haddock for an angler during a single trip with 15 fish over 21 inches on September 26, 1997. Dr. James Bricca (NY) caught the second most for a trip on September 9, 1997 with 12 keeper haddock. Fred Kunz (NH) caught 11 keeper haddock on October 6, 1997 for the third most haddock landed by an angler during one trip. Ability and opportunity seem to be the most prevalent factors for subscription into this category.
We had some nice sized wolffish this season. Although none were exceptionally big, we did land one over 20 pounds; Paul Weedenís fish caught on the September 8, 1997 full day trip. Jim Feeney (MA) and Ralph DeGeorgia (NY) tied for most wolffish caught on a single trip with 3 fish each. Jim Feeney, Bob Lo (PQ) and Tim Williams (CT) were some of a handful of anglers who caught 2 wolffish during a single trip. There were no individual big trips of wolffish as in previous years.
Before I end this Guestletter, I want to cite those anglers and experiences of note that deserve an honorable mention for their uniqueness and/or fishing prowess during the 1997 season. I realize that this is a value judgment on my part but I believe that my conclusions are recognized as a popular opinion among my crew and fishing guests and are based on many fishing trips. These special anglers and incidents are as follows: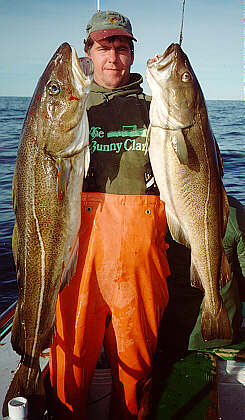 Fisherman Of The Year (FY-í97):. I developed this category a few years ago based on a point system for my regular fishermen in order to make the Bunny Clark fishing experience more enjoyable. To be included in the competition, an angler has to have fished on the Bunny Clark for at least 10 trips during a season. It is possible to win with only 10 accumulated trips. In other years, most successes (points) fell to one obvious choice. This year, six anglers were within a couple points of one another. Those anglers were Dave Gray (CT), Frank Larue (NH), Linda Paul (ME), Tim Williams (CT), Fred Kunz (NH) and Jim Feeney (MA). Jim Feeney was the best angler for the 1997 season (See the photo of Jim, right, taken on the October 26, 1997 day trip. He is holding his 31 pound cod, left, and his 22 pound cod which he caught while fishing in the pulpit) with Fred Kunz just behind him in second place. Jim was the most consistent in the high hook category per trip, had the second most trophy fish for the season, and the uncanny knack to pick the best place on the boat to fish on a given day. Jim is one of a handful of individuals who fish with me on a regular basis where luck and timing are the only things that determine their status on a given day. His ability, determination, good humor, attitude and good luck made Jim number one in 1997.
Female Angler Of The Year. As difficult as "FY-Ď97" was to determine, "FAY-Ď97" was probably the easiest category to fill for 1997 season. Linda Paul fit into this position like daylight fills every morning. There was no one even close. If her husband, Les hadnít caught the largest fish of the year, caught so many fish and won so many boat pools (displacement of points), she might have been "FY-í97" (as she was in the 1990 fishing season) instead. Linda landed four trophy fish, one potential world record, landed the most legal fish on several occasions and won pools on and off all season. She is just an excellent fisherman, always one of the best.
Best Bait Fisherman. Fran Szenda (MA) blew away the competition in this category. Fran caught the most fish on every trip he attended in 1997 except one. On that one occasion, he caught 40 legal fish instead of the 41, which was high hook on that particular day. It wasnít that he had any special fishing pole, he always used a Bunny Clark boat rod. He just had that special touch. If Fran hadnít sailed with me last season, I would have had a hard time choosing between 10 fisherman to come up with an angler to fill this position.
Most Trophies. Frank Larue landed the most trophy fish with a count of seven, Jim Feeney was second with six trophy fish and Bernie Gage (VT), Dave Gray and Don Johnson tied for third place with five trophy fish each.
Most Pools (largest fish of the trip):.Jim Tulippe (CT) landed the most pools (largest fish of a trip) five times. Bob Chick (NH) won four pools out of the five trips he attended.
Most Improved Angler. Red Dog (MA) was the most improved angler last season. During the 1996 season, he occasionally had a good trip. During the 1997 season, I had to add his name to the FY-í97 points chart because he was doing so well.
Most Dependable Angler. Dennis Grabauskas (CT) fits this category to a "T". You can always rely on Dennis to catch the lionís share of the fish if I can put the boat over them. You can also bank on the fact that he will sing the same top 40 oldies from 1960s over and over again!
Most Unusual Catch. We had two unusual catches of note last season. The first, on the June 9, 1997 marathon trip, occurred when Ray Lavoie (CT) hooked two fish at once, an 11 pound cod on the high hook (cod fly) and a 33.5 pound cod on the jig. Somewhere between the bottom and the boat, the larger fish broke off allowing Ray to land only the smaller cod. A couple minutes later, Tony Bushway (VT) landed a 33.5 pound cod with Rayís jig in its mouth. The left over line and jig had gotten fouled in Tonyís jig. They shared the fillets but the pool went to a smaller fish that day. The second unusual catch occurred on the October 24, 1997 marathon trip. Tim Williams had hooked, lost and landed his share of the fish all during the day. During the afternoon he hooked into something he said just didnít "feel" right. As I watched over the rail with gaff in hand, a gray amorphous shape appeared from out of the deep green. Upon further inspection, I realized that it was a dead pollock with only skin and bones left to identify it as the appropriate species. There wasnít an ounce of flesh left on the rack! This was a Bunny Clark first. However, had the fish been alive, it would have weighed enough to win Tim the pool and, because it would have been of trophy size, may have given him enough points to win the prestigious Bunny Clark FY-í97 award!
Saddest Day: That day occurred on November 12, 1997, the last day of the season. I realized that we had fished a whole season without the angling company of Charlie "C.B." Hobbs. He remained in upstate New York with health problems all year. He was the most asked for and sorely missed angler during the 1997 season.
Hardest Luck of the Year. John Mansur (MA), trying to increase his distance in jig casting, released the pole at the jigs apogee. I must admit it was a great cast but I wish it had been his rod instead of my first hand built graphite prototype that all my other rods were designed after. It was the last day of the season. He told me it was the first time that he had won the boat pool and the "hardest luck of the day award" on the same trip. Now, the fish swim over my rod!
Quote of the Year. "Aaaaaah!!! What did you do that for?" A quote by Forest Woodruff (VT) on the June 12, 1997 day trip after his friend, Kerry Bourne (VT), hooked Forest through the tip of his nose with a 10/0 tube teaser hook while trying unsuccessfully to swing a good sized cod over the rail. I think itís the only time in recent history that Forest has been led around by the nose. Normally, heís a pretty independent type. Needless to say, we removed the hook aboard the boat and he went back fishing.
Best Fishing Team. In an unusual partnership, Dennis Grabauskas (CT) and Kurt Gezotis (MA) fished up in the bow together. The routine was like this; Kurt would catch pollock under 25 inches long and Dennis would tell Kurt that they were too small and had to go back. Kurt accommodated him until after the seventh fish, when he was told that he could legally keep any pollock over 19 inches overall length!
Actually, the best standard fishing team, without regard to the efforts of Les and Linda Paul, remains the team of Turner and Lo. Now that Al has a fish counter, I am now able to realize who is actually Lo!
Unexplained Phenomena. Why is it that Frank Costello (NY) went through 4 or 5 different rods and reels with heavier line and still ended up losing a lot of big fish? Why is it that Frank consistently catches more fish with Captain JD?
Angler Highlights. On the March 29 full day trip, Scott Morey (NY) landed the earliest haddock of any Bunny Clark season and the only haddock to ever be caught in March for us. On the April 4 marathon trip, Steve Savoie (MA) caught the earliest (in a season) mackerel that has ever been caught on the Bunny Clark. This mackerel was part of a school that appeared a month earlier than normal. On the day trip of August 11, 1997 Jo-Ann Martin (RI) lost the largest looking cod of the season near the surface. It looked to be in the 60 to 70 pound range but was out of gaff range. Joe Locapo (MA) broke his jig off five times only to have it recovered by someone else and returned all five times! Ryan "Wee Wee" Thorne (NY) hooked a school bluefin tuna near the surface only to break it off in a matter of seconds. Charles Maxam (NY) hooked and subsequently released a small harbor seal on Captain Howard Cutlerís September 13, 1997 afternoon trip. On November 11, Jim Feeney hooked the largest 16 pound pollock most of us have ever seen. Satch asked for one cast on a late fall marathon trip during which he was the acting mate. His one cast for the season brought up a 7 pound pollock and a 20 pound pollock on the same line. On the April 15 full day trip, Dave Bistany (NH) lost what he claimed was a huge fish that broke the single hook off the bottom of his jig. The next day, a marathon trip, Fran Szenda caught a seven pound cod with Dave Bistanyís lost hook in its mouth.
Every year, I neglect to mention the great work that is accomplished by our team of girls who take the reservations and complete all the work behind the scenes. Indeed, these ladies are more dependable than some of the mates Iíve had. And yet, I always seem to give the mates an honorable mention. Anyway, my favorite girl is my wife, Debbie, without whom this business wouldnít exist. Last season marked the eighth season in which India McMahon Tavares (Satchís daughter) has worked for us. India is noted for her salesmanship. Caitlan West completed her fifth year with us last season. Fluent in Spanish as she is in English, Caitlanís humor sets her apart from the rest. Meghan Masi finished her fourth year with us last season. The darling of the telephone lines, her sweetness seems to be the quality I most enjoy when I think of her talking to customers. Renee Robichaud is our newest employee. Renee is great on the phone but has helped us in the office and with computer work in particular. All these girls have been extremely accommodating over the years, often showing up for work at a momentís notice. They have been cheerful and kind to our customers over the phone, so much so that their attitude has had an infectious quality on the rest of the crew and guests alike. We are very glad to have them.
In ending this guestletter, I want to thank all of you for supporting me over the years and allowing me to grow and improve in a business I truly enjoy. I am humbled by some of the comments I get. I only hope that I am able to give you the service and fishing experiences youíve come to enjoy as part of the Bunny Clark experience. I am very much looking forward to seeing you all again this upcoming season, our sixteenth. Until then, enjoy the winter and whatever happens in life, try not to miss it!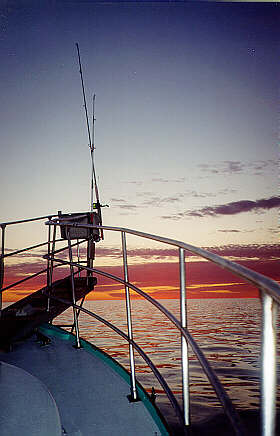 If you want to send me

, the current address is ttower@bunnyclark.com. With this web site, I hope to keep you current on all of the fishing particulars on the Bunny Clark and include updated information on fishery management decisions that could potentially affect us.



Back To Home Page, Deep Sea Fishing Maine