Fishing
The fishing is mostly bottom fishing for cod, pollock, halibut, haddock, hake, cusk, redfish, monkfish and mackerel (wolffish retention is prohibited). Anglers may use bait or jigs. The bait is Maine shrimp, surf clams or mackerel. We usually drift fish. However, we will anchor when anchoring is more productive. When you catch your fish the crew will be there to gaff and land it for you. During the fishing trip, the mate will prepare or fillet your fish if you desire. We provide small plastic freezer bags with the fillets at no extra charge. Gratuities are accepted.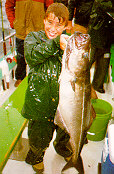 Fishing Equipment
The fishing equipment is mostly custom made:

We don't have rental rods. What other deep sea fishing companies call "rental rods", we offer for use as a service with the price of your ticket. These "boat rods" were all custom designed by me, Tim Tower, and were built through Saco Bay Tackle Co. in Saco, Maine and Surfland Bait & Tackle, Newbury, Massachusetts. They are a fiberglas/graphite mix with extended foregrips (comfort) and probably the best rod for either bait fishing or jigging. These rods are fitted with Penn 113H reels loaded with Izoreline line in 50 pound test strengths. I believe that this combination offers the angler the most comfortable and forgiving fishing system that can be found anywhere for all people of any range of fishing ability.
We offer custom made jigging sticks in either graphite or fiberglass construction. These rods have been designed for the expert angler by me, Tim Tower, and are the result of years of testing with many prototypes in various fishing conditions. They are fitted with modified Penn 113H reels. These reels are different than the Penn 113H reels offered on the boat rods as they are designed for the ultimate in casting ability, line retrieve and comfort in reeling. These custom reels are loaded with Spectra braided lines (for less stretch and more sensitivity) with a monofilament leader adjusted in length to conform to the individual angler's demands.
Our terminal gear is mostly custom made as well. Our prefered jigs are the Lavjig (12 to 16 onces) although we do carry jigs made by Danny Angerman and various Norwegian jigs. These jigs have been used to catch many trophy fish as well as most of our world and state records. We sell custom made cod flies, rubber baits (Mojos) and bait rigs aboard.


All of our fishing equipment meets the rules and regulations set up by the International Game Fish Association (IGFA) so that if you land the appropriate sized fish, the chances of securing a world record or state record are as good as they can be. Guests fishing aboard the Bunny Clark have landed 40 official IGFA world record fish and 28 Maine state record fish since 1983 (see the Bunny Clark State & World Records link).



Fishing Guests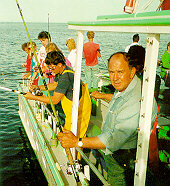 Guests fishing on the Bunny Clark are not required to (but can if they desire) bring any fishing equipment as rods and reels, bait, various jigs and teasers are all provided at no extra charge. However, guests are responsible for lost gear. Persons may sit and fish with bait or stand and jig. All that is needed to enjoy a day of fishing is a warm sweater and lunch. During rough and rainy weather, rain jackets and rubber boots are suggested. Boots are also suggested if you are fishing on the stern. Beer is permitted (3 bottles/person max.) but bottles can't be opened until the boat is offshore. Hard liquor is prohibited. Intoxication will not be tolerated and the boat will be brought back to port (without ticket refunds) if drinking of alcohol cannot be controled.


Please Take Notice:
To insure a day of fishing, a reservation should be made by calling (207) 646-2214. Guests should arrive one hour before departure. Payment in full required for a reservation.



For information and reservations:
Call: Bunny Clark, Corp. at - (207)646-2214
Write: Tim Tower, P.O. Box 837F, Ogunquit, Maine 03907-0837
Or click here: bunnyclarkdsf@gmail.com
Schedule & Rates
Information & Boat Rules
For a Link To Our Favorite Restaurants, Please Click To Visit:

Barnacle Billy's and Barnacle Billy's etc.



Ogunquit, Maine.



Parts of all these Bunny Clark, Corp. web pages and, indeed, most of the innovations, means to ideas and tons of help came from Global Solutions Providers and Chamber Works, Inc. All rights reserved. If anybody in the world is interested in the internet, web pages or ideas for computer displays, kiosks and advertising, these are the companies to go with. Bank on it, baby! Best Fishes, Tim Tower.