Dear Guests:

Another year has passed and the Bunny Clark made it through its eighteenth season with the green and gray flag flying. We survived the "I Love You" virus, weathered a blow or two, saw our best haddock fishing ever, landed the first whale cod we have seen in three seasons and our first cod over 50 pounds that we have landed in April since 1985, our best medium to large pollock fishing since 1986, one of our best big fish seasons, the warmest ambient water temperature of any season and our best and most consistent fishing year since 1977. It was truly a wonderful fishing season!

We finished the year with the same crew we started with - always a plus. I introduced a new captain to the Bunny Clark, Adam Bissell. An excellent fisherman and boat handler, Adam skippered most of the full day trips and half day trips during the season while I skippered all the marathon trips and some of the other trips. Adam had improved dramatically by the end of the season and we are expecting excellent service from him for the 2001 fishing season. In November he was married to the lovely Anna Morrison. Sorry, girls!

Mark Blaisdell was our new deck hand last season. He and Kenton Geer worked part time for us throughout the year. Mark will not be coming back this season as he is making a move in order to pursue a teaching career. I enjoyed having Mark and his local Maine humor, which it seemed only I truly appreciated, aboard last year and he will be missed. Kenton finished his third season with me last year. Extremely well liked and one of my best deck hands ever, Kenton (now 19 years old) may not be crewing for us this year as he is enrolled at Maine Maritime Academy and his curriculum won't allow for the extra time. I suspect he will make a cameo appearance now and then.

Of course, Ian Keniston was my number one deck hand. Ian completed a full year with me, lobstering in the winter, crewing on most of the marathon trips and the lion's share of the regular trips during the year. Under the tutelage of Dave Pease (the gentleman responsible for building the Bunny Clark) and with Satch McMahon (my all time great deck hand for 10 years and best friend who now has a very successful charter fishing boat, the Gath III - see his web site at http://www.cybertours.com/~satch/ - out of Wells, Maine), Ian also helped through the winter in preparing the Bunny Clark for the season. Ian may possibly be the best mate I have ever had. Everyone is very much looking forward to having him aboard again this season.

On May 26, 2000, Adam called me to say that he was experiencing an overheating problem with the engine. I was ashore at the time. To make a long story shorter, Adam was able to limp home. Come to find out, we had split the number one piston which had caught the cylinder liner and scored it severely. Not only that but upon further inspection, Jesse "Skip" Dunning, New England Detroit Diesel-Allison's (AKA: Power Products of Portland, Maine) best road tech, while using a bore scope, detected four other cracked pistons. It was the Friday before Memorial Day weekend, our biggest weekend of the spring, and the engine had to be totally rebuilt! Because of the timing, we couldn't get parts for three days! I was heartbroken. Fortunately, when we did get going on this project, Skip, with a little help, was able to complete the task in two and a half days! It was only the second TAMD 163P Volvo engine that Skip had ever worked on but it seemed like tearing the engine down and putting it back together was second nature to him. We never had another problem with the engine for the rest of the season. Hats off to Skip and NEDDA!

Last years fishing equipment improvements were a boon to this year's fishing success. We went through (replaced during the season) more reels than ever before. This was in direct correlation with the increased catch rate and the greater quantity of larger fish. The Penn 113H reels which we supply as our low end boat rod reels were much improved by Luke at Luke's Reel Repair in Kennebunk, Maine. His modifications made anglers much more comfortable with a smooth, much lighter reel. In addition, switching to Izorline monofilament at the beginning of the season on these reels decreased our chances of big fish loss by a large margin. It is now our monofilament of choice. The Newell reels rebuilt by Mike Osborne of Osborne Fish Company in Montebello, California were the nuts. His drag washer modifications allowed for a silky smooth drag during a season where we really needed it. Our biggest gear modification success story came out of a double effort which included Mike but mostly Bob Nixon (NH) on the Pro Gear reels which I supply to our more experienced fishermen on request. With Bob's machine shop modifications, Mike's ideas and my rebuilding adventures, we ended up with a reel that would cast a jig farther, reel in a fish smoother with such a silky long lasting drag system that it would make a perfectionist cry to use one! Indeed, anglers like Ken McLaughlin used a modified Pro Gear reel every time he came fishing with us. Some of Ken's fish which he landed with this reel included a 37.5 pound cod and a 36.5 pound pollock, two of the largest of each species he has ever caught. And, where would I be if I couldn't rely on my fishing equipment guru, Cal Robinson, at Saco Bay Tackle Company - who has helped me produce some of our best equipment innovations.

These were just some of the gear modifications that we made last year. There were others but they didn't seem quite as important as the ones mentioned above. This season we plan to continue with more of the same. As far as gear modifications go, Bob Nixon is planning on doing more experimentation with different reel materials. I plan to center my attention on bearing improvements. In the meantime, Pro Gear has come out with a new reel that incorporates some of Bob's innovations. That and the word of new line materials to be offered in the upcoming season can only set the stage for being better prepared to go after the big one this season. If last season was any indication, the fish should average a larger size. Get ready!

Our web site at http://www.bunnyclark.com continues to be the quickest means of getting the word out on fishery management issues, great catches and other fishing information. It has also allowed me to get feedback from you in a timely manner so we can improve our service to you. I edit the "Fishing Update" section of this web page every day during the season and once a week from December though March. There is also a schedule and rates list, current Bunny Clark world and state record's list, rules and regulations page, links to important weather sites and much more. If you haven't found us on the Internet yet, it may be worth a look. To that end, I overheard a couple gill-netter captains talking last fall when I was on an offshore fishing trip. Basically, they noted the boat fishing in the same area they were. One's comment: "We'll have to look on the web site tonight to see how he did out here today." I got a kick out of that comment. It doesn't' take much!

As I alluded earlier in this letter, we started the season with surface water temperatures that never got below 41°F. This is very warm for April first. Normally, the water temperature is in the mid to upper 30s until mid April. The last time the water was warmer than normal preceded by a mild winter was in 1995. That season brought us the first good run of haddock we had seen for years and they arrived at an earlier time. This season was much the same. We had excellent haddock fishing from our first trip until a month and a half later. From then on we had mostly good to excellent fishing on the haddock. For the season we landed more haddock (legal and sub legal) than we had ever landed during any previous season by a large margin. Not only that, the Bunny Clark broke her previous record for numbers of Maine state trophy haddock four fold!

The big pollock started to arrive in June and July. By August, it was hard to find a place to fish that didn't have nice sized pollock on it. Unfortunately, the inshore (half day trip) bottom didn't attract the number of big pollock or legal cod as it did the year before so this was strictly a day trip/marathon trip phenomenon. However, we stopped going way off shore (Cashes, Fippennies, Parker Ridge, etc.) because there were too many pollock and they weren't as big as the ones closer to shore. Indeed, on one spot well offshore, we fished for an hour without any angler being able to get to the bottom. If they tried, they would get part of the way down and catch a pollock before they got there! In addition, this was on a spot noted for its big cod!

Our cod landings were almost exactly the same in number as they were the previous year. If you recall, in 1996 our cod landings (number of legal fish) dropped 15%. The same happened in 1997 and 1998. We saw a 3 or 4% increase in 1999 which stabilized at the same cod count last season. Except for 1996 and 1997, I believe that this is more of a reflection of the burgeoning populations of other fish which occupy the same bottom. In most cases, a pollock or a haddock will take a hook quicker than a cod will. When both haddock and pollock are occupying a cod spot, it is damn hard to catch a cod at all. The good news with all of this was that we saw the largest number of steaker cod that we have seen for quite a few years. There weren't as many cod as I would have liked to have seen but they averaged a significantly bigger size than last year. Our largest was a 53 pound cod caught by Dave Lipinski (MA) in late April on the open bottom. Our largest cod before that one was a 51.5 pound cod caught by Lester Paul (ME) in October of 1997. The largest cod that has ever been landed on the Bunny Clark in April was a 62 pound cod caught by Ronald "Chop" Rundell (NY) in 1985.

Hake landings took a turn for better this year with greater than expected landings of white hake in the fall. Although nothing even close to the landings of 1982, '83, '84 and '85, this was the first year in many that we had significant landings. We also landed more trophy white hake this year than we have for years. Many anglers landed trophy hake who had never even seen a white hake previously. Rich Antonio (MA) was one of those lucky anglers. Having never even seen a white hake before, he landed two Maine state trophies on a single trip in September. One of these weighed 16 pounds while the other weighed 15.5 pounds.

We weren't as lucky with the wolffish. Landings of wolffish reached an all time low this season. During our best season for wolffish in 1995, we landed over 400 fish. This season we landed 140. The wolffish is the slowest biting groundfish in our area with the exception of the Atlantic halibut, of which we only saw two last season. In the early spring, when we catch most of our wolffish, the haddock were on a fierce bite. Our largest wolffish wasn't caught until mid August. It weighed 27.25 pounds and was caught by Wayne Tibbetts (ME). Even so, there were only nine wolffish landed last season that weighed 15 pounds or more.

With so many more larger cod available, we were awarded a larger field of viable fish for our tag and release program. That was the upside. The downside was that, often times, we were so busy working the deck that we had less time devote to handling the fish for tag and release - on many occasions there was no time. More often, the bigger cod were released alive without tagging them first. The two largest fish that were tagged and released last season were a 29.5 pound cod caught by Mike Horwitz (ME) and a 29 pound cod caught by Brian Murphy (NH). Both anglers released their fish on the same trip, a full day trip, in early August.

We had two interesting tag returns. One was interesting in that it showed how quickly cod can grow in a year and the other was interesting from the human interest aspect. In mid June, Mike "Sea Bat" Leary owner/captain (an excellent fisherman) of the gill-netter Lori B. caught one of my tagged fish on Platts Bank about thirty five miles from the closest point of land. This cod was 32 inches long and weighed 11 pounds. We tagged this fish in mid July of 1999 in the deeper water seven miles inside of where Mike caught it. At that time, the fish was 23.75 inches long and weighed 5.5 pounds. This fish doubled its weight in less than a year. On September 12, 2000, another of my tagged fish showed up in a gill net off Boon Island Ledge. This cod was 16 pounds and it was caught by Colin Barnard, captain of the Julie Ann, also an excellent fisherman. Noting that the fish was still alive, Colin carefully unwrapped the fish out of the net and let it go, healthy and swimming, back to bottom. Before he released it again he noted the tag number and gave me a call. It was a fish that Barry Gibson, the senior editor of the Saltwater Sportsman magazine, had caught and allowed me to tag and release on June 22, 2000. Barry and his son, Mike, had booked a spot on that trip in order to do a feature article for his magazine coming out this spring and was interested in the way I ran my operation. He was also interested in seeing his son catch his biggest cod. Barry's cod was 16 pounds, 34.5 inches long and released in the closed area of Jeffrey's Ledge, fifteen miles outside of where Colin released this fish again.

We have many anglers who have contributed to our tag and release program. Some of our regular anglers release groundfish on a regular basis including many good sized cod. Some of these top anglers who released many legal cod last year include Bob Nixon (NH), Gil Ranta (NH), Fred Kunz (NH), Eric Pysar (NY), Mike & Missy Horwitz (ME), Sean Devich (NY), Kelly Wilkinson (PA), Dom Bruno (NY), Regis Jauvin (PQ), the real Jim Feeney (MA), Kenton Geer (NH), Irwin Libeskind (MA), Dave Gray (VT/CT), Paul Revels (NH), Don Johnson (MA), Greg & Carol Morse (ME), Al Turner (NY), the wonderful Aquahtenang singer songwriter's crew (NH), Daniel Gayer (ME) Steve Corinotis (MI) and particularly Chico Astorino (MA). These conservation minded individuals and very excellent fishermen are the epitome of the sensitive new age recreational angler and, although recognized by me, should be applauded by everyone for their unselfish efforts. I should remind everyone that many of our groundfish fish stocks are at levels much lower than they should be which has promoted much Federal regulation for commercial and recreational fishermen alike. If more anglers thought like those mentioned above, the recreational angler wouldn't need any regulations. Thank you all very much for your efforts.

There was one International Game Fish Association world record taken aboard the Bunny Clark last season. On July 9, 2000, thirteen year old Rebecca Ranta landed a 26.5 pound cod to break the existing girl's Junior Angler world record. The Junior Angler category is broken down into two divisions: a boy's division and a girls division. Participants have to be between the ages of eleven and sixteen years old in order to qualify. Captain Adam Bissell was running the boat on a full day trip at the time. The weather was good so Rebecca and her father, Gil, were fishing together on the bow. All three were aware of the potential of landing a Junior Angler world record size cod before she hooked the fish. Having said this, when she did hook what looked like a big one, everyone stayed clear so she could land it on her own and Adam had other anglers reel up so that they wouldn't interfere. The rest is history. Rebecca is a wonderful person and an excellent angler but she also has a wonderful teacher and role model in her father, Gil Ranta. My most heartfelt congratulations go to you, Rebecca, for a job well done!

As I feel the greatest achievement in angling is the ability of a person to hook and land a trophy fish on their own, I have listed the guests who caught the five largest of each significant species during the 2000 fishing season. Keep in mind that all the represented weights of these fish were taken aboard the Bunny Clark using a registered scale shortly after capture. I feel that this is the fairest comparison between the angler's fish since weight loss is proportional to the amount of time the fish is out of water.
| | | | |
| --- | --- | --- | --- |
| NAME (STATE) | FISH/POUNDS | LENGTH X GIRTH (in.) | DATE CAUGHT |
| | | | |
| --- | --- | --- | --- |
| Nick Gatz (ME) | Whiting 4 | | 09-09-00 |
| John Hamilton (NY) | Whiting 3.5 | | 10-04-00 |
| Steve Whitney (PA) | Whiting 3 | | 09-09-00 |
| | | | |
| --- | --- | --- | --- |
| Richard Longwell (VT) | Monkfish 18 | | 10-16-00 |
| Don Somers (ME) | Monkfish 15.5 | | 10-18-00 |
| John Todd (NH) | Monkfish 9.5 | | 09-13-00 |
| | | | |
| --- | --- | --- | --- |
| Wayne Tibbetts (ME) | Wolffish 27.25 | 40 X 24 | 08-17-00 |
| Vernon Caforio (MA) | Wolffish 20.75 | 36.5 X 20 | 08-04-00 |
| Chad Shepard (VT) | Wolffish 20 | 37.5 X 19 | 08-08-00 |
| Scott Riehle (NH) | Wolffish 20 | 36 X 23 | 05-02-00 |
| Phyllis Cowfer (PA) | Wolffish 16.5 | 35 X 18 | 08-10-00 |
| Nathan Ellis (NH) | Wolffish 16 | 36 X 20.5 | 08-25-00 |
| | | | |
| --- | --- | --- | --- |
| Tim Noyes (VT) | Porbeagle 41.5 | | 11-04-00 |
| | | | |
| --- | --- | --- | --- |
| Jim Durkee (NH) | Pollock 41 | 46 X 28 | 09-22-00 |
| Roger Ryder (ME) | Pollock 40 | 45 X 26.5 | 09-27-00 |
| Scott Woods (NH) | Pollock 40 | ? X 26.5 | 09-13-00 |
| Chuck Porter (ME) | Pollock 38.25 | 44 X 27 | 11-10-00 |
| Bob Tittemore (NY) | Pollock 38 | 45.5 X 25 | 10-02-00 |
| Scott Miller (VT) | Pollock 37 | 44.75 X 25.5 | 10-02-00 |
| Ken McLaughlin (ME) | Pollock 36.5 | 42.75 X 28 | 10-24-00 |
| Ken Carter (ME) | Pollock 36 | 43.25 X 25 | 07-24-00 |
| Tim Tower (ME) | Pollock 35.25 | 42.5 X 25 | 10-10-00 |
| Norm Lappies (MA) | Pollock 35 | 44.75 X 25 | 09-25-00 |
| Fred Kunz (NH) | Pollock 34.25 | 43 X 26 | 09-27-00 |
| | | | |
| --- | --- | --- | --- |
| Steve Linscott (MA) | Halibut 7 | | 08-11-00 |
| | | | |
| --- | --- | --- | --- |
| Rick Boulette (MA) | White Hake 25.5 | 43 X 25 | 09-08-00 |
| Ben Barzousky (MA) | White Hake 23 | 42.25 X 25 | 09-05-00 |
| John Yurko (CT) | White Hake 22 | 39.25 X 25 | 09-22-00 |
| Mike Horwitz (ME) | White Hake 20 | | 11-08-00 |
| Tim Williams (CT) | White Hake 19 | 29.5 X 21 | 09-12-00 |
| Arthur Conlon (RI) | White Hake 17.5 | 36.25 X 23 | 08-21-00 |
| Ken Coulon (MA) | White Hake 17.25 | 39 X 21.25 | 08-26-00 |
| Mike Horwitz (ME) | White Hake 17.25 | 35.5 X 22 | 10-25-00 |
| Brian O'Hara (CT) | White Hake 16.25 | 36 X 23.25 | 10-14-00 |
| | | | |
| --- | --- | --- | --- |
| Scott Golden (NY) | Haddock 11 | 30 X 19 | 04-07-00 |
| Domenic Bruno (NY) | Haddock 10 | 29 X 17 | 04-07-00 |
| Duane Day, Sr. (ME) | Haddock 10 | 29 X 18 | 04-29-00 |
| Robin James (NH) | Haddock 9.75 | 28 X 18 | 04-29-00 |
| George Nowak (MA) | Haddock 9.5 | 31 X 18 | 04-28-00 |
| Stanley Czyz (NH) | Haddock 9.25 | 28.5 X 18 | 05-03-00 |
| Adam Bissell (NH), Eric Pysar (NY), Dustin Boston (ME), Mark Pires (CT) Ed "Bull" Durham (ME) | Haddock 9 Haddock 9 Haddock 9 Haddock 9 Haddock 9 | 29.5 X 16 28.75 X 17 28.0 X 18 29.0 X 17 31.0 X 16 | 06-10-00 04-07-00 04-20-00 05-04-00 05-08-00 |
| | | | |
| --- | --- | --- | --- |
| Fran Szenda (MA) | Cusk 19.75 | 39 X 24.25 | 07-26-00 |
| Barry Davis (AL) | Cusk 17.5 | 36 X 22.5 | 07-26-00 |
| Walter Bohnenberger (NY) | Cusk 15.5 | 34 X 18.5 | 10-25-00 |
| Tom Suleski (NY) | Cusk 14 | 33.5 X 17.5 | 09-29-00 |
| Jack Knag (NJ) | Cusk 13 | 39.5 X 19 | 05-12-00 |
| Laura Halligan (NY) | Cusk 13 | 34 X 18 | 05-06-00 |
| | | | |
| --- | --- | --- | --- |
| Dave Lipinski (MA) | Cod 53 | 48 X 32 | 04-28-00 |
| Bob Rook (CT) | Cod 45.5 | 49.5 X 28 | 10-02-00 |
| Zach Walsh (MA) | Cod 43.5 | 46 X 31 | 04-28-00 |
| John Hastings (NH) | Cod 43 | 45.25 X 30 | 10-25-00 |
| Gary Kjelgaard (NY) | Cod 38 | 43.5 X 28 | 06-20-00 |
| Ken McLaughlin (ME) | Cod 37.5 | 44 X 30 | 05-03-00 |
| Bob Key (PA) | Cod 36 | 42.5 X 28 | 06-26-00 |
| Larry Toporowski (MA) | Cod 35.5 | 42 X 27.5 | 04-28-00 |
| Kyle Buxton (VT) | Cod 35 | 44.25 X 27 | 04-24-00 |
| Steve Flickinger (NJ) | Cod 35 | 44.5 X 28 | 09-22-00 |
| Paul Buchanan (ME) | Cod 35 | 43.5 X 28 | 10-18-00 |
| Chris Caporaso (CT) | Cod 35 | 45 X 27 | 10-23-00 |
Of the fish listed above, several catches should have a special note. The best catch of the year was probably the 53 pound cod landed by Dave Lipinski . It was certainly exciting for me to watch and it was nice to see another whale cod after three years. The catch I was most happy about was the 41 pound pollock caught by Jim Durkee. The year before, Jim was hurt by an action that was a mistake but was one hundred percent my fault. He could have died from that accident but I'm not going to go into that here. Jim understood that it was a mistake but I still wanted to do something as an apology in something other than words. Therefore, I invited him and his good friend, Steve Hamel (NH), on another marathon last season as my guests. Jim said he would have gone anyway but I felt I owed it to him. He only goes on one trip a year. He is a great hunter and fisherman. As fate would have it, he landed the largest pollock of the fishing season (also the longest at 46 inches caliper fork length) and the largest pollock of his life. As I told someone later, all the money in the world couldn't duplicate a situation like that! I was thrilled at the outcome and if he felt half as I did, I think I accomplished a better goal than I could have hoped for.

Other catches worth mentioning included the 4 pound whiting (silver hake) caught by eleven year old Nick Gatz (ME) on a half day trip. This is the third largest whiting that has ever been caught on the Bunny Clark and the largest whiting since Erik Callahan (MA) broke the IGFA all tackle world record on the Bunny Clark on August 8, 1995 with a whiting of 4.51 pounds! I thought Nick's fish was a world record until I weighed it. So close! Richard Longwell's 18 pound monkfish was another special fish to me. Rick hadn't fished with me for years. When he used to fish with me on a regular basis, his mother often times would be with him. A wonderful person, I always looked forward to seeing Ruth Longwell. Even if we didn't catch many fish, any one aboard the boat that day would think they did if Ruth and Rick were there. Ruth's wonderful personality assured everyone a good time even if they didn't catch a fish. Now Ruth isn't able to go fishing with me anymore. However, seeing Rick catch such a great fish and the largest of the season reminded me of the good old days.

Chuck Porter had an interesting day the day he landed our fourth largest pollock. This happened on November 10, 2000, two days before our last trip. I had already made up the trophy list for the five largest fish when he caught that one, bumping Scott Miller (VT) out with his (now) sixth place pollock of 37 pounds (I have included the top eleven pollock in this, the Internet version of my annual guestletter - so Scott's fish appears here and not in the printed version). Chuck's fish was the first fish of the day that day, a huge Maine state trophy. Chuck's second fish of the day that day was also a trophy pollock of 28 pounds! Scott Golden and Domenic Bruno caught their haddock on the April 7, 2000 marathon trip. That was a great day where we saw many Maine state trophy haddock caught. Other trophy haddock that were caught that day included a 9 pounder caught by Eric Pysar (NY), a 7.5 pounder caught by Ron Chase (MA), another 7.5 pounder caught by Alan Golden (NY) and yet another of 7.5 pounds caught by Marc Bellaud (MA).

Fishing trip successes were better than ever on the full day trips and the marathon trips. The afternoon trips finished out with variable success. We had some very excellent trips but most were on the slow side. Overall, we were less successful with those than we should have been. We completed 46 of our 55 scheduled marathon trips. One of those trips tied with the ultra marathon trip for the best trip of the season and the fourth best trip ever. As usual, we tagged and released (or released) many cod back to the ocean alive on both of those successful trips. The average pool fish size was the best average ever with a value of 18.09 pounds per trip including about sixty fairly slow half day trips. During the 1999 fishing season we recorded our best pool fish average with a value of 18.07 pounds and, during that season, had a great year on the half day trips with many good sized fish. It shows you how much larger the fish must have been on the full day and marathon trips last season. Overall we recorded the best catch rate for legal fish of any previous Bunny Clark season.

Before I end this Guestletter, I want to cite those anglers and experiences of note that deserve an honorable mention for their uniqueness and/or fishing prowess during the 2000 Bunny Clark fishing season. I realize that this is a value judgment on my part but I believe that my conclusions are recognized as a popular opinion among my crew and fishing guests and are based on many fishing trips. These special anglers and incidents are as follows: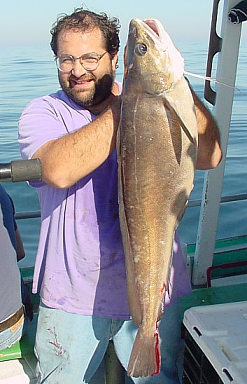 Fisherman of the Year (FY-'00): Mike Horwitz (shown left holding his 17.25 pound Maine state trophy white hake caught aboard the Bunny Clark on October 25, 2000) won this award, the first time he has won this award since its inception. In 1995 he came in second, 11 points behind Fred Kunz. Last season, Mike won with more points than any previous winner since Donald F. X. Angerman (MA) won the award in 1991. As most of you know by now, the Fisherman of the Year award is based on a point system that relates to specific achievements during a trip and during the year. Each achievement is worth a set of points. The individual with the most points at the end of the season wins. In order to compete in this category, you have to have paid for and completed at least 10 different trips on the Bunny Clark. I have had many excellent anglers who fish with us on a regular basis every season, any one of whom has the potential to become the Fisherman of the Year. Mike has always been one of my top regular anglers. By the middle of the season, Gil Ranta was the clear leader with Mike closest to him. At that point, Mike's luck changed for the better and Gil had to drop out for business conflicts. Had Gil continued or had Mike started earlier in the year, who knows who would have won or by how much. However, in the end, Mike had attained so many points that there was no question as to who was the winner. In the end, Mike was first with 261 points, Gil was second with 232 points, Tim Williams (CT) was third with 132 points, Ken McLaughlin (ME) was fourth with 103 points and Fred Kunz was fifth with 75 points.
Female Angler of The Year: Nineteen year old Kelly Wilkinson (PA) won this award for the second consecutive season in a row. There was really no other female angler even close. Some of her achievements included the largest fish landed during the ultra marathon trip, a 33 pound cod, seven Maine state trophy fish and steakers for the season including a 7 pound haddock and another cod of 24.25 pounds and high hook or the potential to be high hook on almost every trip she attended.
Best Bait Fisherman: Richie Hajduchik (NY) won this award for the year. On several trips with me (and some with Adam) he caught fish so fast and with such frequency, it almost seemed magical. There was no other person last season who displayed that quality as much as Richie did. One of his best achievements was landing the most Maine state trophy haddock for the season with a count of four fish, his largest weighing in at 8 pounds (Note: Eleven year old Tom Nixon (NH) and Jeff Crawford (ME) tied for the second most Maine state trophy haddock for the season with a count of three fish each). One of the most unique bait fisherman I have ever seen, Richie prefers to use a jig stick instead of the shorter more flexible bait rods.
Most Aces: For those who don't know, an angler scores an ace when he or she lands the three largest fish (or more) during a trip. The top three fish is an ace. The top four is a double ace. The top five is a triple ace and so on. Gil Ranta was the man of aces this season. It is unusual to have more than one ace in a season. This year we had six! Gil got two himself, an ace and a "silver ace". A silver ace is attained when a person lands the seven largest fish on a trip (The only other person I know of who did that in Bunny Clark history was Al Robinson. I believe he did it in 1989.). It was an unprecedented move and destroyed the hopes of some who were trying to gain points (a "silver" is worth 40 points) toward FY-'00. Mike Horwitz didn't let that bother him, although he did mention it a few times, and went out and captured an ace himself. Other ace takers included Ken McLaughlin (who had a great year last year), Andy Shore , one of PA's finest, and Bob Welch (NH), on his maiden voyage aboard the "Bunny".
Most Trophies (including cod & pollock over 20 pounds): Mike Horwitz landed the most trophies last season with 38 fish including a 17.25 pound white hake and a 20 pound white hake, the largest hake of his life. Tim Williams was second with 24 trophy fish including a 34.25 pound cod, his largest fish of the season. All but two of his trophies were caught after October 1st. Bob Nixon was third with 12 trophy fish. Gil Ranta was fourth with 11 trophies. Kenton Geer was fifth with 10 trophy fish.
Most Trophy Fish During A Trip: Mike Horwitz landed six trophy fish on October 25, 2000, the most trophies caught by a single angler during a trip last season. Mike landed five trophy fish on November 8, 2000, the second most trophies caught on a single trip. Mike also landed four trophies twice on two different trips in the fall. Tim Williams duplicated this feat. Other anglers also landed four trophies during a single trip. These anglers include Tyler Hosser (NH), "T" Williams (CT), Philip Stevens (NH), Emile Gallant (ME), Ernie Frick (CT), Dave Woehrle (PA) and Kenton Geer.
Most Pools (largest fish of the trip): Gil Ranta landed the most pool fish with a count of eight. Ken McLaughlin, Kenton Geer and Mike Horwitz all tied for the second most pools during the season with five pools each. Dick Purrier (MA), Kelly Wilkinson, Tim Rider (NH) and Tim Williams all tied for the third most pools with three pools each.
Hardest Luck of the Year: This has to go to Mark Blaisdell, my most misunderstood deck hand last season. Many anglers didn't understand his unique (local) sense of humor and took it the wrong way so he was often times abused about it. This followed him throughout the season. However, the one thing that made me decide to give him this award was an incident that happened on the July 17, 2000 full day trip. In order to fully appreciate the moment, I will have to give it to you as a quote from my writings on the web site that day: "Half way through the trip, he stumbled up to me while I was writing at the console. I looked up and there he was; eyes rolled up in his head, white as a sheet and moaning as if he had just come back from an all too successful "one night stand". I felt immediate concern until I realized that it was a small cut on the tip of his pinky. The problem? I found out that he can't stand the sight of his own blood! It wasn't too long before he had to sit down. All the blood completely drained from his face like a man in shock. He slumped over my lunch bucket and passed out for 15 minutes. Then, like a schooner laboring out of a knock-down after hitting a white squall, he pushed himself up and (under my urging) walked like a drunk to the fillet table." It turns out that he couldn't even hold his fillet knife. Kenton was aboard fishing that day (thank, God!) so I sent Mark down below to a bunk and Kenton filleted the rest of the fish. Half way through the trip home, Mark came back to help Kenton clean the boat. Every once and a while you would hear a blood curdling scream when Mark, while cleaning, would tap the end of his pinky on something.
Best Singing Angler: Dennis Grabauskas (CT). Need I say more?
Most Improved Angler: Dick Lyle (NY) comes first to my mind. On a day trip in August, he used a jig stick for the first time and landed the largest cod he has ever caught, a 24.5 pounder. From then on, every time he went on a trip he used a jig stick and was successful enough to be one of my regular anglers.
Best Attitude: Tim Williams, Dave Gray and the Aquahtenang crew (including: Brian Murphy, Marian Murphy, Gardner Murphy, Cindy Murphy and Rebecca Hammer) qualify for this award. All excellent fishermen, it was an absolute joy to have them aboard. They seemed to be so appreciative of anything that we did and so happy about being able to fish regardless of the weather or circumstances. It was the one thing that everyone in my company all agreed upon. Thank you.
Best Team: This had to go to the Aquahenang crew again. I guess you can get that way if you like what you are doing and all work at it together. I don't know. What I do know is that harmony is a rare commodity these days and much appreciated - even in their music, which I have come to love. Even that great angler Leon Schrecengost (NY) called my attention to it and he doesn't say anything unless it's the truth and worth saying!
Most Entertaining: I wasn't there but I got so many comments about it that I had to put it in print. Debating went to a new level when Adam Bissell and Mark Blaisdell started to work together. The intellects of these two were so finely tuned and so on track with each other that it came out as a series of well rehearsed events. Not long after, many were starting to call it the Adam and Mark Show. I'm not sure if anglers booked the boat just so they could watch the show but I do know that on one occasion the subject matter included the fifteen minute debate on which 8 pound cod was the better pool winner! I'm not sure if the word "harmony" could be used in this paragraph. What do you think?
Most Unusual Catch: On the Sunday, August 27, 2000 full day trip, Gil Ranta (as if he hasn't exemplified his fishing prowess enough this year) took a cast off the pulpit with his jig stick and jig. A few seconds after the jig had disappeared from the surface, the line starting peeling off Gil's reel as if he had a good sized tuna on. The fight was actually much different than a tuna as the fish would stop altogether at times. When he finally got the fish to the surface, to everyone's surprise, it was a 400 or 500 pound ocean sunfish with the jig hooked squarely in the mouth. Did this fish actually go for the jig? Is Gil Ranta that spectacular an angler to entice even a jelly fish eating ocean sunfish to go after his lure? All I know is that it is the first time that I have heard of anyone legally hooking an ocean sunfish with a rod and reel! Definitely one for the books!
Dishonorable Mention: I refuse to mention Don Robinson's (NH) name again in conjunction with keeping one of the Bunny Clark jigging sticks after he caught it off the bottom from another party boat and knew exactly who's equipment it was - all the while knowing that we charge no rental fee to use this equipment and the fact that he was probably loaned the same exact rod and reel set up when he was a guest on the Bunny Clark himself. No, I am not going to mention his name this time.
Quote of the Year: "Well, they had to use a gaff!" A comment I overheard from my six year old son, Micah, this summer after I took him as an angler for a fishing trip on the Bunny Clark. We had just come in and he was telling my wife, Debbie, that he caught a big pollock. Deb was inquiring as to how big the pollock was. The largest pollock Micah had seen up to that point was a 13 inch pollock that he had caught off the dock with a trout hook! The big pollock of his that day weighed 15 pounds. When asked to write a poem about himself last fall in school, he wrote: "I am not the huge United States of America; I am not a cold water bottle; I am a slimy fisherman, picking up fish hearts and I am happy about that." Please excuse me from being a proud sappy father.
Unexplained Phenomena: Apparently, Adam was working at the helm console filling in the Vessel Trip Report while the boat was tied to the dock. A pack of sailing thieves snuck aboard, went down below, found the very locker that Adam keeps some of the boat equipment, opened up his equipment bag and ran off with the boat's camera - all without anyone even detecting them. What was even stranger was that the same thing happened in broad daylight with a fish box while 25 miles out at sea! Moreover, who said the Bunny Clark, with a full load, couldn't go faster than the Northern Star? The most amazing thing of them all was how the fuel valves managed to switch themselves to the other tank on their own. Engine vibration? And when did so many squirrel hake start living on the hard bottom?
Our shore side crew, those individuals behind the scenes who answer the phone, take reservations and basically run the show while we are fishing, was one of the best assets of Bunny Clark Deep Sea Fishing last year. Our sweetest telephone voice and successful teacher, Meghan Masi was back with us again for the summer months. We were very happy about that. Kate Lally was also aboard again for another very successful stint last summer. Flying back from college in California, her analytical mind and great personality helped us greatly. Jamie Bean, now in college in Massachusetts, not only did a great job but is also very special to us - more than she will probably ever know. She still helps us when she is back from school. Reneé Stevens, our newly married lady and main stay in the office for many years, did and does a better job every day she is with us. Our computer wizard, Reneé can do anything, and often does, with a simple "sure" any time we ask her. We have come to depend on her for many of the good things that we provide for our customers. My wife, Debbie, has been the cement that holds all this together. Without her, I just couldn't continue with the business as it is today. Her advice is always on the mark and her support is something that just can't truly be appreciated unless you are in my position. I owe her a lot.
Lastly, I want to thank all of you for having us last season. Many often comment about how we have the nicest people as customers on the Bunny Clark. This has always been something that has made me enjoy this business from day one. It has been a great pleasure to serve you over the years and I am very humbled that you have chosen my boat so often to go deep sea fishing. Have a wonderful winter and I'll be looking forward to seeing you all this season.
Best Fishes,
Tim Tower
With this web site in general, I hope to keep you current on all of the fishing particulars on the Bunny Clark and include updated information on fishery management decisions that could potentially affect us. For a current report go to the Fishing Update section from the link located on the index page of this web site. Thanks!