Dear Guests: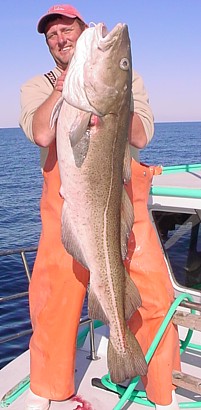 I can't believe we will be starting our twenty-fifth season on the Bunny Clark this year! Welcome to my twenty-fourth guestletter where I recount the highlights of our successes and failures during the 2006 Bunny Clark fishing season.
[The image on the left is a shot of Shawn Rosenberger (PA) with one of his largest rod & reel cod caught while on the October 16, 2006 marathon trip. This fish, at fifty-one inches caliper fork length, may be the longest cod he has ever caught. This fish was also the largest tagged fish caught last season.]
The season's weather was certainly one of the most discussed features of the year. We started with April being one of our calmest, driest and least windy Aprils in many years. The combination of May and June gave us the most precipitation I have ever seen in my lifetime. By mid May, seventy roads were declared impassable in York (our) County and many bridges were washed out; some bridges still haven't been repaired with the roads closed as of this writing. This may have changed our fishing and it certainly seemed to keep the lobsters further away from shore last year - as my son, Micah, and I experienced on our other boat, the Petrel. As bad as May and June were, the rest of the season was just the opposite. From July through November, we had relatively few trips canceled due to weather, it was one of our least rainy summers and air temperature values were higher than normal. November itself was the warmest November on record and December finished off the year with more temperature readings above normal making it feel more like spring. Also, to my knowledge, there were only five Atlantic hurricanes last season and only one got close enough to the U. S. mainland (Florida only) to have any influence. The year finished off with over fifteen inches of rain more than normal (for Portland, Maine - more than that in York County), the second year in a row with precipitation values well above normal after (2005 ended with a precipitation value twenty inches above normal) many years in a row with rain fall deficits.
Fish landings were up over last season but slightly less than the last few previous years. Cod landings were down, the least number of cod we have ever seen in a season, and about ten percent less than our slowest year, the 2004 season. I'm not sure this is a bad thing as our pollock showed up much earlier and in greater numbers than most (or, possibly, all) previous years. They arrived earlier and never left. For September, October and November the pollock made up the bulk of the catch on every trip. It was almost impossible to get away from them to get other species during that time. Pollock made up a significant part of the total landings during the trips from late May until the end. April and May saw more haddock landed than during any previous Bunny Clark April or May. Landings of haddock alone were over a hundred and ten percent more than our best previous early season! We also recorded our earliest ever haddock slam on April 9, 2005! Haddock and pollock are certainly a more aggressive fish than the cod which, I think, explains in large part why cod landings were down.
The fishing was good to very good overall with some very excellent days for numbers of legal fish and for big fish, particularly in the late fall. April and May were our haddock months, our biggest day occurring on May 8th when three hundred and twenty-one haddock were landed for nineteen anglers [Oddly enough, our second best trip occurred on July 4th when half as many haddock were landed on a day trip for twenty-two anglers.]. Early April and June were our best cod months, our two best trips for numbers of legal cod occurring on April 10th and April 19th. We landed two hundred and twenty-five legal cod for nine anglers on the 10th with Ken McLaughlin (ME) recording his fishing career high of almost seventy keepers that day. Jeff & Justin Philbrick (NH) didn't count their fish that trip but had to have had about the same each. On the 19th, sixteen anglers caught three hundred thirty six legal cod. Of course, most of these fish were released alive on these two days and I had to leave these fish early (on both trips) as it seemed just too much at the time. It does show you, though, how excellent these two fishing trips were.
The pollock arrived in mid May and stayed straight through until the end of the season in numbers we haven't seen since our big pollock year of 1986. There were well too many times where we could have bailed the medium sized pollock (8 to 15 pound range) from the start of the trip until the end had we stayed on these schools. It was really amazing. Wolffish, on the other hand, were down in numbers and size. They aren't a very common fish to catch anyway but our total season's count was only ninety-five, fifty percent less than last year and only four percent of the total count for the last ten seasons.
White hake were also down as compared to the last four seasons but not by much. Actually, I was delighted in our white hake count and also delighted in the fact that most of them were caught on the open bottom away from the hangs that we usually associate with this fish. I suspect that this is a behavioral pattern change associated with an adaptation to the dwindling herring biomass; we caught these fish out foraging for food.
We didn't catch any big monkfish last season but our count was normal. We caught our token small halibut (two actually - for the last two seasons all the halibut have been caught with Captain Ian), landed our first large striped bass and landed so many cusk on some trips that we had to get away from them. Small bluefin tuna entered the fishery in September and we were lucky enough to land four of them and lose a few. We ran into some of the biggest redfish we have seen in years. We also discovered a spot (and it was only good on one trip!) that produced more big redfish than we have seen since 1986 - over four full fish totes! Where these fish were hiding and where they went after that day, God only knows. We saw the largest number of dogfish landed in the fall last year than during any previous season with the Bunny Clark - bar none! Thankfully, they are easier to deal with in the fall and dogfish populations moved to the near shore areas earlier than normal this spring leaving us pretty much unfettered for the early months and the summer. We hooked four to six porbeagle sharks but never did land one last season. Blue sharks were much less prevalent last year than many other seasons. Sizes on most of the fish in general last season were normal with some specific boat records I will refer to individually later in this newsletter.
The argument could be made that the cod average size was down this year and I do believe this is true. There is a good reason for this. The previous (2005) season started with a Federal legal minimum size of twenty-three inches that decreased to twenty-two inches by May 1st that year. Starting in May of 2006 (last season), the Federal legal limit went up to a minimum of twenty-four inches. We effectively fished our base level stock of resident cod down the season before. We saw many trips where large numbers of cod were caught but where most were released because they just didn't meet the Federal limit. Also, since the herring collapse in the Gulf of Maine (and less herring last season than the previous season), there was very little bait around to bring in a good recruitment of the newer larger transient cod from offshore. My point is that I'm less inclined to believe that our lack of legal codfish was due directly to a decrease in the cod population and that there were plenty of sub-legal cod around last season. I'm looking for a boost in this seasons legal cod population.
We started the season last year with some new gear improvements that surprised me in their effectiveness. I introduced the McLaughlin series jig stick during the 2005 fishing season but added more of these rods last year. Our most popular rod, the Merv series jig stick (introduced a couple of years previously) and the McLaughlin series jig sticks are built to my specifications by Saco Bay Tackle Company in Saco, Maine. I had already had much success with the Merv series sticks but the McLaughlin seemed to allow anglers to be more comfortable while fishing the deeper waters where the Merv sticks were more effective in shallower waters. Also, this was our second year with the Surfland jig sticks, also built to my specifications from a graphite composite blank built at Surfland Bait & Tackle, Newbury (Plum Island), Massachusetts. Last season we enhanced the effectiveness of these three new rod designs by including eighty pound test Spectra (a braided, no-stretch, thinner - than Dacron - line) on all the reels that were used with them. We did not use any Dacron/Micron line as we had in previous seasons. We found that anglers could "feel" the bottom better, had much more control while fishing and casting, had far less tangles than previous years and eliminated the idea that anglers had to make a choice between favored lines. We also modified our Penn 113H (Thank you, Nixon Machine) jig stick reels to make them more effective with the line and the jig sticks.
Other than tweaking our jig stick system, the two biggest fishing gear improvements were the introduction of the Penn Baja Special for use with the jig sticks and making the new Lavjigs available on a regular basis. The Baja Special (Penn 113HN) is a reel you can buy off the shelf with the modifications we have been machining into our Pro Gear reels (my preferred reel) and Penn 113H reels for years. Plus, the handle is the most comfortable on the market, the reel incorporates three more bearings than our modified reels and they have an opposing dog system much like the much more expensive International series (big game) Penn reels. As an added bonus, we found out by using them last season that they last longer than most reels and their design is such that less water gets into the internal workings of the reel making it easier than expected to maintain. I believe it is the best cod reel on the market for both price and function.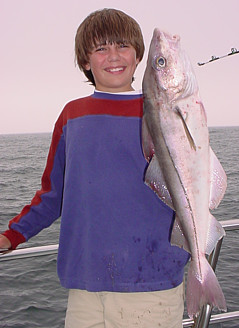 [The shot on the lower right is a picture of twelve year old Micah Tower holding his 5 pound haddock taken during the July 11, 2006 full day trip. This is the largest haddock he has ever caught ]
The Lavjig opened up the groundfishing world for us last season. Made in Massachusetts and purchased by emailing: lavjigs@yahoo.com, they were easily obtainable and they worked great. The features I like are the choices between the plated or unplated variety, the swivels incorporated at both ends (like the much touted Angerman jigs) and the consistency in their manufacturing. I am particularly impressed by the sixteen ounce jigs as they are physically the same size as a bigger jig but they cast like a smaller one. Indeed, our three best anglers of the 2006 fishing season, Tim Williams (CT), Dick Lyle (ME) and Fred Kunz (NH) used them on a regular basis and, I believe, was a good part of the reason for their greater than normal success last year.
This season we will be adding three more McLaughlin series rods to the line-up, I have already included more Baja Special reels and I have contracted with Dennis LaValley to keep us supplied with the Lavjigs in three different sizes. Other improvements for 2007 include extensive work on the existing engine, adjustments in the side curtains and adding more back-up reels for the regular boat rods. Other than that, the normal cosmetic upgrades and Bunny Clark "winter work" will go on as planned in order to launch a more efficient and cleaner vessel for our first scheduled trip on April 1, 2007.
I have to say that I was more comfortable last season than any season since I started hiring captains to share the fishing experience on the Bunny Clark. The primary reason for this is the trust I have in my primary captain, Ian Keniston, to represent me (in his own individual way) in everything Bunny Clark. Right along with Ian is Jared Keniston who is one of the best and most unique deck hands I have ever had. Both of these individuals know what I want and how to deliver it with something extra. They also represent the best team I have ever had on this boat and I feel fully confident that things will go as they should when I am working ashore. No worries, the ability to sleep at night and knowing that everything will go the way it should - priceless! Thank you.
Tom Corbett, my swing captain, working Sundays in the summer, did a better job for me last season than any previous season except when he worked for me full time. I think our communication was better and his desire to catch fish and make anglers happy was right up there where it usually is. Me being able to take a shift as captain on Tuesdays during the summer, my captaining the Bunny Clark on most of the marathon trips, having Tom as my Sunday captain and being able to rely on Captain Ian and Jared gave me the best situation I have ever had. But you know what's even better? I'll tell you; we're all going to be back together to do it again this season! Now that's just great and I'm very thankful for it as well as you, my anglers, all should be.
Our website at http://www.bunnyclark.com continues to be the location where you can get information about the Bunny Clark operation on a daily basis during the season and off-season. We have a schedule and rates section, a photo section, a world records section and more. Our fishing update section provides anglers with up to date information on the daily catch, fish sizes, daily weather, angler deeds and fishery management information. This guestletter resides on this web site along with some of my previous guestletters. Although I can't personally answer all the e-mail that comes in associated with the site, our staff does a great job with this while also answering reservation questions and scheduling fishing dates. We are still not planning to use the e-mail as a direct source of making reservations as the phone serves as a better means to take care of anyone on an equal basis. Also, unless you specifically ask for a hard copy (see the attached coupon), this guestletter will only be available via my web page. From there, you can download it to hard copy. If you sent in a coupon last year, you will not be required to send another this year in order to receive your guestletter through the U. S. Postal Service.
Last season was the first season since the Bunny Clark was launched that I didn't tag a single groundfish for our own tagging program. Part of the reason for this was the smaller number of cod landed (more legal cod went home with the angler), the increased work load while running the deck, recording information and the fact that the New England Cod Tagging Program (NECTP - on the Web at http://codresearch.org/ or contact Pat Foote at 207-228-1645 or pfoote@gmri.org) was doing such a great job. Indeed, processing tags caught with cod that had been previously released by the NECTP took up a lot of the extra time we use for other things while fishing. I believe the time spent was well worth the effort for the following reasons. Anglers had the possibility to win sums of money by returning the tag ($100.00 for a blue tag - there were six blue tags caught on the Bunny Clark last season, $500.00 for a green tag - this is found on haddock specifically and we didn't see any of these last season or $200.00 in a monthly raffle). Anybody who returned a tag with the information required could receive their choice of a coffee mug, a t-shirt or a cap. All the information goes into a data bank that is available to the public and to researchers who can use the data to better discern migration routes, growth patterns/rates and habitat. This is sure to help the fishery in the future.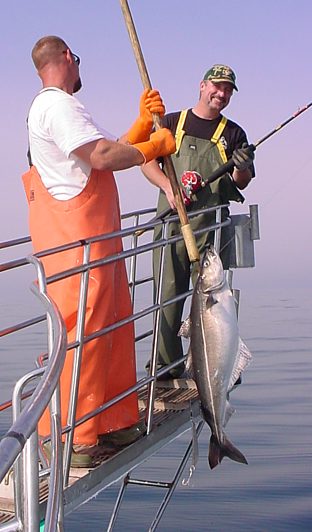 [The shot on the left was taken on the marathon trip of October 4, 2006. The angler in the pulpit is Steve Guilmet (MA) with deck hand, Jared Keniston, who has just gaffed Steve's 18 pound pollock. The fishing was excellent that day and the weather was flat calm and perfect; these are the days you think about during the cold winter months before the next season.]
Also, just because we didn't release any of our own tagged fish last season doesn't mean that we didn't get any great tag returns. We did. In fact, there are probably a viable twenty-five percent of Bunny Clark tagged fish at large just waiting to be caught.
The best Bunny Clark tag return we received last year came from a cod caught on January 12, 2005. The information was sent to me by Anne Magoon who was involved in a research project for the Cape Cod Hook Fisherman's Association. At the time of her research they were experimenting with baits that would be conducive to catching haddock but would exclude the hooking of cod. Since she was unfamiliar with my tag and unfamiliar with my business specifically, she had a hard time tracking us down and ended up stumbling across us in the winter of 2006. Her information arrived at my desk on March of last year. When the cod was caught on that day in 2005, it weighed 46 pounds and was forty-eight inches long. She witnessed the catch and weighed the fish herself. She told me it was one of the largest cod fish she had ever seen. This fish was landed on long line by the F/V Cabaret IV out of Gloucester, Massachusetts in a location fifteen miles directly east of Cape Ann, Massachusetts. What makes this the most interesting return of the year was the cod's growth during its time at liberty. Regis Jauvin (QC) had this fish tagged after catching it with a jig off the Bunny Clark on April 11, 2000. At the time of the catch this fish weighed 12 pounds and was thirty-four inches caliper fork length. This means that during the fifty-seven months (4.75 years) that this fish was at large, it grew fourteen inches and added 34 pounds to its weight! It must have had a heck of a food source! The fish was caught for the last time fifteen miles directly south from where it was tagged almost five years earlier.
Even though we didn't tag and release many groundfish last season, we did release a lot of legal sized cod back to the ocean alive. I've always encouraged the release of legal sized fish, particularly cod of 20 pounds or better as they are the better breeders. This is an unselfish act on the part of the fare paying angler and something that doesn't get as much attention as it should. To promote the release of big fish, we have a unique Tag & Release t-shirt that is given free to the angler who releases (tagged or not) alive a cod over 30 pounds. We stopped this practice of giving away shirts after November 1, 2006 when the federally imposed no cod possession limit went into effect. Still, after November, some our largest cod of the season were released including the 67.5 pound cod caught by John Watson (NH), Ron Roy's (NH) 54 pound cod, Dennis LaValley's 50 pound cod and Dave Gray's 48 pound cod, all cod in the top ten. Before that time, however, we had some great releases, particularly in the fall. The largest of these releases was a 46 pound cod caught by Dick Lyle (ME). The second largest released cod was a 41 pounder caught by Tim Williams (CT). The third largest was a cod of 40.5 pounds caught and released by Dick Lyle. All three fish were caught on the same day in early September.
Among my regular anglers, there are many who release legal fish (mostly cod) back to the ocean alive on a regular basis. I would be remiss if I didn't acknowledge them and print their names here. I may not have everyone's name but these are the heavy hitters who are consistent in this practice. They included: Dick Lyle, Tim Williams, Jason McGee (ME), Rebecca Hammer (NH), Dave Gray (VT), Sean Devich (NH), Dave MacDonald (MA), Don Johnson (MA), Charlie McGee (ME), Dennis LaValley (MA), Jeff Hansen (ME), Brian Murphy (NH), Marian "Merv" Murphy (NH), Gardner Murphy (NH), Fred Kunz (NH), Jim Gray (VT), Mike Horwitz (ME), Dominic Bruno (NY), Eric Pysar (NY), Tom Miller (NH), Steve LaPlante (CT), Steve Shugars (ME), Norm Herrick (MA), Robert Herrick (MA), Ken McLauglin (ME), Karl Day (ME), Matt Day (ME), Micah Tower (ME) and Ryan Keniston (ME). Thank you all so much for your unselfishness. Recreational anglers, of all the fishing groups, are noted for their conservationism but, on my vessel, you are the cream of the crop! Thank you very much!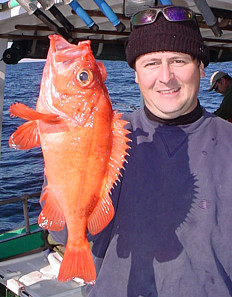 Of special note, I have to mention Bob Nixon's name, the most altruistic of all my anglers. Bob always releases legal fish (big fish particularly) and would probably be right up there with Dick Lyle on count had he sailed on as many trips. I mention Bob's name here because through the years he has also been most helpful to me with his advice on improvements in my fishing business. He owns and runs Nixon Machine and, through this, has modified many of my reels (including all the jig stick reels), build me complete reels to try, passed on hot information that might be of use and has provided the Fisherman of the Year award free of charge (I have always offered to pay for this!) after every season. Although I can't possibly mention all the good things this man has brought to the Bunny Clark, I thought some kind of recognition was in order - at least. Bob; thanks for your selfless pursuit of the perfect fishing world and, specifically, all the good you have done for my business and anglers in general.
[The digital image on the right is a picture showing John Warden (ME) holding his 2.75 pound Maine state trophy redfish caught on the marathon trip of October 16, 2006.] This was a very good year for "counters" (fish considered special on the Bunny Clark because of their size or uniqueness) and a special year for big fish in general. It was a very good year for Maine state trophy sized fish. However, world records and state record sized fish avoided us. We came closest with the extra large redfish we found in the fall but not close enough to make a claim.
You can check out all of our current and past world and state records by accessing the records link at http://www.bunnyclark.com or by going directly to http://www.bunnyclark.com/records.htm.
We settled into our most onerous of Federal fisheries regulations starting May 1, 2006. The minimum size limit on cod jumped from 22 inches to 24 inches. Also, we were hit with a no cod possession limit starting November 1, 2006 to April 1, 2007. This was the first time the recreational angler was not allowed to keep any of the cod that they caught off the coast of Maine, New Hampshire and most of Massachusetts. When November did strike, the deep sea fishing boats to the south disallowed cod for their boat pools and indeed, had anglers try to shake them off while in the water. We took a different approach (primarily because our anglers fish closer to the surface of the water). We allowed cod to be part of the boat pool, weighed the fish if they were pool contenders or trophy sized fish, took a picture of some of our larger trophy fish and released them as quickly as possible. The vast majority of these fish lived.
Regulations for the 2007 season are expected to remain exactly as they were after May of 2006. Along with the 24 inch minimum size on cod and the no possession limit of cod after October, we will still have the ten cod bag limit, a minimum size of nineteen inches on haddock and pollock, no bag limits on other groundfish species (except for halibut - one per boat per day) and no size limit on cusk, wolffish and hake. Also, the recreational sector is not supposed to be put in a position to defend itself this winter against further regulations as it has during most previous winters.
As I feel that the greatest achievement in angling is the ability of a person to hook and land a trophy fish on their own, I have listed the guests who caught the five to seven largest of each significant species during the 2006 fishing season. Keep in mind that all the represented weights of these fish were taken aboard the Bunny Clark using a registered scale shortly after capture. I feel that this is the fairest comparison between the angler's fish since weight loss is proportional to the amount of time the fish is out of water.
.
| | | | |
| --- | --- | --- | --- |
| NAME (STATE) | FISH WEIGHT - in pounds | LENGTH X GIRTH - in inches | DATE CAUGHT |
| | | | |
| --- | --- | --- | --- |
| J. D. Willison (SC) | Bluefin Tuna 42 | | 9-14-06 |