All the halibut that were hooked (and boated - thanks a lot, Dick Lyle!) were too small to keep.

Before I end this Guestletter, I want to cite those anglers and experiences of note that deserve an honorable mention for their uniqueness and/or fishing prowess during the 2009 Bunny Clark fishing season. I realize that this is a value judgment on my part but I believe that my conclusions are recognized as a popular opinion and/or statistical fact among my crew and fishing guests and are based on many fishing trips. These special anglers and incidents are as follows: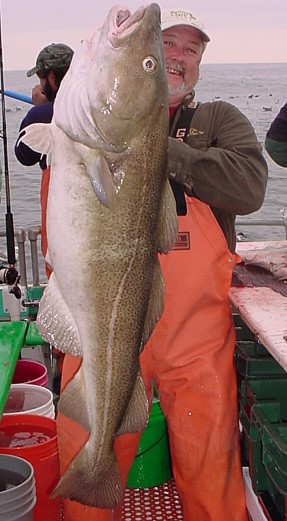 Fisherman of the Year (FY-'08): Tim Williams regains his title again for the 2009 season after losing it to Dan Kelley in the previous one. This is the fifth time that Tim has earned this title, the most prestigious honor we bestow here at Bunny Clark Deep Sea Fishing. This makes him the second most tenured angler in this category, only one award shy of Fred Kunz who has been the man six times. Initially, Tim led Dan Kelley, his closest competitor, for this title by exactly 50 points. The rule of the competition states that if your closest competitor is within thirty points, comparative values points (CVPs) have to be added on the days where they fished on the same trip together. I didn't need to use CVPs this year but, as a courtesy to Dan, I decided to see what the outcome would be if I did. Tim ended up taking Dan by 11 points (57 - 46), this in over twenty trips fishing side by side. I even recalculated the results by taking out the high hook category. Tim still came out ahead, cementing my decision for FY-'09.
[The picture on the right is a shot of none other than that wonderful fisherman, Tim Williams, holding his 47 pound Maine state trophy cod. He caught this for my birthday, that dear boy. It couldn't have been a better present. And to show his respect towards me, he released this fish back to the ocean alive after this one picture was taken. ]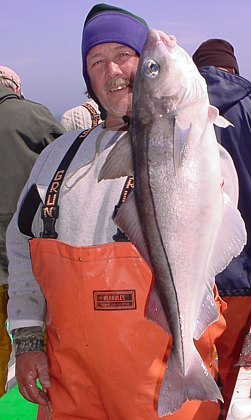 As most of you know by now, the FY award is based on a point system that relates to specific achievements during a trip and during the year. Each achievement is worth a set of points. The individual with the most points at the end of the season wins. In order to compete in this category, you have to have paid for and completed at least 10 different trips on the Bunny Clark. I have had many excellent anglers who fish with us on a regular basis every season, any one of whom has the potential to become the Fisherman of the Year. Tim was consistently the best or one of the best anglers last season. I think Tim's belief in himself is the one thing that propels him to the top or nearly so every year. This year was particularly tough for Tim as he had back problems. His recovery period eliminated him from the best trip of the season, the Ultra Marathon, and every trip between the spring and middle fall. Tim scored his most points in the fall when his physical condition was much better. During this time, he caught two (out of his three) of the top five in the years top species list, he scored an ace, he took the lion's share of the boat pools, high hook became the norm and his trophy list expanded exponentially. He just seemed to have the magic. And that certainly was enough! Congratulations, Tim, for doing something that I didn't think you could do under the circumstances. In fact, I had assumed Dan Kelley had it all wrapped up until I put the figures together. Nice work! You are the best - at least this year!
[The picture, upper left, is one showing Tim holding his 9 pound Maine state trophy haddock.] Tim's total point count was 233 (without CVPs). Dan Kelley took second place with a point total of 184. Shawn Rosenberger was third with 111 points. Seventeen year old Bryan Lewer came in fourth with 97 points. Gloria Gennari was fifth with 78 points. I am reminded that all five anglers fish with jigs and jig sticks. However, Tim rarely fishes with a fly over his jig. Dan never fishes with a fly. These accomplishments become even more meaningful when you consider that those who fish without that extra hook are limited to only one fish a drop (with rare exceptions). It certainly makes it that much harder then to reach high hook status on a given day and almost eliminates you from the points that could be gathered by landing one of the top five double keeper catches of the season.
Female Angler of the Year: Gloria Gennari (MA) wins this award for the fourth season in a row. There wasn't a woman even close. Besides that she was rated as our fifth best angler of the season overall. Her consistency, her fourteen trophy fish, her several boat pools, high hook status, her doubles, fisherman of the day on June 25th and her drive made it so very easy to choose her as the one. I certainly appreciate a clear leader. Congratulations!
Best Bait Fisherman: The season before last, Ray Westermann (MA) was the easy leader. During last season I thought; "Who is going to top Ray?" As it turned out, who better to top Ray than Ray himself? It was true. Known fondly as Shameless Ray "The Pole Tossing Master Baiter" Westermann, he tweaked his gear with a special bait enhancer (not including the Smelly Jelly) and did even better than the previous season. This was particularly true with the big hake. And I have to say, when Ray was on his game, no one could beat him in the haddock and hake department. And it didn't matter the depth either. He was always there. His most memorable highlight: he beat his previous season's largest (life time best) white hake five times finally ending it at 36 pounds, a wonderful Maine state trophy 5.5 pounds larger than his 2008 season's best.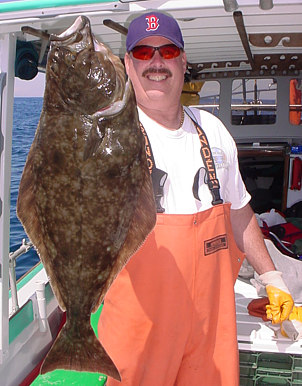 Most Aces: For those who don't know, an angler scores an ace when he or she lands the three (or more) largest fish during a single trip. There can be no ties in fish size with other anglers in order to achieve true "ace" status. There were four anglers who qualified for an ace last season (this is about normal). Matt Miller notched two aces last season. This is not normal for one angler. His first occurred on May 23, 2009 when he caught his double ace (the four largest fish of the trip), also the highest scoring ace of the year. His four fish were all cod and weighed 22.5, 16, 15 and 14.5 pounds during a regular full day trip. His second ace was caught on a day trip on July 4, 2009. This time his top three fish were a 21.5 pound pollock, a 17 pound cod and a 13.5 pound cod. Our "deck hand in training", fourteen year old Sam Robichaud (FL/ME), boated an ace during a full day trip on July 2, 2009. Sam's three fish included a 16 pound pollock, a 14.5 pound cod and a cod of 14 pounds. Andy Senikas (QC) scored the only ace during a sold out half day trip on July 21, 2009. His fish were all cod and weighed 8, 7 and 6.75 pounds. He was also high hook that evening with half of all the legal fish boated. The most impressive ace of the season (and the single most important event leading to his winning the FY-'09) was one by Tim Williams on the marathon trip of October 30, 2009. His three fish included a 47 pound cod, a 41.5 pound white hake and a 38 pound white hake, all Maine state trophy fish. The 47 pound cod tied for the fifth largest cod of the Bunny Clark season and the 41.5 pound hake tied as his second largest hake ever and tied (with himself) for the Bunny Clark's sixth largest hake of the season - only a half pound out of the top five list!
[Tom Miller (NH) is the angler on the upper right holding our largest halibut of the 2009 fishing season. Alas, it was only 12 pounds and too small to keep.]
Most Trophy Fish (including hake over 15 pounds, cod & pollock over 20 pounds and monkfish over 10 pounds) of the Season: Dan Kelley caught the most with a count of forty-one. Tim Williams was second with a count of thirty-two. Bryan Lewer was third with sixteen counters.
Most Trophy Fish during a Trip: Gator Ferschke (RI) caught the most with seven trophies on our last trip of the season, November 9, 2009, five of which were between 24 and 39 pounds. Bryan Lewer, Dan Kelley, Ray Westermann and Tim Williams tied with the second most trophy fish (six) for a trip. Dan Kelley, Jon Tesnakis (NY), Tim Williams, Dave Gray, Shawn Rosenberger, Steve Brown and Tim Williams (again - twice) tied for the third most trophies for a trip with a five count.
Most Pools (largest fish of the trip): Tim Williams landed the largest fish of the trip five times. Matt Miller and Shawn Rosenberger landed the second most pools with a count of four each. Gloria Gennari and Ken McLaughlin landed the largest fish of the trip on three different occasions.
High Hook: Tim Williams was high hook (the most legal fish on a trip) at least thirteen times that we know of. Shawn Rosenberger and Dave MacDonald (MA) tied for second place in this category with six counts that we know of. Dan Kelley was third at five counts - that we are sure of. I want to reiterate, Dan doesn't use a fly. Had he used one, he would have had ten or more counts added to his total last year. This was the reason I decided to take this category out for the final decision on the FY-'09.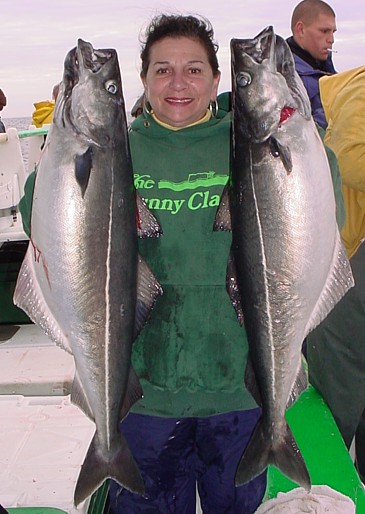 Hardest Luck: Al Lundeen (MA) probably had the hardest luck this season. The night before he was to drive to Perkins Cove, he loaded his cooler, fishing gear, his boots, warm clothes and oil gear into the back of his truck. When he walked out of the house the next morning to drive to the boat, all his gear had been stolen! He showed up at the Bunny Clark with jeans and sneakers. He did borrow a pair of gloves from a friend but lost one overboard near the first fishing spot, never to be seen again!
Mark Francis (PA) lost two really big fish last season. One, in the spring, was a cod and one that I would have given my eye teeth to get a scale on. The signature on the sounding machine was such that only several big cod over the years have come close to matching it. And two of those fish weighed 78 and 83 pounds! Alas, this wasn't his worst luck. On the morning of the October 22nd extreme day trip, Mark put his rod in its holder at a stern position. He sat down and worked on his equipment, eventually tying a jig to the line on this rod. As the boat headed out, he took cover further up near the forward bulkhead. Upon arriving at the fishing grounds, he went to use his rod but the jig and 500 hundred yards of Spectra line (at $.15/yard) were missing. Apparently, when he left his rod, he also left the reel in free spool. The jig must have dropped overboard taking all his line with it!
[The picture on the left shows Gloria Gennari holding her double keeper catch of pollock. The bigger one weighed 22 pounds and the smaller one was 20.25 pounds, both fish caught on the same line at the same time. ]
Hard Luck Snippets: Dick Lyle leaves New England to take a job in Penn's Woods (our loss, obviously). Nebraska Dick Smith (NE) hurls and gets only three fish during his only marathon trip of the season, an annual affair (the trip, not the hurling). Long time regular angler Don Spencer (VT) does one better and gets skunked on a marathon trip in May - the first time he has ever walked off the Bunny Clark without a fillet in twenty-seven years! Ben Labunski (SC) never lost a jig while fishing off the Bunny Clark in over twenty years, loses three in a row on a trip in late June! Merv gets spooled by a bluefin tuna! Charlie Wulfken (NY) fights with his right handed reel all day only to find on the ride back that we keep a full complement of left handed reels available for anyone who might need one! Luke Mielnicki (NY) loses one of our top five pollock on the surface and observes as it floats away - never to be seen again! Steaker Jim Strobridge (NH) picks a spring and a fall trip to fish, the two roughest trips of the year, and catches the dreaded mal de mer both times - very unusual! He did win the boat pool by default on the fall trip!
Most Improved Angler: Steve Brown (ME) fits this category like it was made for him. Steve went from being an average very interested angler to one who makes me anxious to see what he's going to bring up next. His improvement was steady with a high hook to his credit on August 17. By the end of the season he had boated his largest cod, his largest haddock, his largest hake and the largest pollock of his life. The coup de grace came on his last trip of the year in October when he successfully predicted that he would catch his first Maine state trophy fish. He caught five that day including a 27 pound cod, two hake of 33 pounds, a 32 pound hake and a 29.5 pound hake. That same day he just missed getting a trophy haddock by a half a pound! Nice work, Steve!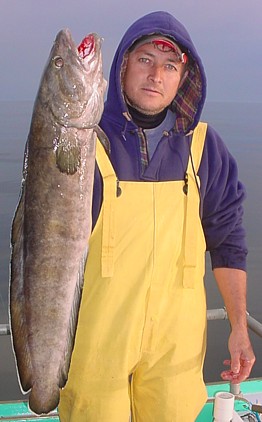 Best Team: Brian & Marian Murphy (NH) have fished with me for years and have always been the best or close to it. I haven't put them in this category for a few different Guestletters because, frankly, it would have denied me the opportunity of getting a dig in on someone for some good natured abusing. But every once and a while I have to surface, look around and come up with a serious pick. A thank you if you will for all the good service over the years. And I would say that Brian & Merv (as we all know her) have taken over the reins from Les & Linda Paul (ME). And what better a team to accept the torch from? Although most of the time Brian & Merv went on trips that I didn't captain, the trip they did go with me on, an extreme day trip, was one I love to recount. On that trip they released a total of twenty-one legal cod back to the ocean alive from 8 to 12 pounds, not quite half of their total catch. And that wasn't their best trip. Not only do they catch a lot of fish, they do it the right way and are just a pleasure to fish with besides. Thanks for being with me. You are the best!
[Frank Meszaros (NJ), seen right, holds his 13 pound Maine state trophy cusk that he caught on the Bunny Clark in June '09.]
Exceptional Good Luck: Jack Henke (NY) dropped his jig to bottom while on a marathon trip. Leaving his rod on a bench unattended, he walked away to do something. Shortly, a big hake grabbed the jig, pulled the rod off the bench where it caught briefly on the life rail and then shot overboard. Jack looked pale. I was concerned for Jack's feelings and for the loss of my equipment to the tune of $500.00. It must have been five or ten minutes later when Jay O'Connor (ME), fishing on the opposite corner of the stern from Jack, announced that he had caught a line! Ian Keniston and I assumed correctly that it was Jack's line with rod attached! Both of us worked with Jay, got the rod back to the surface and in the boat. We then pulled in Jack Henke's 32 pound Maine state trophy white hake!
Most Unusual Catch: Dave Miller (MA) has a crew that charters the Bunny Clark at least two times a season. They have been the most successful charter group (landings wise) we take annually and I, for one, am very grateful for their patronage. On his fall trip last year, Dave hooked into an obviously big cod. He doesn't say much and, unless you knew Dave, it's hard to tell when he is fighting a good one. I knew and was waiting beside him, gaff at the ready. When I first got a visual on the fish and recognized it as a big cod, I also saw a huge blue shape completely cover it over. It was a big shark, the identification of which was difficult to determine. The shark was so big (wide) that when it bit the cod, Dave didn't even feel it happen. In one bite the shark took everything behind the gills leaving Dave with only the head! We got the head aboard but it wasn't like landing the whole trophy fish that it represented. The head itself weighed exactly 30 pounds, a trophy by 5 pounds. The largest cod that Dave has ever caught weighed 37 pounds. So there is no doubt in my mind that Dave would have had his biggest cod had not the shark intervened. When I think about it, I feel that we lost one of our top five cod of the season - again.
Biggest Double: Dan Kelley caught the largest double keeper catch of the season on the last trip of the season! His catch included a 32 pound Maine state trophy white hake and 33 pound Maine state trophy white hake. One of these hake was caught on the stinger hook on the top part of the jig while the other was caught on the treble hook at the bottom end of the jig. Catching two fish on one jig is very unusual (for fish of any size) and it might have happened four other times on much smaller fish last season. Keith Hayden (MA) caught the second largest double. His catch included a 45 pound Maine state trophy cod and a 1.5 pound redfish (one fish on the jig and the other on the fly above the jig). Gloria Gennari took third with a 22 pound pollock and a 20.25 pound pollock (jig & fly as well). Ken Foss (ME) was fourth with a 26.5 pound Maine state trophy cod and a 9 pound cod. John Keenan (MA) took fifth with a 23 pound pollock and an 11.5 pound pollock.
Most Consistent: Tom Ward (CT). Enough said!
Memorable Quotes & Circumstances: Matt Miller pressed through the crowd of onlookers at the dock area of Perkins Cove. He was interested in being one of the first ones to sign the position book for a specific fishing spot on the Bunny Clark's upcoming trip. In order to do so, he had to get to the float. Seeing me there already, he called my name and made his way through the throngs, past guys with odd ear pieces and down to my position. "Why is this place so busy," he asked. "Is something going on?" Matt obviously had not a clue why there were so many people. "Matt," I said, "I would like to formally introduce you to the former President of the United States, my friend George H. W. Bush." Of course, the former President was only a couple feet away from me as I was helping the Secret Service push his boat off the dock. The former President was in the thros of making a timely run back to his compound in Kennebunkport. In a moment the former President took the hand of a man with his mouth so wide open that you probably could have piloted the Bunny Clark through it! Matt later told me that: "You made my day". When I asked the head of the Secret Service how Matt was able to pass through security and stand beside me he replied; "When I heard him call your name, I thought he was a friend of yours." Indeed!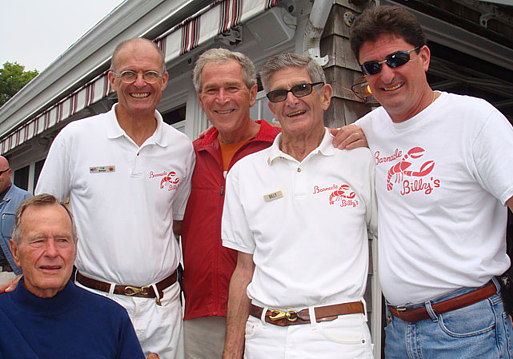 From left to right: former President George H. W. Bush, Yours Truly, former President George W. Bush, my father, Billy Tower and my best brother, Court Tower. The picture was taken by former First Lady Barbara Bush on the deck of Barnacle Billy's restaurant with my camera on August 12, 2009.
Unexplained Phenomena:
Anyone hear that song: "I left my skin in Massachusetts"? I feel lucky that I didn't leave my life there. I would have missed you guys! If it weren't for Mr. LaPlante, there would be no proof that I even left Ogunquit!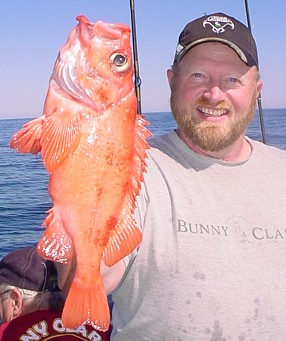 In Memoriam: We lost two special people last year. One was my oldest Bunny Clark angler, a special friend, and one was the wife and mother of two special Bunny Clark anglers, a very special person herself.
Sid Kaufman (FL) was planning on fishing with me last season when he developed lung cancer. He passed on June 26 after celebrating his ninetieth birthday at his family's house in Massachusetts. Luckily, his son, Jim, and his wife, Sylvia, allowed me to write something about the good times so it could be read there while he was still with us. I was told he liked it very much. Sid loved to fish. And he loved to fish with me. It was a heck of a complement, that. Had he fished with me on a more regular basis, there is no doubt that he would have made this newsletter in some good capacity. He was an excellent fisherman and an even better person. I will miss him very much.
[Left; a digital image of David Symes holding his 2.1 pound Maine state trophy redfish caught September of 2009 on the Bunny Clark.]
Nancy Buccacio (MA) passed on August 11 after a year fighting cancer. She and her family were and are the nicest people you will ever meet. Her husband, Jeff, and her son, Jeff, Jr., love to go fishing with me almost as much as I enjoyed seeing Nancy at Barnacle Billy's restaurant. And she was there a lot. Nancy had a beautiful voice (the lead singer in a local band), a very giving individual and a wonderful personality. She could light up a room. Until the day she died she looked twenty years younger than the sixty plus years she had behind her. We certainly need more like Nancy in this world, not less. I will miss her dearly.
Running Bunny Clark Deep Sea Fishing is a lot of work. For me it has become a bigger task as we are still growing with all the new changes that are bestowed upon us and as we try to improve every year. My involvement with my family restaurant, Barnacle Billy's, has increased my work load. I still love the Bunny Clark business and her many guests as much as I ever did. However, I couldn't do what I do as well as I do it without the help of Captain Ian Keniston and Jared Keniston. They have become so good and so precise in what they do; it's as if I were there myself. This is something I have tried to attain with every person I've ever hired. It's something that has never quite been accomplished until Ian and Jared arrived. Now I have a system that works as well with or without me. I value our working relationship like a treasured bank. I believe I have a good imagination and I believe my common sense is better than the norm. With these intact, I can't believe there will ever be two people who will ever be matched in their capacity on the Bunny Clark. They will never be beaten. For this I thank you, Ian and Jared, from the bottom of my heart.
Captain Tom Corbett (NH) remains my swing captain, giving us some much needed time off by working one day a week. I know the boat is in capable hands when he is aboard. I have loved my working relationship with Tom. I only wish he could work a day or two more! Tom too is a reason why the Bunny Clark system works as well as it does. Thanks, Tom. I appreciate you always being there for us!
I also want to thank those who keep us all going. Of most importance is my wife, Debbie, without whom I couldn't imagine where I would be. My mind tells me it wouldn't be good! Her advice, the work she puts into running the reservations, the bookkeeping, her unwavering attitude and her support allow me to truly enjoy the business. Renée Stevens, our behind the scene's girl, solves all the problems we can't fix, helps us both with the computers, bookkeeping, reservations, office stuff, etc. She is just wonderful and joy to have with us. Jane Staples is a girl I grew up with in the neighborhood. She still lives within walking distance from the house. She has been with us for many years now and does everything we need to have done. She is invaluable. Thank you all: Deb, Renée and Jane. I appreciate you being here more than I could ever express.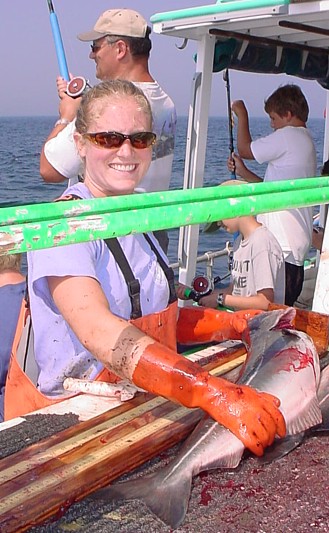 We had three reservationists who work solely with the people booking positions on the various fishing trips. Reservationists need to know how the trips work, what people want, how to provide it and to be able to communicate well and in a pleasant manner. We had some excellent people this year, made better by the fact that all have been with us before! That such nice people come back is certainly a benefit to us and the public they serve. Highest on my list, of course, is my daughter, Halley. Halley completed her fourth year last season. Halley and I communicate very well together as she seems to do with everyone. I may be a little biased but I think she's the best. Also, it helps that she knows Deb & Tim better than anyone! Katie Graichen completed her third season with us last year. She is just about perfect, certainly everything I would want in a person dealing with the public, particularly where it concerns my fishing business. I was very happy to have Eliza Jacobs back again last season. This was her second season. Another great season with Eliza! I want to thank you, all three of you, for being who you are and for doing such a wonderful job. Don't change a thing!
[The Maine Department of Marine Resources sends their biologists with us occasionally during summer to collect data on recreational angling. They support us regularly in the Federal fisheries management arena. And their biologists are a pleasure to have aboard. The picture on the right shows one such biologist, Claire Enterline, measuring a pollock that has just been caught during a day trip on the Bunny Clark.]
This was my third season riding in the Pan-Massachusetts Challenge (PMC), an 192 mile two day cycling event in August to raise money for cancer research and care at the Dana-Farber Cancer Institute, Boston, Massachusetts through the Jimmy Fund. I write about this here as many of you have supported me, some for all three seasons. By the end of last years fund raising season I had passed on over $71,000.00 to the Jimmy Fund, a true complement to your help. The reasons to donate are many. But there are a few salient reasons to continue to do so. First, they are good at what they do, one of the top four cancer research & care facilities in the country. Second, one hundred percent of your donation goes right to the source, the cost of running the PMC underwritten by businesses around Boston. Third, it's in our back yard. Fourth, the innovative work they do spills into other facilities and other areas of medicine making it better for everyone. Fifth, the more money they get, the better able they are to hire the best people to do the job. This will continue to make them the best to support. Thank you all so much for supporting me in this wonderful event. It's the event of a life for those people with the disease. And cancer won't go away on its own.
I can't tell you how quick these seasons go by. And with every ending season, there are more great stories to try to remember. I only wish I could remember them all. As I finish this Guestletter, I am reminded that every one I write is really a big thank you letter to all who participate in the Bunny Clark fishing season. It's you who make this letter and, by design, I try to get as many names in this as I have space for. Alas, I always leave many names behind. Thank you so much for such a wonderful season. I'm very much looking forward to seeing you all aboard in the season ahead of us. Winter Well!

Group Effort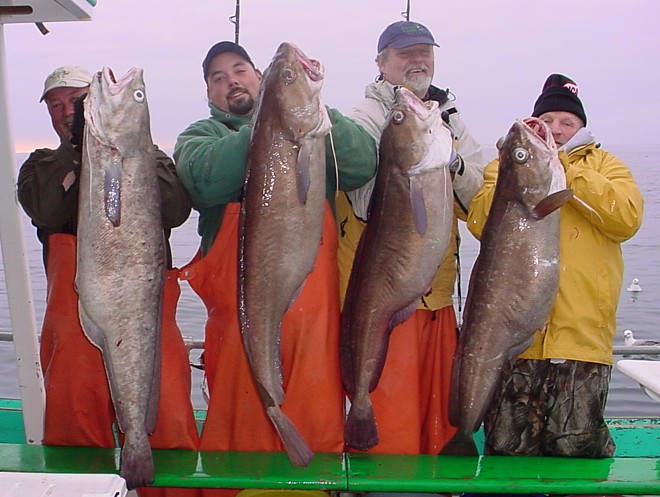 Trophy white hake, from left to right: Tim Williams & 41.5 pounder, Jon Griffin (MA) & 36 pounder, Steve Brown & 33 pounder and Wobby Barnes (MA) holding his 37 pounder.
If you want to send me e-mail, the current address is ttower@bunnyclark.com. The general email address is info@bunnyclark.com.
With this web site in general, I hope to keep you current on all of the fishing particulars on the Bunny Clark and include updated information on fishery management decisions that could potentially affect us. For a current report go to the Fishing Update section from the link located on the index page of this web site. Thanks!


Back To Home Page, Deep Sea Fishing Maine