Dear Guests: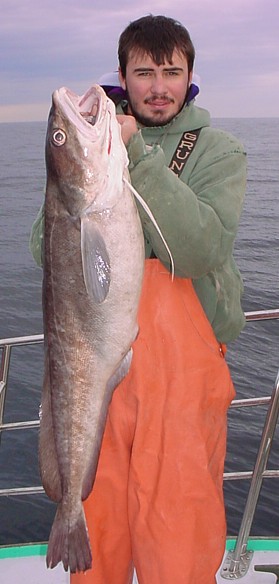 Welcome to another edition of the Bunny Clark experience in words as seen through the eyes of your consummate host and daily scribe, Tim Tower.

Welcome back to my thirty-second annual Guestletter. The first one I wrote, after the 1983 Bunny Clark fishing season, was less than a page long, written like a standard business letter and devoid of any history. It was my first season. I had been running a deep sea "six-pack" charter boat business for six years before this. The Bunny Clark experience was going to be very different than that with new ideas, a new way to handle some of the same fishing experiences and a way in which I wanted to take advantage of everything that could benefit the angler. I emersed myself in this business giving everyone the personal touch, focusing on finding big groundfish of all species and using this new history to fuel future Guestletters. From 1983 until 1996, I ran every Bunny Clark fishing trip. The year I got married (April 1990) to my, now, wife, Deb, I ran 204 days in a row without a day off (April 6th - after the short honeymoon - until October 22nd). It had always been a mission of mine to get over 200 days in a row. I came close three other times but only got within 4 days once, before 1990. In 1996, worried about the way the fishery was being managed, I decided to get back into my family's restaurant business, Barnacle Billy's, on a part time basis, along with captaining/running the Bunny Clark operation. When the first captain took the Bunny Clark under the bridge in Perkins Cove without me it was a sad day. And I can't say that after all these years I have become totally comfortable with it. Although the last five years I have felt that Captain Ian Keniston runs my boat better than I do. Both he and his brother, Captain Jared Keniston, strive to run the Bunny Clark in the best way they know how. And, as a team, they have done a wonderful job. Every one of my anglers tells me so. I am very appreciative of my captains and their work and work ethic. And I feel lucky. And it would be very difficult indeed to do what I do without them.

Having the extra time ashore gave me an opportunity to re-learn the restaurant business. And it gave me more time to be with my children who were born in 1993 and 1994. I started my web page in late 1995. So I also had time to write a "fishing update" section which, to this day, I edit on a daily basis. I also had time to create a fishing database and use spreadsheets. At the end of each season I use the year's updates to get information to write a factual newsletter, the Guestletter, which I am presenting to you now. The spread sheets keep track of our biggest fish and the anglers achievements used to discern the Fisherman of the Year. I have a lot of fun writing this Guestletter as it allows me to re-live the experiences of the previous season all over again. And it's always fun to find out who was the best fisherman of that previous year. And after thirty-two seasons I have plenty of history to look back on.

[The picture on the right is a shot of Micah Tower (ME) holding his 28.5 pound Maine state trophy white hake, not his largest fish (or hake) of the season but the largest fish he caught on the Bunny Clark in 2014.]

As every season is different from the next, the 2014 will probably be most remembered for the abundance of haddock in all but the inshore areas of the fishing grounds where the Bunny Clark spends her time. In fact, we caught just shy of twice as many haddock last season as we did during our second best season for haddock in 2013. We would have caught more than double had we completed as many trips as we did in 2013. And our haddock catch of 2014 was 12.7% of the total haddock catch from the beginning of the 1996 season to and including last season. That's nineteen years of total haddock caught! During the 1995 season we saw the haddock return to the Gulf of Maine after a hiatus of nearly ten years where if we caught 25 to 50 total haddock for a season that was big news. Catching nearly 13,000 haddock in 2014 was a far cry from those years when we had many more trips and almost no haddock. In fact, in those years if I saw a haddock I would clap the lucky angler on the back, show it to everyone on the boat and call my contemporaries on the radio.

Unfortuneately, the 2014 fishing season was also noted for it's colder water at the start of the fishing season. That winter before the 2014 fishing season was the coldest winter we had seen in decades, dropping the ambient surface water temperature early in the winter and maintaining a significantly lower temperature into the fishing season. This delayed the arrival of the haddock and pollock. And, as is typical, the haddock, pollock and cod were smaller. I have always noted a relationship between colder water and landings of smaller fish. There are exceptions, of course. But it almost seems as if the smaller fish will take a hook more quickly than their larger counter parts in cold water. Also a factor was the large decrease in the last two years of the cod spawning stock biomass. The spawning cod are generally the larger cod. So boat pools were won with smaller fish than they were in previous years, particularly in April.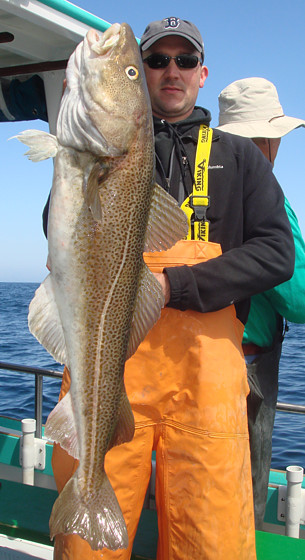 At the same time we had the best haddock catches the Bunny Clark has ever seen. One of my most coveted Bunny Clark records is the most-haddock-caught-by-an-angler-on-a-single-trip. Paul "Chico" Astorino (MA) started the ball rolling during a marathon (12+ hour) trip on May 1, 1995. There were well over 200 haddock caught on the boat that day, the most haddock I had seen caught with a rod & reel since I was a kid (and that's a long time ago - it's even longer now!). Chico, himself, caught 39 of them, the most haddock, by far, of any previous Bunny Clark angler. On the April 18, 2004 full day (8 hour) trip, Justin Morton (NH) broke Chico's record with an official count of 49 haddock. On that spot I had never seen such a large school of haddock on the sounding machine. Indeed, we anchored on that spot and never had to move for the rest of the trip. And it was a lucky thing that that trip was only eight hours! Two Aprils later, Ian Keniston caught more than Justin did during a marathon trip. However, this is unofficial as I didn't have an exact count. Ian had more than 44 haddock with a couple more hours of good fishing to go. Ian wasn't into counting haddock (or as anal as I am about records and such) so he just let it go. And I didn't keep track as I normally do. However, I know he had over 50 count. I was there as captain. But all that went away when Ray Westermann (MA) shattered the quibble over haddock count during a marathon trip on April 17, 2014. That day he caught 119 haddock, over double the previous record. Not only that, on the April 11, 2014 extreme day (10 hour) trip, we established a second and third place for haddock count, something I never bothered to record previously. That day, Tom Murphy (VT) caught 110 haddock and Steve Shugars (ME) caught exactly 100 haddock. And some of the haddock schools we saw this year blew away the sight I saw on the sounding machine on that April day in 2004. And this happened many times. With a three haddock bag limit last season we did not have the incentive to keep catching haddock once the bag limit was reached. In other words we could have caught many more haddock this season than we actually did!
[The digital image on the left shows Chris Albert (ME) holding his 22 pound cod. This is the largest cod that has been caught on the Bunny Clark in two seasons. (Captain Ian Keniston photo) Last season Chris' 22 pound fish was a halibut! I'll tell you right now; if you catch a 22 pound haddock in 2015, I'll give you several free marathon trips!]
We actually saw an increase in average pollock size this season. There wasn't an obvious difference, officially a pound average. But we also saw it on the top end with more pollock over 20 pounds and larger pollock in the top five than we had during the 2013 fishing season. And the pollock count was similar for most of the season, slower near the end. We didn't have much of an October or November for number of fishing trips. In fact, we recorded a new low (regulations - we weren't allowed to keep haddock or cod in September & October). But had we been able to take more fishing trips at that time, we would have seen many more pollock over 20 pounds. We were just starting to see the slammer pollock when our season was cut short.
We didn't catch as many halibut last season. Only seven were caught, none of them of legal size. This is two less halibut as compared to the year before. And it was less than half of our best year, 2012, when sixteen halibut were caught. Cod sizes were down again for the second year in a row. The cod size started off low but then continued through the season. Our top five cod were bigger than last season. But we never did see a trophy cod (25 pounds or over). And we only caught two over 20 pounds (20 & 22 lbs.). The largest cod during the 2013 season was only 18.5 pounds.
White hake catches were down this year as well. I felt that this was partially because there weren't as many in the areas we fish. And it was also because there was less incentive to catch them. Knowing that we weren't going to be able to keep cod starting September 1, 2014, we stayed primarily with the cod whenever we could. Hake is my favorite fish to catch and eat. But it is also the hardest fish to catch because of the depth of water and the time it takes to look around for them.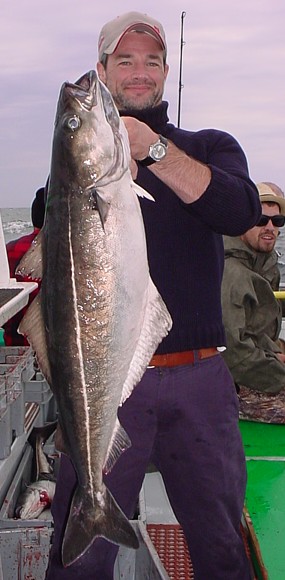 Redfish landings were about the same. I can't say that we spent a lot of time targeting redfish. In the spring they are found on shallow rocky areas. At the same time we were targeting haddock on the gravel and clay bottom. In the fall, the redfish are larger on average but are found in deeper water or more technical fishing spots. Sometimes we find them with pollock, not so much in 2014. Last year we caught them mostly in the fall. Still, we found some of our biggest redfish. On one trip we caught many redfish close to 2 pounds.
We saw an increase in the cusk caught on the inshore bottom in 2013. This was well more than we had seen the previous season. Last season was much the same as the season before. Our cusk numbers were better than last year, particularly on the inshore (half day) fishing grounds. As I mentioned in last year's Guestletter, I think the reason for this is that lobstermen don't set their traps on the hard bottom as much as they used to. This is because lobstermen aren't allowed to use "float rope" between their traps. If you don't use float rope around these hard bottom places, the rope between traps gets hung up in the rocks. This is a good way to lose a lot of lobster gear. So lobstermen had been tending to shy away from the hard rocky bottoms. Lobster traps catch cusk because the preferred bait is herring, one of the cusks favorite food. And cusk are territorial. So when the traps aren't there, the cusk flourish and increase in those areas, my theory. Whatever the reason, we are still seeing an increase in the cusk population inshore.
[A 22.5 pound pollock (right) is being held by the angler who caught the fish, Mark Cerroni (NY), on a fairly rough fall day. His morning that day wasn't the greatest but his afternoon was very good. This pollock was the second largest fish caught that day and turned out to be the Bunny Clark's seventh largest pollock of the 2014 fishing season.]
The cusk population offshore was about the same as it has been. We didn't see as many of the trophy sized cusk because we usually find them with the cod in places offshore that we normally fish in October. We had so few trips in October that we couldn't take advantage of those trips where we might see a big cusk.
Catches of the incidental species varied last season. We saw many more whiting than previous years. Most were caught in the late summer and fall. And, like the season before, we managed to boat a 4 pound whiting, just under the current IGFA World Record. There weren't as many dogfish caught. It was the least number of dogfish I have ever seen on the fishing grounds, by a large margin. In fact, there were only two trips where dogfish were caught on the half day trips. And the reason we caught the dogfish on those two trips was because we were fishing further offshore than we normally do. We boated no tuna this season. Although we did hook up with six of them; all were way too big to land on cod gear. This is the fourth year in a row that we haven't landed a bluefin tuna on the Bunny Clark. We might have hooked up with one or two porbeagle sharks but never got them close enough to gaff. Blue sharks were about the same as we normally see them. The blue sharks showed up a couple weeks early as they did in 2013. But they weren't horrible; there have been many very bad bothersome blue shark seasons. This wasn't one of them. Only two times were they really bad. On one trip we lost about forty jigs to them. Sixty-eight wolffish were caught (and released). This is actually a ten percent increase. We don't target wolffish anymore as they are now a protected species that can't be kept. The fact that we catch any at all is a good sign I think. There were two barndoor skates caught. This is unusual. Until five years ago we never saw any barndoor skates. The fact that we are seeing them now can be directly attributed to the closed commercial fishing (particularly dragging or trawling) areas. We saw quite a few mackerel again, for the second year in a row. We caught no monkfish of decent size.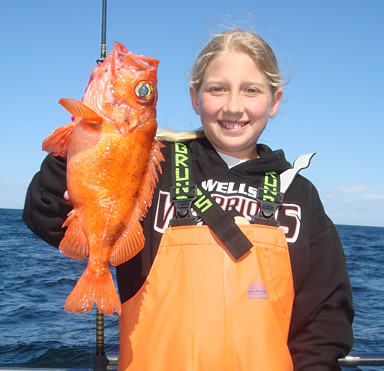 Every winter gives us time to take the Bunny Clark apart, work on the things that broke, make changes to items or areas that didn't meet our standards and bring something aboard that will improve the quality of fishing. During the winter of 2013/2014 we did our normal thing. The number one item of importance is to restore the Bunny Clark back to the cosmetic quality it was when we launched her the previous spring. Every spring she looks brand new. This is the purview of Ian Keniston and Jared Keniston. They have done a wonderful job for over eleven years together. Ian started alone a few years previously with David Pease, the man who built the Bunny Clark, as Ian's mentor. In fact, Dave does all the heavy repair and innovative work on the Bunny Clark every winter.
[The digital image on the left is a shot of ten year old Emma Keniston (Michelle & Captain Jared Keniston's daughter) holding the biggest redfish that was caught on an extreme day trip in late May. It weighed 1.25 pounds. This was her first deep sea fishing trip and her first redfish. She also caught the second largest fish of the trip, an 8 pound cod, which she released back to the ocean alive - even though she could have kept that fish. I always applaud volunteered conservation methods. The fishery could use many more like Emma. And if more were like her we would certainly need less regulation! (Captain Uncle Ian Keniston photo)]
Along with cosmetic work we had repairs (cracked hydraulic pump bracket, worn rudder shoe bushing, structural problem with the steering wheel, etc. & etc.) and we had small items, like lighted switches that just improved life on the Bunny Clark. Most of the things we did fix or improve are items that the passenger will never see like the installation of four new AGM deep cycle batteries to replace the house and engine starting batteries during the winter of 2013/2014. This made my life easier. But this is something the angler would never know about.
Our biggest and most expensive improvement was the installation of a new primary sounding machine, or "fish finder" as most refer to it. We replaced our secondary sounder with the new CHIRP (Compressed High Impact Radar Pulse) technology machine. This sounding machine outperforms the best traditional sounding machines at all depths to 10,000 feet. Depths of 400 to 600 feet can be really tough with the traditional machine. When you increase power to get a better look at the bottom with these traditional machines, you lose resolution. With the CHIRP machine, you can get resolution down to a half inch at all depths as opposed to resolution in feet at just over 600 feet with the traditional machine. What it did for us, besides giving me a "show & tell" with our fishing guests, was give us a tool where we could clearly see fish at any depth individually, without interference at any speed. It gave us the shapes of wrecks, it showed us individual fish in schools of bait (herring) and it gave us relative fish sizes. I could tell, for instance, whether a school of pollock was made up of 10 pound individuals, 15 pound or larger fish or small pollock. I could even tell if there were a couple of bigger pollock in with medium sized pollock. The biggest difference for me was the ability to see fish at any depth while cruising at 15 knots. With the traditional 50 Khz machine, the interference was too much and worse with increased depths and speeds. Even if you could get some semblance of the bottom or fish while running, you had to constantly adjust the gain (power) to maintain a picture at changing depths and speeds. Ian, Jared and I fell in love with the CHIRP machine. The sounder only became available to the public a year ago. So this is a brand new piece of technology.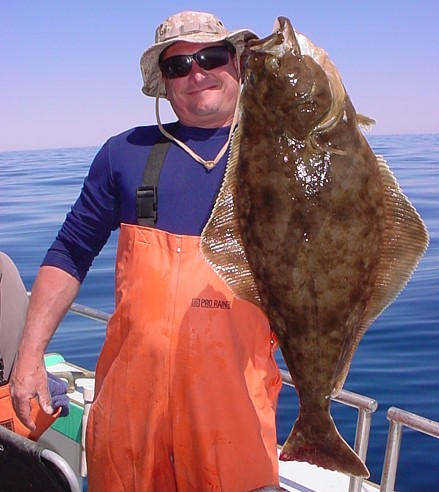 Last year was our eighteenth year with my TAMD 163P (16 liter) Volvo diesel engine, the engine and heart beat of the Bunny Clark. I had been very happy with a Detroit 892TA for a few years before the Volvo. On October 12, 1997, on the way back in from Jeffrey's Ledge after a very successful fishing trip, I put the cam follower right through the block of the Detroit 892 TA, losing all the oil and rendering the engine useless. We had to get towed in from almost thirty miles out, arriving back in Perkins Cove at around 10:00 PM at night. Thanks to David Pease and Dion's Yacht Yard, Kittery, Maine, the Detroit diesel was taken out and replaced with the 163P Volvo. On October 24, 1997, we took our first fishing trip with the, then, new engine. That was 25,000 engine hours ago. And it has been a good engine. But the engine became obsolete about twelve years ago, parts were not carried in the United States and it became harder and harder to service the engine and still maintain a regular sailing schedule. In fact, it won't be long before parts will not be available. This along with the fact that it still has the original crank shaft, the engine itself is getting too old and if I wait any longer to replace it, I would have to comply with tier 4 ratings. You would almost need a larger boat than mine to comply with tier 4 standards while maintaining the same horse power. Add on the fact that we babied the engine for the last month of the 2014 fishing season with a serious coolant leaking problem (head related), I just figured it was time. And it was part of my five year plan. It came down to either leaving the business that I love or getting a new engine. Simple as that.
[Steve Vizzi (NJ) is shown on the right holding his 11 pound Atlantic halibut that he caught on an offshore trip just before releasing it back to the ocean. Looking at this digital image makes me long for warm weather and calm seas!]
So in December of 2014, I ordered a new Volvo Penta D13-700 (13 liter) diesel engine from Power Products, the same company I have been doing business with for twenty-five years and five engine purchases. This engine is 700 horse power and meets the tier 3 emission specifications applicable for vessels undergoing new construction or re-power until 2016. The engine is grand fathered after that, just as the previous engine was grand-fathered until replacement. It's also 1,000 pounds lighter putting it within a very few pounds of the same engine weight as when the boat was first stability tested in 1983. Along with an engine change we will also be replacing the propeller (it's time), the shaft, the cutlass, the sea strainer, engine water intake thru-hull fitting, fuel lines etc, etc. Most of these other pieces are twenty years old or better. It's a big job and it started with the removal of last year's Volvo 163P engine with a crane in January 2015. By the time we are sailing again in April, the Bunny Clark will have a new more dependable power plant that meets today's emission standards.
There will be no new fishing equipment changes expected for the upcoming 2015 fishing season unless new regulations require it. In the works is a suggestion from the Recreational Advisory Panel (RAP - a Federal committee of which I hold a seat that advises the New England Fishery Management Council (NEFMC or Council) to the National Marine Fisheries Service (NMFS). In this suggestion is a requirement for anglers fishing in the Gulf of Maine (GOM) to replace the baited "J" hooks with in-line circle hooks and to use "J" hooks to replace the treble hooks on jigs. All this to decrease the mortality rate on released cod. If this comes to pass for the start of our season on May 1, 2015, I will be relying heavily on the establishments I've come to know and trust over the years that have provided me with the best fishing equipment. Two of the places I rely on most are Surfland Bait & Tackle, Newbury, Massachusetts (Kay Moulton, proprietor) and the Saco Bay Tackle Company in Saco, Maine. Each of these places has been responsible for building excellent rods to my specifications and for providing the best fishing tackle. My jigs are almost exclusively purchased from John & Elsa Tenczar at Fish-On Tackle. They can be reached by going to their web site at www.lavjigs.net or by emailing John at johnfishon@comcast.net. We use their 16 ounce Lavjig almost exclusively as we consider it to be the most versatile jig for all depths and conditions. They make an excellent chrome version of that jig which we have great success while fishing in less than forty fathoms of water. I will be in close communication with John if jig specifications have to change in order for us to comply with the new, if any, fishing tackle regulations.
Our web site at http://www.bunnyclark.com continues to be the location where you can get information about the Bunny Clark operation on a daily basis during the season and off-season. We have a schedule and rates section, a photo section, a world records section and more. Our fishing update section provides anglers with up to date information on the daily catch, fish sizes, daily weather, angler deeds and fishery management information. This Guestletter resides on our web site along with some of my previous Guestletters. Although I canít personally answer all the email that comes in associated with the site, our staff does a great job with this while also answering reservation questions and scheduling fishing dates. We are still not planning to use the email as a direct source of making reservations as the phone serves as a better means to take care of anyone on an equal basis.
This is the third season that I didn't continue with my groundfish tagging program. This was in part due to a decrease in the cod population, our primary target fish, and the angler desire, under the law, to keep most of the legal cod we caught. We did have anglers who released cod during the cod retention season. But these anglers were few and far between. I want to recognize Norm Herrick (MA), Tim Rozan & Jon "Griff" Griffin (ME) here for releasing the most legal cod back to the ocean alive during the season when it was legal to keep cod. Tim actually caught his first halibut this year as well, which he released, a 9 pounder. Norm landed the fifth largest cod of the season, a 16 pounder. Griff was one of our top five anglers of the year.
[The fish on the left is a 4 pound haddock, our first legal fish of the 2014 Bunny Clark fishing season caught on the April 9 extreme day trip. The subject is Jason Peters (MA), an excellent angler who we have had the pleasure to host on many trips in the past. (Captain Ian Keniston photo) ]
Although we maintain a healthy Maine state trophy program to recognize larger than normal fish, we had no potential world or Maine state records. Chris Porter (MA) came close to the whiting world record when he boated his 4 pound whiting during the marathon trip on my birthday, October 30. The All-Tackle IGFA world record for whiting, also called a silver hake, is 4.51 pounds caught by Erik Callahan on the Bunny Clark in August of 1995. We had no other fish that came as close to a world record either in pounds or percentage. You can check out all of our current and past world and state records by accessing the records link at http://www.bunnyclark.com or by going directly to http://www.bunnyclark.com/records.htm.
The Federal recreational fishing regulations got thrown for a loop last year when the NMFS closed the months of September and October to cod & haddock possession by anglers. On November 12, 2014, the NMFS introduced an Emergency Interim Action that brought in rolling area fishing closures and a six month ban on cod/haddock retention for anglers, ending May 12, 2015. In the meantime, the Council met in November to pass Framework 53, an action (if accepted by the NMFS) that will supersede the Interim Action by the start of the fiscal fishing year on May 1, 2015. So, until at least May 1, there will be no possession of cod or haddock in the GOM. As of this writing, there is no information available to the recreational angler from the NMFS informing us exactly what we can expect for regulations during the season. I think this is very irresponsible to businesses like mine who rely on salient information so that anglers can make a reasonable decision on when to plan their future fishing trips. Reservations have slowed as it is. And some anglers were disappointed when they went on trips last September unaware of the cod/haddock retention ban the day of the trip! I'm hoping that by the time May 1, 2015 is upon us that the recreational angler will be excluded from all the rolling & static closed areas (except the dynamic cod spawning closed areas - Whaleback, etc.) and that an established haddock bag limit will be implemented.
I'm sure most of you are wondering why the NMFS is having a hard time giving the recreational angler any haddock when this species is so plentiful in the offshore waters of the GOM, the mid-water herring trawlers are allowed an unreasonable amount of haddock bycatch and the commercial vessels are allowed such a huge take of haddock at such a small minimum size (16 inches). You may well wonder. Most of this is due to lack of peer reviewed scientific information, a lack of common sense, the unrealistic view of the technological advances in the commercial fishery and the timeliness of information. But the real reason for haddock limits both in fishing area, size and quantity for the angler is a fear by the NMFS that the recreational angler will exceed the total tonnage of cod allowed in the GOM. In other words, they are afraid that the angler will catch too many cod in their pursuit of haddock. The NMFS has established a 30% mortality rate (the percentage of fish that die when released) on returned cod for recreational anglers. I was the major contributor in the Federal workshop that established this mortality rate two years ago. That rate could be smaller in a proactive environment. If the mortality rate for cod was 0%, with haddock recruitment projections expected to escalate in the near future, the bag limit of haddock could easily be 10 fish or more. Unfortunately, 0% is unrealistic and 30% is very close to the truth over the total spectrum of angler fishing practices as it relates to the manner in which cod are released.
[The picture on the right is a shot of nine year old Luke Keniston (ME) and his father, Captain Jared Keniston, holding Luke's triple keeper catch of groundfish during an extreme day trip. Luke made this catch with one jig and one fly on his line! It was the largest triple keeper catch of the 2014 Bunny Clark fishing season. The fish included a 12 pound pollock, a 7 pound pollock and a 6 pound cod. The 12 pound pollock was the largest fish caught on the Bunny Clark that day. (photo by Captain Uncle Ian Keniston) ]
The regulations that we expect will take effect on May 1, 2015 are as follows. There will be no cod possession from May 1, 2015 until April 31, 2016. We might see a haddock bag limit of four fish at seventeen inches minimum size limit. There will be no retention of haddock during Wave 3 (March & April) and Wave 5 (September & October). We might be unlimited in the areas we can fish except for the Whaleback Spawning Closure to the south and east of the Isles of Shoals. There will be a 12 inch minimum size on winter (blackback) flounder, a 19 inch limit on pollock (with no bag limit), a 9 inch limit on redfish (with no bag limit) and a 41 inch limit on halibut. Halibut landings are limited to one halibut per vessel per day Federally; state wise we are limited to five halibut per calendar year (Maine only). There is no size limit or bag limit on hake (both white, red & silver hake), mackerel and cusk. There is a minimum size of 54 inches (caliper fork length) for possessing mako sharks, porbeagle (mackerel) sharks & thresher sharks. You will be able to land a bluefin or two or three or four (per vessel) of an undetermined size (to be established at the beginning of the season on June 1, 2015). It is illegal to keep barndoor skates, eel pouts and wolffish.
During those months when we can't keep cod or haddock we will be targeting pollock, hake, redfish and cusk. We can catch cod (they will count for the boat pool) but we will not be targeting cod nor will we be able to keep them. There will be no "gaffing" of cod, wolffish, haddock (except trophy haddock - over 7 pounds - in season), barndoor skates, striped bass or eel pouts.
The Conservation Law Foundation came out with a short video about keeping the Cashes Ledge closed area closed instead of opening it up to commercial dragging as is the plan right now. I had a short part in the video. I am very supportive of keeping the Cashes Ledge area closed and keeping the status quo on the Georges Bank closed areas numbers 1 & 2. Some on the New England Fishery Management Council want to see Georges Bank, particularly, opened to dragging. This is where our haddock are coming from, the biggest groundfish success story of the modern era. And they want to open it up? It's selfish and crazy. The video on my browser starts as soon as you bring up the page but you have to scroll down to see it. Otherwise, all you hear is the narration. There is a petition to sign at the video link I just gave you after the video is completed. I would appreciate it if you signed your name in support of keeping the Cashes Ledge area closed and supporting the CLF in general. The closed areas have been a very important part of the rebuilding process of the groundfish stocks in New England. Without the closed areas I am certain you will be kissing your fish goodbye. This isn't the only thing that needs to be done, of course, but it's a good start. I can see that we will be fighting to keep these areas closed for a long time to come. I intend to keep investing my time doing so. I will continue to be involved, not only to keep my place in the fishery, but to bring the groundfish stocks back so everyone can take part. My hope for the future is a sustainable commercial and recreational fishery that we can pass on to our future generations in New England.
As I feel that the greatest achievement in angling is the ability of a person to hook and land a trophy fish on their own, I have listed the guests who caught the top five largest of each significant species during the 2014 fishing season. Keep in mind that all the represented weights of these fish were taken aboard the Bunny Clark using a registered scale shortly after capture (the same way it has been done since our first fishing trip on the Bunny Clark in May 1983). I feel that this is the fairest comparison between the anglerís fish since weight loss is proportional to the amount of time the fish is out of water. This also makes the weight of every fish caught comparable through all the past and present Bunny Clark fishing seasons.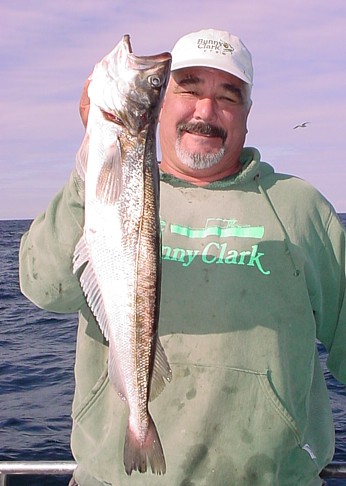 | | | | |
| --- | --- | --- | --- |
| NAME (STATE) | FISH - lbs. | LENGTH X GIRTH (inches) | DATE CAUGHT |
| | | | |
| --- | --- | --- | --- |
| Dan Wescom (VT) | Monkfish 4 | | 06-25-14 |
| | | | |
| --- | --- | --- | --- |
| Randy Clark (VT) | Barndoor Skate 23* | | 08-31-14 |
| Jeff Gallatly (ME) | Barndoor Skate 18* | | 09-25-14 |
Chris Porter (MA) is shown on the right holding his 4 pound whiting (silver hake). This is a tie for the second largest whiting caught on the Bunny Clark, ever.
| | | | |
| --- | --- | --- | --- |
| Bill Socha (NH) | Redfish 3.5 | 18 X 13 | 11-04-14 |
| Dave Gray (VT) | Redfish 3.0 | 17.75 X 14 | 06-19-14 |
| Steve Lenox (NY) | Redfish 2.5 | 17 X 11 | 10-07-14 |
| George Willy (VT) | Redfish 2.1 | 16.5 X 13.5 | 10-28-14 |
| Kevin White (ME) | Redfish 2+ | Floated Away! | 11-04-14 |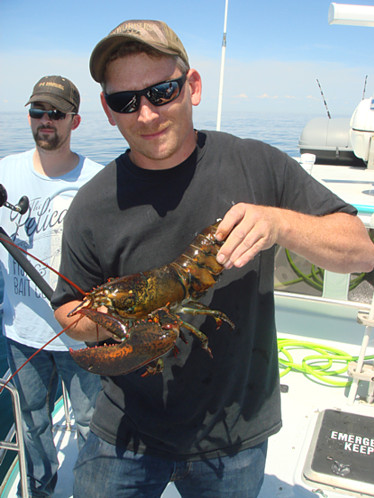 Angel Tracey (VT)

Wolffish 15+

***
Released Unintentionally Before Weighing

07-29-14

Bill Pfau (OH)

Wolffish 15

***
Official Largest Wolffish of the B.C. Season

06-25-14

Cecilia Gandolfo (MA)

Wolffish 14.5

***

07-29-14

Leo Lamoureux (VT)

Wolffish 11.5

***

07-07-14

Steve LaPlante (CT)

Wolffish 11

***

06-30-14
. . The digital image on the right was taken by Captain Ian Keniston during the June 8, 2014 extreme day trip. The picture shows consummate high hook mavin, Mark Doody (CT), holding his 1.5+ pound berried (with eggs under the tail) lobster which he caught and released after the picture was taken.
| | | | |
| --- | --- | --- | --- |
| Jimmy Walker (NJ) | Pollock 27 | 40.5 X 24 | 09-24-14 |
| Steve Brown (ME) | Pollock 27 | 39 X 23 | 11-04-14 |
| Dana Decormier (NH) | Pollock 24.5 | | 09-28-14 |
| Mark Strife (NY) | Pollock 24 | | 09-11-14 |
| Kleanthe Caryofilles (NY) | Pollock 23.5 | | 08-28-14 |
| John Manis (NY) | Pollock 23.5 | | 10-28-14 |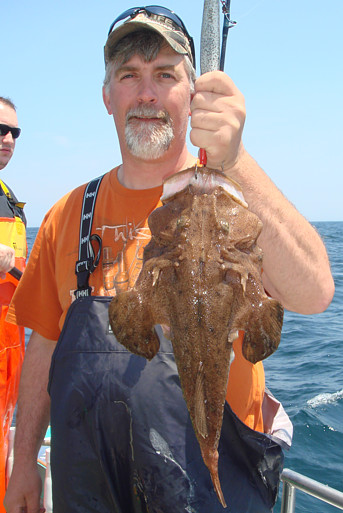 | | | | |
| --- | --- | --- | --- |
| Steve Brown (ME) | White Hake 38 | 46 X 28 | 10-07-14 |
| Jeff Philbrick (NH) | White Hake 36 | 46 X 30 | 07-08-14 |
| Bruno Rozen (NJ) | White Hake 33 | 43.5 X 28 | 10-28-14 |
| Eric Grove (ME) | White Hake 32 | ? | 08-28-14 |
| Dave Baillargeon (MA) | White Hake 32 | 46 X 26 | 10-21-14 |
| Bob Nixon (NH) | White Hake 31 | ? | 07-15-14 |
| Fred Kunz (NH) | White Hake 31 | ? | 08-28-14 |
In another picture by Captain Ian Keniston, Dan Wescom (VT) is shown, right, holding his 4 pound monkfish. It was the largest monkfish caught all season. We caught a couple even smaller. Needless to say, it wasn't a lucky year for us with the monks! And it's not like you can see them with a sounding machine.
| | | | |
| --- | --- | --- | --- |
| John Peduzzi (MA) | Haddock 7.5 | 26 X 16 | 06-12-14 |
| Andrew Kerns (PA) | Haddock 7.25 | 27.5 X 16 | 05-15-14 |
| Dick Lyle (PA) | Haddock 7 | 25.5 X 15 | 07-08-14 |
| | | | |
| --- | --- | --- | --- |
| Chris Porter (MA) | Whiting 4 | | 10-30-14 |
| | | | |
| --- | --- | --- | --- |
| John Ostrander (NY) | Lobster 2.5 | | 08-05-14 |
| Mark Doody (CT) | Lobster 1.75 | | 06-08-14 |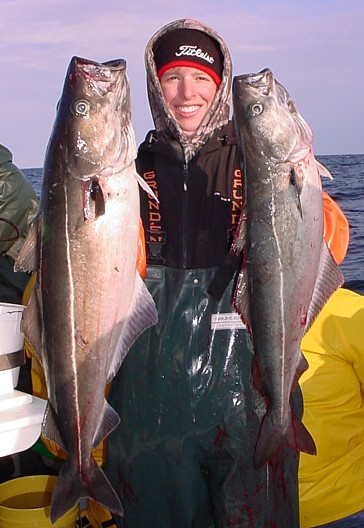 | | | | |
| --- | --- | --- | --- |
| John Gill (VT) | Cusk 19 | 36.75 X 22 | 10-28-14 |
| Marcos Casares (MA) | Cusk 13 | 31.5 X 17.5 | 07-26-14 |
| Paul "Chico" Astorino (MA) | Cusk 12 | ? | 10-14-14 |
| Chad Whittmore (VT) | Cusk 11.5 | | 09-16-14 |
| Larry Kabat (NH) | Cusk 11 | | 07-08-14 |
This picture was taken of one of my favorite deck hands, Alec Levine, on his first fishing trip, a busman's holiday, of the year on the Bunny Clark, a marathon trip on May 13, 2014. The two pollock he is holding were caught as a double keeper catch, both fish caught on the same line at the same time. I was hoping it was going to be one big cod! Still, it was the largest double of the year on that date. One pollock weighed 18.25 pounds while the other weighed 10 pounds. This catch turned out to be the fourteenth largest double of the 2014 Bunny Clark fishing season. The bigger pollock was the largest fish of that trip by 6.25 pounds.
Chris Albert (ME)

Cod - 22

05-30-14

Bernie Gage (VT)

*

Cod - 20

released

09-22-14

Ed Werner (PA)

Cod - 18

released

09-24-14

Paul Pearson (NH)

Cod - 16.5

06-10-14

Matt Savarie (NY)

Cod - 16

06-17-14

Norm Herrick (MA)

Cod - 16

06-28-14

Clive Roberts (NH)

Cod - 15

released

09-27-14

Chuck Lennon (MA)

Cod - 15

released

10-09-14
Vince DeBari (NJ)

Halibut 22

**

39

05-20-14

Josh Pearson (NH)

Halibut 14

**

07-08-14

Steve Vizzi (NJ)

Halibut 11

**

05-08-14

Tim Rozan (ME)

Halibut 9

**

07-08-14

Bryan Lewer (FL)

Halibut 8

**

07-08-14
Where there is a tie in fish size, anglers are arranged in order of the date caught. Earlier catches are placed first.
* Barndoor skates are presently on the endangered species list and are (were) released back to the ocean alive after a quick picture.
** These halibut were sub-legal and released back to the ocean alive.
*** Federal regulation prohibits the retention of wolffish. All five of these wolffish were released back to the ocean alive.
Steve Brown was the only angler to appear more than once in the top five trophy list for the 2014 Bunny Clark fishing season. He tied with Jimmy Walker for the largest pollock of the season and he landed the largest white hake of the season.
The haddock that appear in the trophy list above were all the trophy haddock that were caught during the 2014 Bunny Clark fishing season. Only three! Last season had, without a doubt, the smallest average with respect to haddock size that I have ever seen, most being sub-legal and very few being much over 3.5 pounds round. This was very much like the 2013 fishing season but with a much larger percentage of small undersized fish! Last season we caught double the number of haddock we caught in 2013. And the 2013 season was our biggest year for haddock catch until last year. The 2014 season saw more haddock than any other recreational fishing season that I have ever witnessed on any vessel I have ever been aboard.
The 2013 season was the first Bunny Clark season ever that we didn't see a cod over 20 pounds. In fact, it was the first season that we didn't see a cod over 30 pounds! And, because of that, I didn't take the time to list the top five cod in that Guestletter. This year I decided to list the top five, in keeping with every other Guestletter I have ever written. Last season, as you can see, we did catch two cod of 20 pounds or better. Both anglers who caught these fish were anglers of an excellent fishing pedigree. This makes me wonder that if we had those anglers (or anglers like them) aboard every trip would we have not caught more big ones? Needless to say there haven't been many big cod in the GOM the last two years. And these are our prime spawning fish.

[On the left is a digital image I took of Tony Mazziotti (NY) holding an 11.5 pound cod he caught on the May 6, 2014. At the time it was the largest cod we had see last year. It was also the largest fish that had been caught to that date! What a beautiful day it was that day!]
As mentioned previously, Chris Porter (MA) caught, what is probably, a tie for the second biggest whiting the Bunny Clark has ever seen. Fred Kunz (NH) probably caught the next four largest whiting in 2013. But that's a guess as we don't keep track of the whiting as much as we do the other species. Nor did we keep track very much in the past. And whiting haven't been a species that we include in the "top five" list until the 2013 season. There was no reason to. When I was much younger, I caught one that weighed 7 pounds. That was not unusual then. I used whiting larger than 7 pounds as hook-baits to catch bluefin tuna between 1972 and 1975. The whiting seem to be starting to come back as the larger ones are much more commonly found. I credit the closed fishing areas for this good news.
Our hake size was down as noted before. Hake landings were down as well. My thoughts are that some of these under-utilized species will be targeted by the commercial fishery when they can't chase cod. Cod, for the commercial groundfisherman, is also a trigger. If they land more than the quota that has been given to the commercial fishery for the fiscal fishing year their groundfishing season will be over. At this point, even though their quota is small, I'm worried that they won't catch it even as a bycatch species. I know you might think I'm being negative here. But I thought you might like to read my perspective. This is a bit of an introduction into what I think about all winter.
We didn't land any porbeagle sharks last season even though we had a couple on lines. We don't expect to land them as they are an incidental species. And there have been many seasons where we haven't. But they are fun to catch. And they are good to eat. Anglers are fully capable of landing them with the gear we provide as long as there is a strong willing man on the gaff!
We saw few monkfish last year and no big ones. We have had similar monkfish seasons even when groundfish stocks were much healthier.
Bill Socha's big redfish is one of the largest redfish that has ever been seriously weighed on the Bunny Clark. We caught some really big redfish in 1986 that I never paid much attention to; we were catching 30 to 40 pound pollock every day that year (including the afternoon trips). The diminutive redfish didn't mean much in those days. I wish I had been more interested because many of those redfish were over 4 pounds. How much over? I don't know. I've always thought that if a fish wasn't weighed there is no use speculating. It might as well have never been caught.
This is the fourth season in a row that there wasn't a bluefin tuna landed on the Bunny Clark. Before that (2011) we had seven years in a row that at least one bluefin tuna was landed on the Bunny Clark with a cod rod.
The two barndoor skates caught last year make only eight barndoor skates that have ever been caught on the Bunny Clark. All the barndoor skates that have been caught on the Bunny Clark have been caught in the last few years. I think certain species are getting used to the fact that the closed commercial fishing areas are indeed a sanctuary where they might live and breed. That's a good thing!
There were only seven halibut caught last year. But this is a good thing. Sure, it would have been better to catch more halibut and even land a few. But because of the no retention months of September & October (Wave 5) for cod/haddock, we never ventured off to places were we have caught (or lost) some of our best ones. Going off shore is fun and it does present the angler with more fishing opportunities. But it does take significant fishing time away in the travel time it takes to get there. And last fall I figured I could do as well with more fishing time by fishing the closer offshore spots. At the present time I am re-thinking the methods I employed last year. I have some new plans I might try. I can't wait.
Before I end this Guestletter, I want to cite those anglers and experiences of note that deserve an honorable mention for their uniqueness and/or fishing prowess during the 2014 Bunny Clark fishing season. I realize that this is a value judgment on my part but I believe that my conclusions are recognized as a popular opinion and/or statistical fact among my crew and fishing guests and are based on many fishing trips. These special anglers and incidents are as follows:
Fisherman of the Year (FY-í14): Ray Westermann (MA) won this award for the first time last season. He took a second to Shawn Rosenberger (PA) last year and was close the year before. But this year there was no one really even close. Ray has won the Bait Fisherman of the Year for the last seven seasons in a row (including last year). So it was just a matter of time before he won the Bunny Clark's "big one". [The picture on the right is a digital image of Ray "Race" Westermann holding his 15.5 pound white hake. This fish, caught on May 22, 2014, was the first white hake caught on the Bunny Clark in 2014. Like the haddock, the hake is more easily caught with bait than with a jig. So it isn't surprising to me that Ray would catch the first one.]
As most of you know by now, the FY award is based on a point system that relates to specific achievements during each trip for a season on the Bunny Clark. Each achievement is worth a set of points. The individual with the most points at the end of the season wins. In order to compete in this category, you have to have paid for and completed at least 10 different trips on the Bunny Clark. I have had many excellent anglers who fish with us on a regular basis every season, any one of whom has the potential to become the Fisherman of the Year. Ray Westermann was the man last season. One early trip in April consummated the final result when he took advantage of the one thing he knows how to do best and better than any Bunny Clark angler in the last seven years - bait fishing. On that day he broke the boat record for catching the most haddock for an angler during a single Bunny Clark trip with 119 fish, over double the previous record. At the same time, on that trip, he also took the "Ace" for the three largest fish of the trip. This was the only Ace caught on the Bunny Clark in 2014. He accumulated so many points on that one trip that all he had to do was be his normal excellent fishing self to coast through the rest of the year. And while "coasting" he was high hook more than any other angler and he was second in most pools to only Ken McLaughlin (ME). More than this, though, is the attitude he brings with him when fishing with us. I know when I see Ray & Griff coming down the ramp to the dock that it's going to be a fun trip. And, likewise, I'm disappointed when I'm not running the Bunny Clark when I know they are going to be aboard. I am humbled and honored that Ray continues to choose the Bunny Clark to go deep sea fishing. Thank you so much, Ray. And congratulations on your many accomplishments and our most prestigious award!
Ray's total point count was 104. Fred Kunz unofficially took second place with a point total of 77. Fred didn't meet the qualifying trip total of ten. However, it does say something for Fred's fishing prowess to be able to do so well with so few trips (seven trips). Steve Brown officially came in second with 64 points. Ken McLaughlin (ME) was third with 36 points. Norm Herrick (MA) was fourth with 27 points. Jon Griffin was fifth with 18 points.
Female Angler of the Year: I didn't give out this award for the 2013 fishing season. There were a few excellent female anglers but no one seemed to do any better than anyone else. This year's award has to go to Marian "Merv" Murphy (NH). Clearly there was no female angler who did better than she did on any particular trip. Nor did any of them match her consistency or frequency. Maybe it was her best competition, Brian Murphy, who spurned her on. But that probably wouldn't have mattered. She's just a great fisherman. And our best for 2014. Thanks for being there, Merv!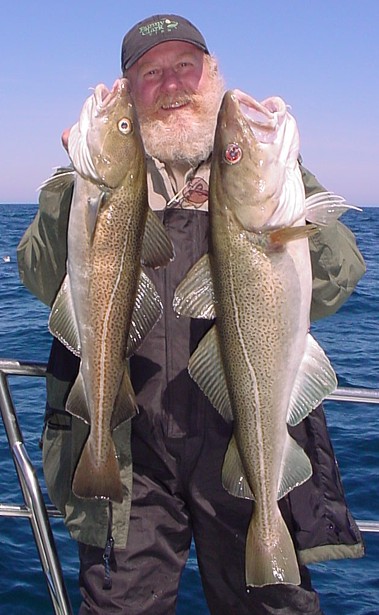 Best Bait Fisherman: Shameless Ray ďThe Pole Tossing Master BaiterĒ Westermann landed this award again last year - as he has for the last seven seasons in a row. He's simply the best at it. Or, he was last year. Better than that, he doesn't fish with bait exclusively nor does he fish with one type of bait. He experiments (Smelly Jelly?) and he uses a jig when he needs to. But when it comes to bait, in any depth of water, for any targeted species of fish, he's there and ready. If Ray doesn't catch them, they aren't biting. Thank you, Ray. Congratulations again. It would have been a pretty empty year without you there.

Most Aces: For those who donít know, an angler scores an Ace when he or she lands the three (or more) largest fish during a single trip. There can be no ties in fish size with other anglers in order to achieve true ďAceĒ status. There was only one Ace last year. As previously mentioned, Ray "Race" Westermann was the only angler to score an Ace. And it was on a day early in April when we were fishing on haddock only. And, as we metioned earlier, the haddock we were catching last season were smaller than normal. This day was no exception. Race's three largest fish included a 6 pound haddock, a 5 pound cod and a 4.5 pound haddock. No other angler aboard that trip caught a fish larger than 4 pounds. And only six cod were caught for the trip, a marathon trip. All it would have taken was one 7 pound fish from another angler and it would have spoiled the whole thing. That didn't happen. Nice going, Race!

[The shot on the left is a digital image of Sam Readinger (PA) holding his two cod which he caught as a double keeper catch, both fish caught on the same line at the same time. The cod on the left weighs 6.5 pounds while the other weighs 13 pounds. Sam caught the third largest fish that day, a 14 pound cod. The trip was an offshore marathon trip.]

Most Trophy Fish (including hake over 15 pounds, cod & pollock over 20 pounds and monkfish, wolffish & halibut in the top five) of the Season: Fred Kunz caught the most with a count of ten. Chris Porter was second with seven trophy fish for the season. Steve Brown and Yoshito Umaoka (MA) tied for third with a total count of six trophies each. Ray Westermann and Micah Tower (MA) tied for fifth place with a total count of five trophies each.

Most Trophy Fish during a Trip: Fred Kunz and Yoshito Umaoka tied for the most trophy fish caught during a single trip with a count of six fish each. Micah Tower, caught the third most trophy fish for a trip with a count of five. Fred Kunz and an anonymous angler tied for fourth place with four trophy fish each.

Most Pools (largest fish of the trip): Ken McLaughlin (ME) caught the most pool fish with a total count of five. Ray Westermann came in second place with a count of four pools. Chris Porter, Clive Roberts (NH), Don Johnson (MA), Mark Cote (ME), Randy Clark (VT) and Fred Kunz all tied for third place with two pool fish each.

High Hook: Ray Westermann was high hook (the most legal fish on a trip) on six different occasions, the most for an angler during the 2014 Bunny Clark fishing season. Norm Herrick came in second with four counts. Fred Kunz, Brian Murphy, Mark Cote and Mark Doody (CT) tied for third with three counts each.

Biggest Double: (The most combined weight of two fish caught on the same line at the same time.) Kirk Counter (VT) captured the largest double keeper catch of the season early in the fall. His double included a 27 pound Maine state trophy white hake and a 22 pound white hake. The second largest double keeper catch was caught by Bruno Rosen (NJ). His double included a 33 pound Maine state trophy white hake - the third largest B.C. fish of the year - and an 11 pound white hake. The third largest double keeper catch was caught by Micah Tower. His catch included a 22 pound white hake and a 20 pound white hake. These two fish were caught on a single jig! [Only two other times has that happened and been one of the top five doubles in a season. The last to do it was Micah on July 12, 2011. That double included a 36 pound Maine state trophy white hake and a 21 pound hake, the largest double of the season. The only other time was November 9, 2009, the last day of that season, when Dan Kelley (ME) landed a 32 pound Maine state trophy white hake and a 33 pound Maine state trophy white hake. That too was the largest double keeper catch of the season!] Dave Mycue (RI) came in at number four with a double keeper catch that included a 19 pound pollock and a 13.5 pound pollock. There was a three way tie for the fifth largest double keeper catch of the season last year. This tie included Sam Maresh (ME) with an 18.5 pound pollock and a 13.5 pound pollock, Russell Strife (NY) with a 21.5 pound pollock and a 10.5 pound pollock and Dave Mycue (again - on the same day, the last day of the 2014 season) with a 17 pound pollock and a 15 pound pollock.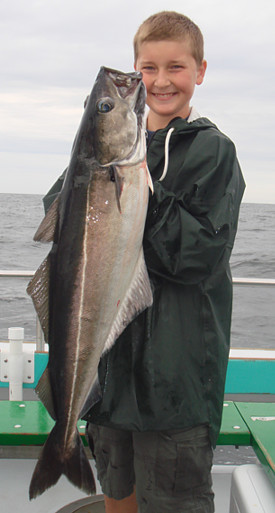 Hardest Luck: The hardest luck of the year had to go to Owen McIntire (ME), this only because he comes from such a locally famous fishing family. During the June 2, 2014 Second Annual Steve Shugars Extreme Day Trip Charter, Owen landed what was probably the biggest haddock of the season. It would have been one of the "four" trophies and it certainly would have made Captain Ian (that day) and my business (overall) look much better for it. I say would have been because after he boated it Owen went right back to fishing (He's a McIntire!). Meanwhile, the haddock flipped and flopped away until it reached a freeing port and flipped right back into the ocean. As soon as it hit the surface of the water it swam right to bottom! Dan Townsend (ME) caught a 6 pound haddock that day, the biggest haddock of the trip. And, as Steve told me after the boat landed at the dock; "Owen's fish was so big it could have eaten Dan's!" I'm just as glad one of Owen's cousins wasn't there. Owen might not have dared come out of the cabin that evening until the "all clear" sign!
Second place has to go to Scott Anzalone (NJ). Scott hadn't fished with us all year. By the time he was able to get up here and sail on a trip with his favorite captain (Ian Keniston), it was already the end of September and the weather was turning for the worst. It was windy on the first trip of the two he took. And he caught nine legal fish. But they were hard fought because he was sea sick all day. And he also attained "high hurler" status with no one even close. The second day he was incapacitated from sea sickness and didn't even wet a line. Scott has been sick in the past. But not that sick. And the fact that he loves to fish so much, and one of our best regulars, I just had to abuse him a little about it! I hope you don't let these experiences, Scott, discourage you from sailing with us this year! But I would like to see you here earlier and more often. Call me selfish.
[The picture on the right is a shot of thirteen year old John Keniston, Captain Jared & Michelle Keniston's son, holding his 16 pound pollock, the largest fish of the trip on that late August full day trip. I believe this is the largest fish that John has ever caught. He also caught a 12 pound pollock and tied for high hook with angler Jim Higgins (ME) on that trip. Digital image taken by Captain Uncle Ian Keniston.]
And third place in the worst luck department would have to go to Dr. Ben Lowenstein (ME). Ben rode along side me in the Pan-Mass Challenge last season. We hooked up a couple of times including the ferry ride back to Boston. We talked about fishing and how he would like to take his family on a half day trip. So, on August 30, 2014, he did. And it was a bit choppy. Four out of the five got deathly sea sick including Ben and his wife, Beth. In fact, Beth won the hard luck award T-shirt. But it actually fit Ben better. And Ben was white when he got off the boat. Only his daughter, Ellie, did not get sick. I think it would have been better had it been one of those flat, calm, warm early August nights rather than the four foot seas from a smokey sou'wester that they experienced. Ouch!
Most Improved Angler: I would have loved to have given this honorable mention to someone. But there is really no one who comes to mind. There might be someone out there who has gone with us for years at two trips a year who would qualify. But between, Ian, Jared and myself, we couldn't think of that someone. Usually this category is reserved for an angler who sails with us many times during the year. Among those anglers there were names that were brought up but, in all cases, they were good fishermen who just stay good. So I'm leaving this category blank until next year when we review it again.
Best Team: We had three excellent fishing teams this year including Zach Freitas (MA) and his son Matt (the two who won this award last year), Dave Harris (MA) and his son, Charlie and Brian & Marian Murphy (NH) . Brian & Marian ("Merv") took the prize this year. Between the two of them they won four pools, one of the two of them was high hook on every or nearly every trip they attended and if they started the trip on the slow side they would always adjust to come back by the end. They did so well that when Brian had a slower than normal day near the end of the season, it was big news and it bothered me for two days afterward! That's when I know someone is really good. And they were really good. The best team for season 2014. That last sentence has a ring to it. Maybe someone could write a song using those words! [I'm alluding to the fact that they are some of the two best contemporary folk singer song-writers I know.]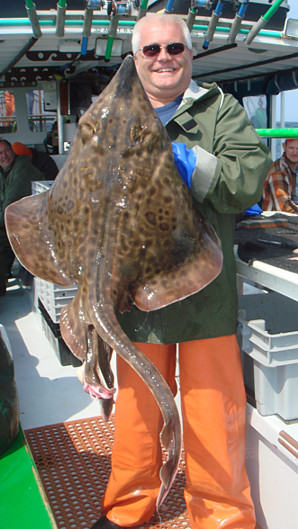 Exceptional Good Luck: I hate to give Ray Westermann another award. I know that by the time I am done with this Guestletter it will most likely be known as the Ray Westermann Diaries. But I have to say that the day in April when he broke the Bunny Clark haddock record, recorded the only Ace of the Bunny Clark season, was the fisherman of the day and won both boat pools, that was exceptional luck. I know that you have to be good to be lucky. And Ray is certainly an exceptional fisherman. But had he not been fishing on that date I doubt if all those things would have fallen into place. That's just a remarkable day.
Quotes of the Year: "Thank, God", "I don't think I could have reeled them both up!" A quote from Joe Dressner (NY) during a marathon trip where he caught a fish a cast including many doubles. One of the doubles was a particularly large one. He had a real tough time getting the double off the bottom until he lost one of them. Realizing what happened while I was standing there, he gave me the quote! The amazing thing is that he went out on the extreme day trip the very next day and did it all over again, a fish a cast! He was one tired pup when he walked ashore after that second trip! But he told me later that he had to go on that second trip or else endure a severe razzing from Jared when he came back for his fall trips!
"The catch of my life will be waiting at the dock when we get in." A comment from Bill Hazlett (NH) after a full day trip following some abuse from Jared Keniston about Bill catching too many sub-legal fish. Oh, Bill caught some legal fish too. But he would have been releasing fish before half of the trip was finished had all the small ones been legal. But looking at the quote again, maybe he thought someone was going to leave a bluefin tuna by his wife's car before he arrived back at the dock! Then again it might have just been a ploy to get his wife to start thinking favorably about Bill sailing on another near future trip!
[The picture on the left is a shot of Randy Clark (VT) holding up his 23 pound barndoor skate, the first and largest barndoor skate of the 2014 Bunny Clark fishing season and Randy's first ever. It's amazing to think that when I used to go dragging with different commercial boats as a kid how common (and big) these skates were and how uncommon (and small) they are now. Of course, it's much easier to catch these fish while dragging a net than it is on rod & reel. Still we have only caught eight of these fish in the thirty-two seasons that the Bunny Clark has been taking passengers. And all those only in the last ten years. Captain Ian Keniston digital image.]
Most Unusual Catch: The most interesting catch of last season happened to Robert Ploss. On one of our drifts during an early fall offshore marathon trip, Robert dropped to bottom, hooked into a fish immediately and then got caught on bottom. He sat their with his rod, holding it, swearing to me that he had a fish. I believed him. He's too good a fisherman to be taken lightly. I was busy doing other things when Ian tried to help Robert. They ended up cleating his line off (his line had a rating of 110 pound test!) which, I thought, would hold us there, like an anchor. Later, I looked at our position and realized that we had drifted twelve boat lengths with Robert's line cleated off! Obviously, whatever he hooked was being dragged along the bottom as we drifted along. I pulled on the line and gained some. So I uncleated the line and told Robert to reel. I ended up pulling on the line (with a little help from my friends) as Robert reeled. After quite a long time we brought it to the surface. There, just under the water, was a coil of heavy gage orange electrical extension cable tied to what looked like a broken stanchion! Underneath all this was a 22 pound white hake! The hake, obviously, had wrapped around this mess after having been hooked. Robert managed to get the fish anyway! This is the largest fish that Robert has caught so far this year (he fishes quite frequently) and, at the time, was the second largest hake he has ever caught!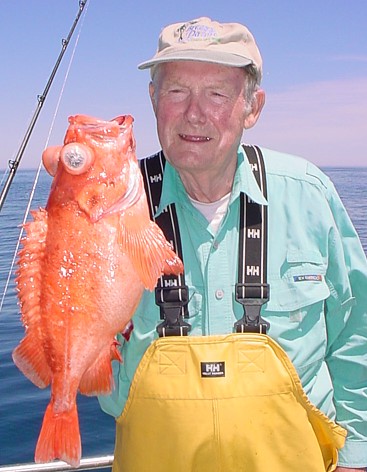 Unexplained Phenomena:
On the Ultra Marathon (an invitational long offshore trip - the longest trip of the year) David MacDonald (MA) did not have the best of days. This mainly because of a malfunction with his insulin pump. It really wasn't a malfunction. It became detached from his body. He needs it attached as he is a type 1 diabetic. Reattaching it to his body wouldn't have been a problem except that he forgot the special tools he needed to do so. Besides this, the trip in the dark to the fishing grounds didn't help his equilibrium. This complicated things. As the day progressed his blood sugar level increased with no way to bring the level down. His attempt to drink water to maintain a better liquid balance failed. The water kept coming back up with his "other" condition. As we got closer to home David's blood started to become toxic. I called an ambulance to meet us at the dock, which was waiting when we arrived. So, once in Perkins Cove, priority number one was to get him off the boat for medical attention. He spent the night in the ICU at York Hospital in York, Maine, the next town over.

[The picture on the right shows Dave Gary (VT) holding his 3 pound Maine state trophy redfish. This was the first trophy redfish caught aboard the Bunny Clark in 2014. It was also the largest redfish that Dave has ever caught. And what a beautiful day it was on the water that day in mid June. Certainly a Dave Gray kind of day!]

The next day I combined my daily bike ride with a visit to York Hospital to see David. In my shirt pocket was the hard luck award t-shirt I didn't feel appropriate to give him during the previous day's trip. So I did this in the ICU. He was disappointed in himself. But, as Ian and I agreed later, there is no other human being that we know of who would wait so long to get medical help. His actions were unselfish; he didn't want to compromise everyone else's trip because of his health issues. Part of my reason for going to see David in the ICU was to ask him if I acted responsibly in the situation. He told me that I did - which I still have doubts about. But, not knowing his condition well enough, I was following his direction. Oh, sure, I was asking him how he was doing all the time during the trip. But I couldn't do anything for him. And I could have waited too long for medical help. I guess we didn't. And I was told that this episode will have no long term effects. At any rate, it's behind us now. Next time we will both be better prepared. Of course, I plan to stay well away from a next time. I hope you didn't think I was going to keep this noteworthy episode out of the Guestletter, did you, David?

On an August full day trip, Tom Barden (ME) was tangled so often the rest of the passengers referred to him as "that guy" for the whole trip.

What do you suppose Ed "Glen" Parrow (NY) was thinking when he buried a cod fly deep into his middle finger during a late July, Tim Tuesday, full day trip? I would suspect he was thinking; "How do I get this hook out of my hand and get back to fishing!"

Captain Ian Keniston and (deck hand) Alec Levine broke a boat record - the most haddock caught during a half-day trip - when they caught sixty-eight haddock on August 9, 2014. The previous record was twenty-four (all good sized keepers) on a foggy Memorial Day trip on my previous charter boat, the Mary E in 1978. Of all sixty-eight of those haddock caught on last year's trip only one was legal to keep!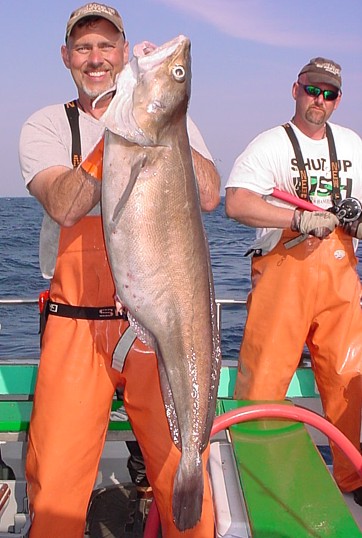 Acronyms aren't as common around Guestletters as they are around the bureaucrats who manage our fishery for us. But there is one I should mention here. DHS or Dull Hook Sydrome. Anglers acquire this malady when they haven't been around the fishing scene enough. They assume that if they have a hook in their tackle box that it is ready to go when they want to use it. This even if the tackle box hasn't been opened in a few years! Such was the case with Ed Baisley, Jr. (NY) on a marathon trip with me in late May last year. He didn't catch the usual table fare he is accustomed to bringing home after a Bunny Clark fishing trip. By the time we figured out that he was suffering from DHS, it was too late!

When Larry Irish (FL) finished his annual spring fishing trip aboard the Bunny Clark he didn't walk off the boat with the usual huge catch he is used to. The rumor that day was that he was constrained by his captain! I'll vouch for that! In fact, wasn't it Fred Kunz who said that; "A captain is only as good as his last fishing trip."?

Leon Hadley (NH/ME) takes a drubbing from father, Tom, on an early spring trip? Say it isn't so!

During an offshore trip in early June, Gavriel Judah (NY) caught no fish for three hours while everyone around him bailed in the fish (haddock, cod, pollock and one halibut). Could it have had anything to do with the bananas he brought aboard?

Ah, Donna Moran (NY)! Only one fishing trip last season? What, don't you trust the weather forecasters any more?
[The picture on the left is a digital image I took during the first of two Ultra Marathon trips that ran last season. It shows Jeff Philbrick holding his 36 pound Maine state trophy white hake. The angler on the right is his brother, Justin Philbrick. Jeff won the boat pool for the largest fish of the trip with this big hake. Justin would have won the boat pool for the second largest fish of the trip had the fish not dropped off the hook about six feet down! We did retrieve the fish, though. It was a white hake of 23.5 pounds, the second largest fish landed that day.]

Alec Levine adamantly denied it was his fault that the largest wolffish of the year, caught on Angel Tracey's (VT) hook, broke off when he tried to lift it in by the line, hand over fist. In all honesty, I was dealing with the 14.5 pound wolffish that Cecilia Gandolfo (MA) had boated so we could get it weighed quickly and back into the ocean alive. I never did see what was going on in the bow at the same time. But Alec did see Cecilia's fish and admitted that Angel's was much bigger. C'est la vie!

What kind of evil wind was responsible for making Greg Johnson's (NH) 16 ounce jig complete a full arc and pass by Tim Rozan's (ME) face so close that one of the points of the treble hook went straight through Tim's lower lip? I was told that both anglers were equally ashen in color. And hearing Greg talk about it after the boat got back in, I don't think either one of them wants to have that happen again! I could tell you some stories....

Max Paquin (officially: Maxim Descenza Fuentes Paquin, Jr. - now residing in Kansas) caught a 14 pound pollock on a marathon trip mid June. He also caught a pile of haddock and was very upset when I made him start releasing them later in the day. He had reached the bag limit on haddock. He credited his success with haddock (and his right to keep every one of them) to his ability catching a fish of a very similar bite in his country of origin, Argentina, with his grandmother when he was a child. As if to press the point of not being a native born American, when his first legal haddock went back into the sea he used words that I didn't understand and of which he wouldn't define. In fact, I don't remember him talking to me for the rest of the day!

Greg Veprek (MA), an excellent fisherman, calls me the Lord of the Lings. Well, as most of you know, a ling is a mud hake that some party boats actually target in the New York/Long Island area. And a ling looks like the white hake that I am so fond of chasing. In fact, Greg says a lot of things, most of them funny. But I was denied the opportunity of hearing anything from Greg last season (except in emails). He never made even one trip with us! Do I smell?

In Memoriam::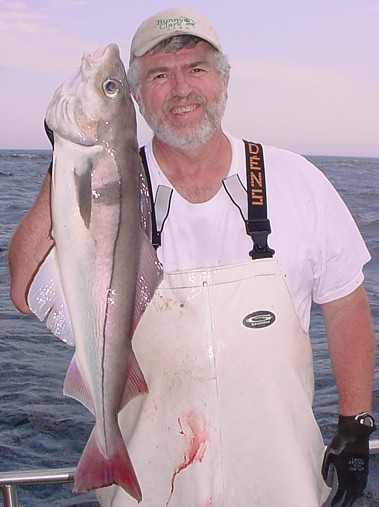 I know I push the cancer cure thing with my involvement in the Pan-Mass Challenge. And I know at times those of you who read my daily web site update are probably thinking that I sound like a broken record. But for good reason I am deeply involved in the fight for a cancer cure. And with a program like the one I just mentioned it's hard to give up trying to get funding for research. One of the reasons that it is so important to me occurred at 1:00 AM on the morning of July 6, 2014. A good friend of mine passed away at that time. His name was John Taylor. He was the brother in law of one of my best friends and excellent harpoon tuna fisherman (possibly the best), Steve Weiner. John was married to Steve's sister, Abby, a wonderful person. John was diagnosed in October of 2013. At the time, he had been complaining of back aches. Turns out he had contracted the disease much earlier. Thoughts are that it started in the lungs and then metastasized to his spine, ribs and brain. The back aches were a result of the cancer being much further along than it should have been. And very worrisome at the time.

John was younger than I by a few years. He was a wonderful family man, a great husband, a great father, very well rounded with a ton of common sense, very intelligent and just a great guy. He was successful in everything he did. He earned that right. I believe his daughter, Brook, is 23 years old now but I could be off by a year. She too has turned out to be a wonderful individual. It was her speech that got the best reviews (by far) of any that were presented at a celebration of John's life that I attended later last year.

[The picture on the right is a shot of Dick Lyle (PA) holding one of only three Maine state trophy haddock caught last season. This haddock of Dick's weighed 7 pounds. Dick, a avid hunter and excellent fisherman, often makes me look good!]

John left me with a lot of good memories. One time in particular, I remember, he needed a striker for his harpoon tuna boat. It was after 1996 when I had first started hiring other captains to run the Bunny Clark. At that time I had a well established captain in place and my work at Barnacle Billy's hadn't been ramped up like it is today. So I offered my services. I remember the day very well because the wind was out of the northeast. And I told John that I had never seen fish run (tuna swimming on the surface) in northeast wind. As it so happens, John found a bunch of fish running into the wind not fifteen minutes after I said that! He saw them before I did. We were five miles northeast of Boon Island Ledge. He said; "Is that fish?". I knew right away that it was and that we had to get behind them. It was a big bunch with some fish deeper to the back. So I threw the harpoon at a deeper fish and missed it. Normally, running over the deeper fish will spook the whole school. The bunch never went down! We rode right up through the middle of the fish as I pulled back the harpoon to get ready again. The next time I waited until I got a good shot at the fish closest to the surface. This time we were able to put a buoy out (only one boat on the coast used an electric harpoon in those days) and get ready again. I might have missed the third shot. But we put another buoy out, the only other tuna line we had on the boat, on the fourth shot. The bunch never went down. And, as far as I know, they probably ran right into the sunset. But we got two fish out of it and had one of my best days on the ocean with a very special person. I will miss John, his good humor (he used to call me "Senator") and his representation of the way a human being should be and act. I'm sorry for his family and friends and I'm sorry for me.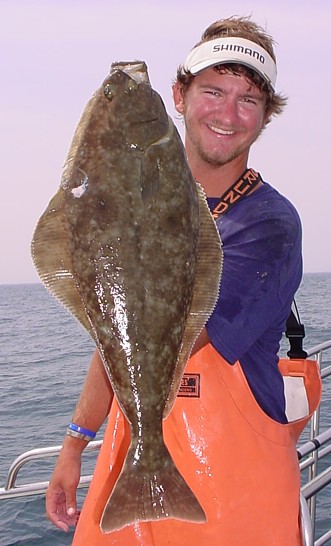 I was informed while I was in the middle of writing this Guestletter that Ken Selmer (NH) passed away from cancer in October. His son, Steve, told me that shortly after a trip he took with me last year they discovered blood in his urine. He had been fighting the disease but seemed to be winning until that discovery. Refusing any more treatment because of the advancement of the disease in the diagnosis, he passed away much too soon. Ken started fishing with me when I was still the only captain of the Bunny Clark. And I could get a little testy at times. Which, by the way, he totally understood and told me so. We had a great relationship on the ocean. And, aside from losing too many jigs (which he always blamed me for), he was an excellent fisherman. But more than that, I believe he truly enjoyed fishing with me. I certainly enjoyed having him on the boat. And I will certainly miss having him aboard.

I want to throw out a personal thank you to Captain Ian Keniston and Captain Jared Keniston for the wonderful work they do every year for me. I may be the heart of the Bunny Clark but they are the body and soul. And sometimes it seems that the old B.C. is more their boat than mine. This because they take such care and concern with everything that involves that boat and the business. Not only do they do the winter upkeep on the boat, they are upset when something damages (even slightly) the cosmetics during the season. And best of all, they have my best interests at heart. I couldn't even spend as much time writing this Guestletter if it were not for them. Thank you both for the wonderful work you do and the time you give me.

[Bryan Lewer is holding up his first Atlantic halibut in the digital image on the left. It weighed 8 pounds and was released quickly after this shot was taken. He snagged this halibut and knew instantly what species of fish he had on the line as he had never caught one before and it was unlike any groundfish he had caught previously. A former Fisherman of the Year, Bryan is an asset to the Bunny Clark. ]

David Pease deserves a big thank you here as well. Dave finished the boat after Young Brothers popped the hull out of the mould in 1982. And Dave has worked on the Bunny Clark every winter since then, offering his barn as a place to put the boat every winter and advising me on every new winter's ideas. He remains the most capable man I have ever met working on boats. And he has been like a second father to me.

Alec Levine also deserves a thank you for all the good work he does as my swing deck hand. Alec gives both Ian and Jared their much needed time off from the Bunny Clark during the heat of the summer. And, Alec does a great job working for me when I am the captain or working for Ian and Jared when they captain the Bunny Clark. You won't find a more conscientious or respectful individual to our patrons and personnel. Alec does exactly what he says he is going to do. And, on top of that, he is a good fisherman. Thank you!

At the time of this writing, my son, Micah, is engaged in securing his captain's license. I don't know what he is going to do with it. I'm not sure he does. I do know that he has a deep love and respect for the ocean. And like any selfish father, I'm hoping he stays around where I can see him every now and then. I can only hope that if he pursues a career in the fishing industry, he finds his niche and is happy with what he does.

As for the commander in chief of Bunny Clark land based operations, I have used this paragraph in the previous two Guestletters. I'm not sure I could do a better job in getting my point across. So here's the repeated paragraph: My wife, Debbie, has been the shore captain for so many years now that itís hard to remember when she took the reins over totally. Suffice it to say, the business wouldnít run without her. Her advice to me, the accounting, the way she handles our reservationists and the way she treats the crew makes her the partner I would choose over and over again. Plus, I guess it helps that she is a wonderful wife. I always feel like I roped her into this business (or lash-up as it was called in the clipper ship days) but she has never complained. I have always thought of her as my right arm. But, probably now, itís the other way around. Thanks for having me, Deb. I would be lost without you.

Jane Staples is our next in command ashore. A wonderful person and reservationist as well, Jane grew up a few houses down from where I grew up. We live closer together now. So not only did she know me from the beginning, she knew what to expect from the beginning. And it was no surprise to me that she does such a good job. Part of doing business in a town is knowing the local population and how it works. She does. Also, Jane always takes over without a question when needed. And she gets involved in the office work and the day to day. Thank you, Jane. Iím so glad you are here - still, after all these years. This, too, is a repeat paragraph but no less meaningful and true.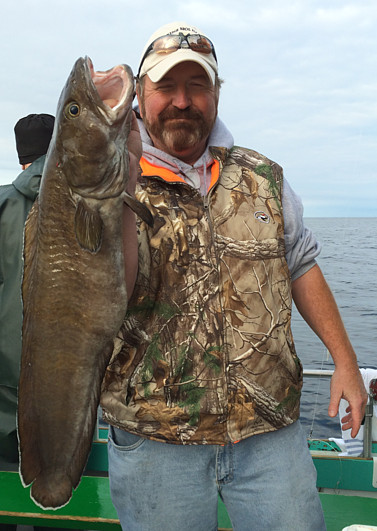 We engaged three of the "old guard" reservationists last season. They included the good Commander, Deb, wonderful Jane and my daughter, Halley. Halley took the time to do a perfect job taking reservations as she has done for the last nine years. She is my daughter but I have to say as objectively as I can that she is the most wonderful daughter and the most skilled people person a man could ever want in my position. Not only is she bright, she is very nice to our anglers on a consistent basis. She didn't work as often as she did in previous years because, for part of her nursing training, she spent some of her summer in Massachusetts working at a diabetes camp for kids. But she helped out when she could. And she always volunteers when she is home from school. Thanks so much Halley, just for being the hard working happy you!

We introduced three new reservationists to our team last summer. Twins, they were Shae & Nikki Smith (ME), sixteen years old. They were shy at first but seemed to be getting the hang of it later in the summer. Deb worked with them to start. But later in the year they were good enough to do it on their own. Just when they were getting comfortable with the position, the summer ended and school started again. We hope to have them back this season. At the time of this writing I don't know their status. The late summer/early fall saw Charlotte Tragard working for us. A close friend to Deb & I, she has held many positions working with the public. So it didn't take long before she was up to speed. Maybe this season too? Thank you all for working with Bunny Clark Deep Sea Fishing!

[The picture on the right is a shot of John Gill (VT) holding his 19 pound cusk, the largest cusk of the Bunny Clark fishing season, caught on one of the last three trips of the season, a marathon trip. ]

This was my eighth season riding in the Pan-Massachusetts Challenge (PMC), an 192 mile, two day, cycling event that takes place the first Saturday of every August. The purpose of the event is to raise money for cancer research and care at the Dana-Farber Cancer Institute (DFCI), Boston, Massachusetts. I ride in the event and am sponsored for doing so with donations from anyone I can convince to give me funding. All the money goes to the Jimmy Fund, the fund raising arm of the DFCI, founded in 1948. My ending total for eight years of fund raising came to $207,136.77. Last year alone I was able to raise $27,104.14 from 267 donations. Most of these donations came from anglers of the Bunny Clark in $20.00 increments (plus or minus) but I did get some very generous donations from others. For this support I am deeply grateful. I have already renewed my application for the 2015 PMC and have raised $2,750.00 as of this writing. I am looking forward to raising as much money as I can in a push to get to the quarter million dollar mark. The money raised helps to maintain the most wonderful cancer facility in the country right in our own back yard. In the last few years I found that nine people became cancer free because of my direct involvement in the DFCI. They were going to be treated elsewhere until my writings changed their minds. Three people told me only after they became cancer free last year, even though they had started treatment months before! I will continue to support the DFCI because of their track record, the fact that 100% of your donation goes directly to the DFCI (the United Way, for instance, reserves more than 28% of your donation for administrative costs - and the United Way is considered one of the best charities) and because the more money they receive the better their chances are of hiring the best researchers. I hope you can help me celebrate the joy I get from supporting a great cause at a wonderful place in the form of a future donation. Otherwise, letís go fishing!

Well I finally got to the last paragraph. It seems that I spent longer writing this year's Guestletter than any other in the past. And I like to take my time because I like to relive all the wonderful Bunny Clark experiences (good and bad) that anglers had over a season. Plus, it takes a lot of time to get all the figures I need to compare statistics and pick the Fisherman of the Year. I'm sure it's no surprise that I love fishing. But this isn't just fishing. And it isn't easy. But then I haven't found too many things in this life that are easy and worth it at the same time. There have been many challenges outside of those that occur within the business as well. Not the least of which are the issues arising from fishery management decisions. But even those areas are a fun challenge - to a point. I've invested a serious amount of time to be part of the decision making process in that arena. I'm just hoping that, through it all, I can maintain this business until I'm physically unable to do so. A lot of why I do this is because of you, the readers of my web site and the anglers who fish on the Bunny Clark. You make it possible, indeed fun, to continue on. Thank you so much for all you do for me. I'm very much looking forward to seeing you during the 2015 fishing season. Until then, winter well and stay healthy!

If you want to send me e-mail, the current address is ttower@bunnyclark.com. The general email address is info@bunnyclark.com.
With this web site in general, I hope to keep you current on all of the fishing particulars on the Bunny Clark and include updated information on fishery management decisions that could potentially affect us. For a current report go to the Fishing Update section from the link located on the index page of this web site. Thanks!