Dear Guests: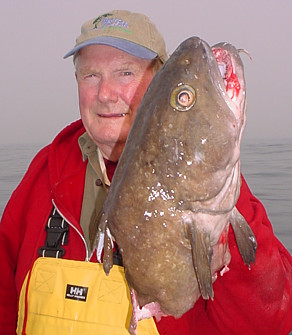 I can't believe that I am starting to write about our thirty-fifth Bunny Clark fishing season! They have all been a lot of fun. They have all been different. Each season as auspicious as the next. And not a single season where I thought; "I'm glad this one is over!" Through all of these seasons there has been one constant. Dave Gray (VT) - shown left with a part of a cusk (shark attack) that could have been a world record in 2011. Dave has fished on the Bunny Clark since the first year and during every season since. The plenary angler, his patronage is an example of the reasons I love doing this so much. So I'm dedicating this Guestletter to Dave, and to anglers like him, who have enriched my life over the years by being the wonderful people they are, the consummate anglers they are and for showing me things I hope to always remember until this living world no longer has room for me.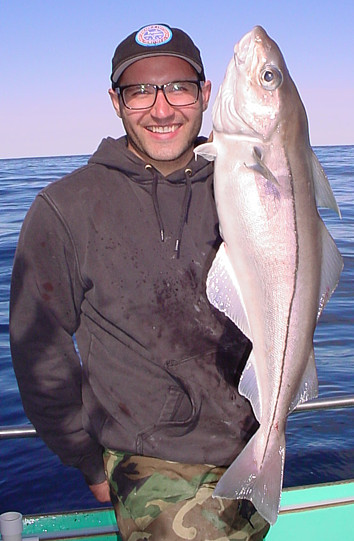 [The picture on the right is a shot I took of Andrew Kerns (PA) holding his 6.1 pound haddock which he caught during an early spring marathon trip. It was a great day of fishing. Not only was the weather perfect, the fishing was excellent. The only way this trip could have been better would have been if we could have kept all the good sized cod that we had to release!]

The 2017 Bunny Clark fishing season started out much like the season before it. This was the third season in a row with declining ambient surface water temperatures. Last season was the coldest of the three. In keeping with this trend, the haddock, although of legal size, were generally smaller. As were the pollock. The good news was that the redfish were just as thick in the shallows as they normally are when the water temperature is cold. And this wasn't a bad thing. We start our season later now than we used to. So we are much closer to the warmer time of the year than we used to be. Even with the water colder it is the time of year when the season is usually in full swing. I have also found that with the colder than normal water our good fishing lasts longer into the summer. And that was certainly true last year. So last year was another great year. It was just different.

The months of December, January and February were warmer than anticipated. At that time I expected the waters to be warm enough to support larger haddock and pollock early. March, April and May were the coldest of those months that I can ever remember which, as previously mentioned, put us in a colder mode than the previous year. Our fall, specifically September, October and November, was, collectively, the warmest fall, for air temperature, I have ever lived through. This was a boon to anglers who, myself included, are used to wool pants and gloves while fishing at that time of year. There wasn't one fall fishing trip where we had to worry about warm boots, gloves, warm pants or upper body layers. In fact, we never had a single day out fishing where the air temperature was below 40°F. The daily high temperatures were much higher than that. The surface water reflected the warmer air temperature with a decrease to only 55°F by our last fishing trip. This is a couple of degrees warmer than normal. We still had our normal compliment of hurricane remnants that we had to live through in the fall. So life on the ocean wasn't perfect. But a warmer air temperature certainly helped.

Angler participation was better than it was the previous season to start. During 2016, we were faced with no cod possession and a haddock bag limit of only three fish on April 15. Last season, we still were not able to keep cod. But the haddock bag limit started at fifteen fish an angler on April 15. That gave anglers more incentive to go fishing in April. We ended up with more trips than the previous two years for the first half of the season. The regulations are not conducive to "filling the boat" with anglers. And if we do become as successful as we were the first thirty years it will be because of regulation stability. Regulation stability is something we are working to improve upon in the fishery management scene. The fall was not quite as busy because we could not keep haddock during the end of September through October. Without the ability to keep either cod or haddock, our business suffered somewhat. Bottom line; we did well enough to look forward to another good season in 2018!

The fishing was very good overall. It's really hard to qualify our season last year. But, without taking into account the qualifying data we didn't have, to truly come to a conclusion, I want to say it was one of the most successful seasons that we have ever had for catching fish. There was no lack of haddock, the pollock were available on every trip and there were many other fish to bring home or catch and release. But the best part of last year was that anyone who went out fishing with us would almost always be guaranteed to bring a fish home. In fact, there was a guarantee if they followed instruction.

The pollock fishing was very good all season. They were always available on the full day trips, extreme day trips, marathons and our longer trips. They weren't quite so available on the afternoon half day trips. The average size of the legal pollock was smaller than any other season but not that far removed from the last four years. We caught thirty pollock over twenty pounds which was better than the 2016 fishing season but not as good as the 2015 season or any season before it. The pollock fillets accounted for the largest portion of edible fish that went home with the angler.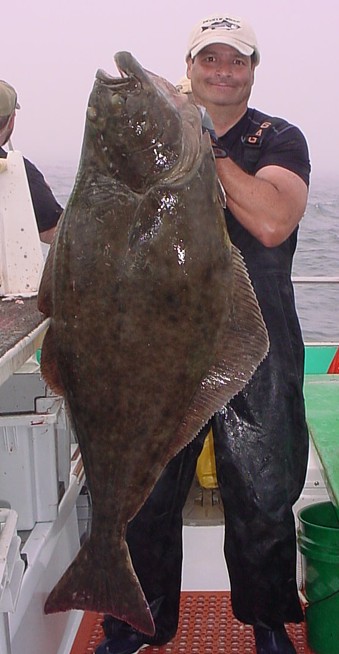 [I took the digital image on the left on the Ultra Marathon in the middle of July. The shot shows Tim Rozan holding the largest halibut that he has ever caught. It was the largest fish of the day at 68 pounds. But it was also the second keeper halibut of the trip. Since the first one was kept, the law states that all the other halibut have to be released. Still it made a great picture and it was one hell of a fish, the third largest halibut that has ever been boated on the Bunny Clark. Tim has caught three halibut while fishing on the Bunny Clark over the years.]
The 2017 haddock season was the second best haddock season the Bunny Clark has ever seen. We have counted every single haddock that has been caught on the Bunny Clark since it was launched in 1983. From the 1986 season until the fall of 1994, it was unusual to catch as many as fifty individual haddock in a whole season. One season the Bunny Clark was responsible for less than twenty-five haddock caught! The big haddock come-back occurred in the spring of 1995. For the next five years the haddock numbers increased on the Bunny Clark. From the 2000 fishing season until the 2010 fishing season, the haddock numbers stabilized at around the 5000 fish mark, more or less. The 2011 fishing season took a slight dip to under 3000 fish. There was a dramatic increase in the haddock catch from the 2012 fishing season through the 2016 season. We caught 1000 less haddock last year than we did in 2016. The haddock average size was probably smaller than just about every other season. This I can not know for sure. But we did have a shortage of haddock from 5 to 7 pounds. Still, catching the second most haddock out of thirty-five seasons makes last season a very productive year indeed.

We saw an increase in the cod catch last season. We also saw an dramatic increase in the average cod size as well. We were prohibited from keeping cod at any time during the season starting in 2015. During the 2016 fishing season, we were allowed to keep a cod a person August through September. We were not allowed to keep any cod in 2017, a mirror image of the 2015 fishing season. So we really never did target cod for the last three seasons. When you don't target cod, you limit your chances of catching them. Still, last season, we caught more cod over 5 pounds than any other season since 2005. We had three exceptions. Those were the seasons of 2013, 2010 and 2009. But, during those seasons, we were targeting cod. So you would expect to catch more cod when you are fishing where they live.

The cod average size was the largest we have seen for the last six seasons or more. And I'm sure there were earlier seasons where we didn't have the average size cod that we saw last year. Considering cod over 20 pounds: In 2011 the Bunny Clark saw sixty-seven cod over 20 pounds. In 2012 that number dropped to ten! During the 2013, 2014 and 2015 fishing seasons there were only three cod caught over 19 pounds - for those three seasons combined! Not a single cod as large as 20 pounds! During the 2016 fishing season we caught only four cod over 20 pounds. Last season we saw thirteen cod from 20 pounds to 28.25 pounds. So the cod fishing is improving. But we do catch a lot of resident cod in areas where commercial fishing is not allowed.

Most certainly, the demise of the cod is largely due to the commercial Catch Share system of management where commercial fishing sectors were given a quota of cod for all the commercial boats in each sector. So instead of giving each boat a small quota of cod as it was in the Days at Sea system, the program before the Catch Share system, now one boat could catch a sector's quota of cod if the situation presented itself. This brought the more effective larger offshore boats inshore to work on cod. I believe the Catch Share system went into effect around 2008. In 2013, we realized we were in a cod crisis. So the sectors were adjusted, the total allowable catch for New England waters was dropped precipitously for the 2015 fishing season and the recreational angler lost the ability to bring a cod home to eat. What sometimes really bothers me is that the recreational angler didn't create the problem. The recreational angler will not solve the problem if we never keep a cod again. But we are expected to take a huge hit. It certainly isn't fair.

Last season was another good year for catching barndoor skates. Not our biggest. Last year comes in at third place for barndoor skate numbers. There were five caught on the Bunny Clark last season. Considering that I had never seen a barndoor skate caught on one of my boats with rod & reel between 1975 through until 2008, five is a big number. It's not as if you can actually fish for them or can even see them on a sounding machine like you are able to do with most other groundfish. We caught the first barndoor skate in 2008, Rick Gelaznik (MA) was the angler who caught this fish on October 4th. Since that time we have caught one in 2009, none during the 2010 season, one in 2011, two in 2012, one in 2013, two in 2014 and fifteen in 2015 and nine in 2016. So, before 2015, we had caught eight barndoor skates total in the history of the Bunny Clark/Mary E, a span of over thirty-eight years! In the last three seasons we have more than tripled that number! How could this happen without the closed commercial fishing areas in the Gulf of Maine and Georges Bank or a decrease in commercial effort, particularly trawling/dragging?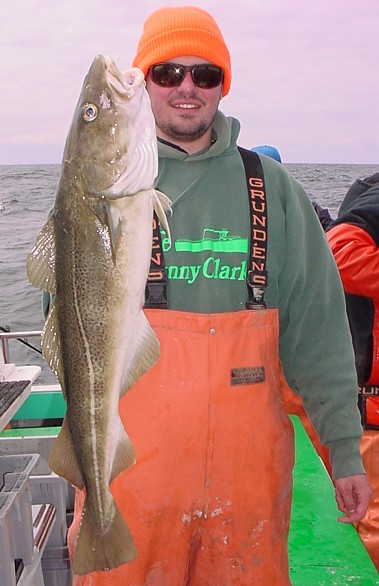 [The picture on the right is a shot of, my son, twenty-two year old Micah Tower holding an 11.5 pound cod that he caught on the fifth trip of the 2017 Bunny Clark fishing season. Like most anglers that day, Micah caught a fish or two a cast from the beginning until the end of the trip. Mostly he caught cod. But he did catch a few legal pollock and haddock, most of which he released alive.]
In other areas of the world, similar skate species are almost extinct where they have no closed commercial fishing areas. In fact, the barndoor skate (Dipturus laevis) became listed as an endangered species in 2003 by the IUCN) and remains so today. Although, there is talk of lifting that ban as I write. In my Guestletter written in January of 2016, I went to great lengths writing about the barndoor skate phenomenon, the status of barndoor-like skates in other fisheries around the world and how they have been exploited in those areas over the years. Here is a link to the 2016 Guestletter.

Our whiting (sliver hake) catch was down last year. This was mainly because we didn't fish as many areas where they live as in the past. The reason, of course, was that my crew and I, were trying to stay away from the cod. Some of those cod areas are also some of our best whiting areas. We only caught seven or eight whiting over 2 pounds during last season. And only three made the trophy list (over 3 pounds). Of course, if you are not catching many whiting, the chances are that you won't catch as many big whiting either. The whiting is a very good eating fish. The fillet is delicate in texture and lends itself to many different recipes. During the 2015 season, we added the species to the trophy list for the first time since I first starting writing the Guestletter in 1983/1984. For 2016, I had to increase the size of the whiting to 2 pounds in order to limit the number of "counter" entries on the list. Even then the list was impressive. We don't fish for whiting. Most anglers still prefer haddock, cod and pollock. But I know we could have targeted them in any one of the last three seasons and would have done quite well. Like the redfish, the whiting is a very underutilized angling species, highly prized by chefs who know fish.

Our monkfish (recognized as a goosefish by the International Game Fish Association (IGFA) catch was up yet again. But most of these fish were smaller than 6 pounds. We don't really count monkfish unless they make the trophy list. So a qualified guess would put last year up near the top for numbers of monkfish caught. Most of these monkfish were released as there wasn't enough meat to make it worth killing. Julia Child popularized the monkfish when she made the statement that "medalions of monkfish" was one of her favorite fish dishes. The only edible part of the monkfish is the meat off the tail. However, there is much commercial value in the livers.

Our hake count went up a skosch last season. White hake were frequently a part of the landings during the full day trip in the late summer and through the fall. Our marathon trips saw more large white hake than our marathon trips did the two seasons before. During the last three seasons the white hake has been more difficult to find as the commercial effort has increased [my opinion] with a decrease in the cod quota. Commercial fishermen are in the business of selling fish. In order to stay in business these last few years they have had to target other more underutilized species. The hake is one. I'm hoping the increase we saw last year will bode well for a healthier hake fishery next year and into the future.

As for other species, we had variable success.
We had one of our better years for the bigger cusk again last year as we did during the 2016 fishing season. I can give you no salient reason why last year was so productive. As in 2015, we strayed away from the hard bottom areas (cod areas) except in the early spring when we were targeting redfish. We did catch a few more cusk while fishing for redfish. But we did not take many redfish trips. Cusk seems to be our go-to species on the half day trips. We did catch many more than expected on those trips. Last years cusk landings on the half day trips were better than the season before. We haven't fished some of my favorite offshore cusk spots in three years. And I believe that the increased landings on the half day trips are largely due to lobstermen not being able to use float rope between traps. Without the float rope, lobstermen are reluctant to fish the really hard bottom areas for fear that the warp between traps will get caught in the rocks resulting in gear loss. And this is a very viable concern from a business standpoint. So lobstermen have been staying away from the hard bottom areas, where the cusk live. The cusk are largely territorial and tend not to go to the traps further away from their home turf. As lobstermen stray away from using herring for bait, less cusk will be caught in lobster traps in the future which will certainly help to bring the cusk population back. The inshore cusk population is just a fragment of what it was when I was making a living targeting them, tub trawling, in the late '70s during the winter.



We had another great mackerel year last year. This was particularly evident on the half day trips inshore where there were times when you could not get to bottom without catching one or more. The first big showing of mackerel came during the 2015 fishing season. We caught less in 2016 but more last season. The spring mackerel helped in bringing the mackerel sharks (porbeagle sharks) around where we fish on a regular basis. Likewise, the mackerel brought the porbeagle sharks around when these sharks passed by again in the fall. The mackerel shark is caught on the Bunny Clark an incidental species. But we do land them occasionally. Our fishing tackle is not appropriate for landing porbeagles on a regular basis. So we lost quite a few last season as we do every year.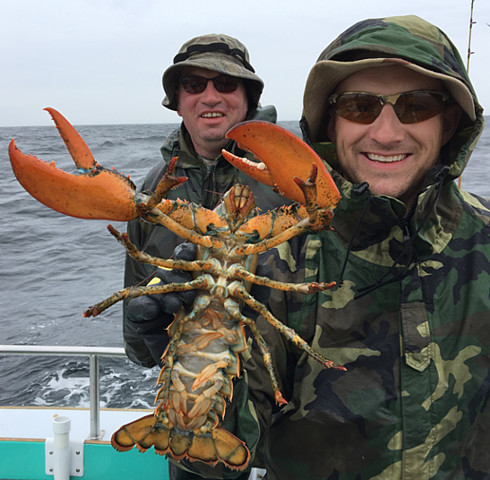 [To my knowledge, this is the only lobster that was caught last season. If we caught another, I wasn't told about it or it was too small to think about. I ran this trip near the end of May, a marathon trip. The angler who caught it is holding the lobster in the digital image on the left, Keith Wells (NY). The lobster weighed 2 pounds. It was a female lobster that, at one time, was caught with eggs, the tail "V'd" and released. The angler in the background is Phil Brown (NY). Phil boated the 282 pound porbeagle shark only a few hours before on this same trip. ]
We saw and caught quite a few redfish in the early spring during the very few trips we hosted before the haddock season began on April 15th. Had we targeted redfish more than we did, our redfish landings would have been high. But we spent little time fishing on them. Overall, it was not a very good redfish year. When we fished the deeper water in the summer through the fall, we saw fewer redfish than normal.



The dogfish were very manageable again last season. These are the annoying spiny dogfish that tangle lines and disrupt fishing for everyone. Some people call them sand sharks. We had just a few trips where dogfish limited our groudfishing success. During most trips, they were not a factor in decreasing groundfish landings. Indeed, they showed up much later last season than they did the season before.



There were quite a few bluefin tuna around. Most were much too big for our tackle to handle. But there were four opportunities where the size would not have been a factor in landing them. However, there are other variables that diminish our chances. We did land one bluefin, the first in many years (see below).



We were bothered less by blue sharks last season than any season before it. We also spent less time offshore in the fall than ever as well. Most blue sharks are found when fishing offshore. But usually we are bothered by them on the day trips anyway. Not last season. It was very quiet on the blue shark front last season. Unusually so.



Last year was a great year for getting the opportunity of hooking a porbeagle shark. The 2016 season was our best season. Last season was not far behind. On one trip in May we brought two porbeagles to gaff and another nearly so. They showed up in the fall as well. But there were far more angling chances in the spring.



There were 95 wolffish caught during last season, nearly double the number caught from the year before. And it was the largest number of wolffish caught on the Bunny Clark since the 2007 fishing season when 103 were caught. We also caught 95 wolffish during the 2006 fishing season. Since 2008 we have not been targeting them as they are illegal to keep. This makes the wolffish an incidental species (like the cod). Our best season for catching wolffish since 1996 (the first year I started counting them) was the 1998 fishing season when we caught 310. We caught too many to count in the '80s. Our best single day for wolffish landings was April 8, 1994 when 29 fish were caught. On that day we also broke an angler record for wolffish caught in a single day with a count of 9 by Al Turner (NY). The previous angler record was 8 fish held by Ray Hill (VT) on an overcast day in May of 1984 two miles from shore!



There were twenty halibut caught on the Bunny Clark last season, ten total on just two offshore trips! This is a record for the Bunny Clark both in total numbers for the year and a record for numbers in one trip (six halibut). We caught twenty-eight halibut on the Mary E, my six passenger boat in 1979. Our second best halibut year on the Bunny Clark was in 2012 when we caught sixteen halibut during the season. We don't normally target halibut. There is a proven method to increase your halibut catch which we rarely do. We did on the two trips mentioned above which were successful beyond my wildest dreams. The law states that you can only keep one halibut per trip, regardless of the length of the trip. Since a halibut has to be forty-one inches to keep, many smaller ones have to be released. Last year we caught eight legal sized halibut. The way we do it on the Bunny Clark, under the rules, is the first person to catch a legal halibut decides whether he/she will keep that fish or release it in the hope of getting a bigger one. We have never had an angler release the first legal halibut. This presented us with the problem of having to release our biggest halibut of the trip on two occasions! On one occasion, that biggest halibut of the trip was also the largest halibut that has ever been landed on the Bunny Clark at 86 pounds!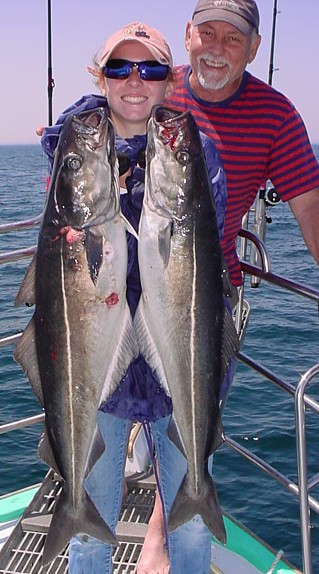 [The digital image on the right is a shot of fourteen year old Erin Harris (MA) holding the largest double keeper catch of the season in the middle of June. By the end of the season, it was the Bunny Clark's sixth largest double keeper catch of the year, missing fifth place by a pound. Her double included a 16.5 pound pollock and a 14.5 pound pollock. Not only did Erin bring the double to gaff by herself, she held the two fish up for a picture by herself and then waited holding the two pollock (one in each hand) until I took eight more! [This girl is very athletic and plays on two soccer teams at home!] The angler in the background is her father, Dave Harris, who is not helping her hold her fish, contrary to popular belief! Dave has been one of our best anglers for many years. ]
We did not introduce any new improvements on the Bunny Clark over the 2015/2016 winter, before the 2017 season, that would have been noticeable to anglers. The improvements we did make were in cosmetics all through the boat including the engine room, mechanical repairs and changes that aided in every day operations. We did have a mounting bracket for the vane pump that runs the hydraulic anchor hauler that needed to be replaced. The previous bracket was made of aluminum. I had two new brackets made out of stainless steel. One I saved as a spare. By the end of the 2016 season I had the old aluminum bracket held together with pot warp!

At the time the Bunny Clark was hauled out at Kittery Point Yacht Yard at the end of the 2016 season, we discovered that the outside stuffing box/cutlass casting had come unbolted from the keel near the end of the shaft above the wheel (propeller). This had happened a couple of minutes before we hauled the Bunny Clark out of the water for the winter! Talk about timing! I had to have the cutlass bearing replaced and the housing changed so it wouldn't happen again. There was a minor leak we discovered in one of the fuel tanks that we had to stop. And the fixed port side engine hatch had to be removed and re-bedded as we had discovered that it was leaking when water was on the deck. We had those highlighted items, changing bilge pumps, a couple of wiring problems that needed to be addressed and the normal "every winter" checks that are always part of the work order that is, typically, seventy-five items long.

Improvements anticipated for the 2018 fishing season will included a new secondary radar. We lost our regular secondary radar during the middle of last season. We had been having power issues with it. I would have changed it out then. But the Japanese electronics company, Furuno, was coming out with an intermediate color radar that would not be available until the end of the 2017 season. So I decided to see if I could get through last season without it. We didn't, of course. Fortunately, our main radar, a thirty-six mile Furuno, worked perfectly from the beginning of the 2017 season until the end.

We will also be installing a new inflatable life raft that will be able to hold more people in case we need it. Our older life raft was going to be almost as expensive this year to inspect and re-pack. Plus, they were having a sale on this life raft to move stock. Anticipating a regulatory move in 2015/2016, many life raft companies produced well over what they needed to sell in order to be ready for the new regulation. When the regulation didn't go through Congress, those raft companies were stuck holding many more life rafts than they could sell under the current regulations. By doing this, at the end of two years I will have swapped the old life raft for a new one with larger capacity for even money. That move seemed a "no-brainer".

We found a very similar problem in the shaft/propeller system when we hauled the Bunny Clark out of water in mid November of 2017. The cutlass bearing had slid out of the stuffing box casting on the back of the keel, the aft face of the cutlass tube resting on the forward hub of the propeller while the forward part of the cutlass tube still had two inches in the aft end of the casting! That two inches was the only bearing surface holding the shaft other than the actual stuffing box in the engine room! This was the third haul-out in three years with a similar problem within the cutlass bearing area. So I decided to pull the shaft, cutlass, the outside stuffing box casting, the wheel, the keys, nuts and cotter pin completely out of the boat and take the whole works to H & H Propeller in Salem, Massachusetts. They straighted the shaft, trued the wheel, gave me a new stuffing box/cutlass casting, a new cutlass bearing, fitted everything together with the tightest of tolerances, fitted new keys, new propeller nuts and a new radius in each key way at either end of the shaft. As of this writing, we haven't put the new shaft system in the boat yet. But when we do I am going to have a whole new engine alignment completed. If I have my way, the Bunny Clark will have no vibration or future problems in this arena. By writing this I hope I didn't jinx myself!

We had less problems with the "new" engine last season. It's been my experience that problems crop up the most in new engine installations and old engines. The problems that we had during the 2016 season with the engine were solved that season and the following winter. So, aside from the cutlass bearing problem mentioned above, we ran free and clear without any engine problems in 2017. Certainly, no problems that prevented us from taking a trip out. The only quasi-engine problem we had was when Captain Jared Keniston was putting the boat back on Barnacle Billy's dock for the night and got a dock line caught in the wheel. The long and the short of that story was that I, eventually, had to dive under the boat (with a dry suit, of course) and get the rope out of the wheel in order to have the boat ready to sail the next day. That happened at the end of June. And this really wasn't what you would call an engine problem. I typically have to dive under the boat twice in a season to get something out of the wheel.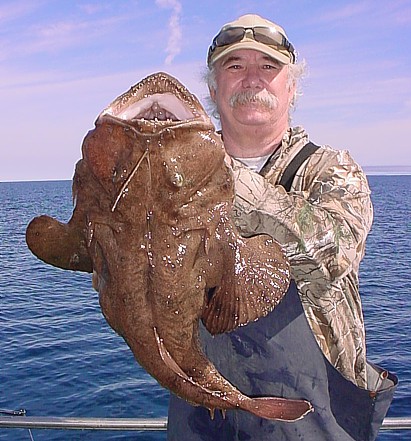 [I took the digital image on the left during the September 26, 2017 marathon trip. The subject is Jim Watson (PA) holding his 13.5 pound monkfish. This was the first monkfish that Jim has ever caught and the Bunny Clark's second largest monkfish of the 2017 fishing season. ]
There were two other problems that happened but were not related directly to the Bunny Clark but unique enough to mention them here. The first situation happened on June 21, 2017. Captain Ian Keniston and Captain Jared Keniston were running the extreme day trip. They were drift fishing peacefully when Ian noticed a sailboat, a sloop, heading toward them from the southwest. The boat was far enough away that Ian didn't pay too much attention. It became evident after a while that the sailboat was not going to change course and, in fact, was on a collision course with the Bunny Clark. As the sailboat got closer, anglers started yelling. Ian had to run to the helm, start the engine and put it in gear to get out of the way. Ian avoided a collision, but only barely. The sailboat had a light blue colored hull and was named the Noonin. The name was on the bow, which is unusual for a sailboat. Ian couldn't see the hailing port. And, from what I understand, the sail set was "wing & wing" (the main sail vanged over one side of the rail with the jib sheeted out over the opposite rail), going directly to leeward. There was no one at the helm until the last minute when someone showed up coming out of the companionway. I asked if the man on the sailboat was fully clothed, all kinds of thoughts running through my head. And I guess he was. I would have given him the nod if he were barefoot had just pulled a pair of pants on. But fully dressed, that's just plain dumb seamanship!

The other situation occurred on August 10, 2017 aboard my former deck hand's boat, the India Marie with, none other than the man himself, Captain Satch McMahon aboard. The Bunny Clark had a visual of the India Marie when Satch found a floating dead body just as he arrived on the fishing grounds that morning. Being the venerable mariner that he is, Satch called the U. S. Coast Guard about his discovery. They, in turn, dispatched a boat to his position to extract the dead person. Satch, in the meantime, had to stay on scene until the USCG arrived. It took them over three hours to arrive. In the meantime, Satch had a full boat of patrons who really couldn't fish while Satch was waiting. Apparently, the Coast Guard was very complimentary towards Satch and his actions. However, the question is; will Satch do the same thing, impeding his business were he to come across another dead body in the future?

This brings in the question of the mariner's obligation to saving a life at sea and this relationship with finding a dead person floating. They aren't the same thing. Personally, if it were my son or daughter, I would certainly like to have closure. So I don't think ignoring it is an option. However, you can't prepare for something like this. And, at the time, I'm sure that was all Satch could do. I think, if it were me, I would put a flag buoy on it and mark the position, set and drift. And go back to fishing until USCG arrival. Easy to say when you have plenty of time to think about it after the fact!

It also reminds me of a story set in downeast Maine where two guys were lobstering together and found a dead woman wrapped up in the gear with fifteen lobsters muckled on to it. "What shall we do?", the mate said to the captain. "Well, first, I want you to band those lobsters and get them in the circulating tank." "Then, I guess, we'll set her again!".

Last year, Fish-On Tackle was sold to North Atlantic Jigs & Tackle. Fish-On Tackle was the source for our Lavjigs and other assorted jigs and sinkers. Now we will get them from North Atlantic Jigs & Tackle. I have been in contact with Dennis Toubeau and Kristine Gavin, the proprietors. Although I have not bought anything from them yet, they seem very nice and have been quite accommodating. They can be reached at najigsandtackle@gmail.com. Right now I am working on a single hook setup on the Lav 16 ounce jigs. A couple of years ago we offered them. They worked great. The main purpose with using the single hook was to eliminate snagging fish. In turn, you would be boating a larger fish and spending more time fishing and spending less time taking small fish or snagged fish off hooks. The single hook accomplished that goal nicely in trials of the past. However, the hook that we used, although the perfect size, rusted.. Frankly, it made the jig less attractive to anglers. So this year I plan to work with Dennis & Kristine to come up with a more viable option.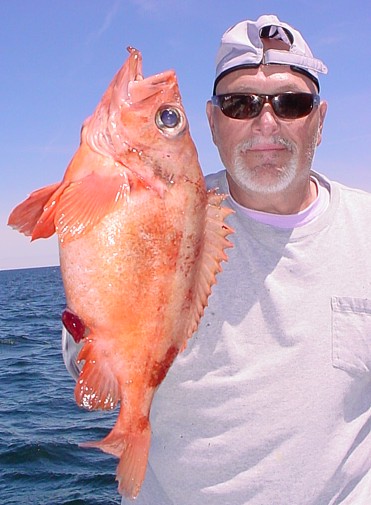 [The picture on the right is a shot of Jim "Chip" Chiapponi (CT) on the bow of the Bunny Clark holding his 2.5 pound Maine state trophy redfish. This was the largest redfish of the 2017 Bunny Clark fishing season. I can't remember when I have ever seen a redfish with so much girth. This fish was caught on a marathon trip in the middle of June. Chip also caught a 14 pound pollock that day, a tie for the second largest fish of the trip. ]
As usual, two of the places I rely on most are Surfland Bait & Tackle, Newbury, Massachusetts (Kay Moulton, proprietor) and the Saco Bay Tackle Company in Saco, Maine. Kay is the last word when it comes to terminal gear, swivels, bait hooks, reel repair questions and rod building questions as it pertains to salt water fishing in New England. I buy all my swivels, terminal gear and some reels from Kay. I have very much enjoyed doing business with her since the early 1970's. Both of these places have been responsible for building excellent rods to my specifications. Saco Bay Tackle Company specifically builds a deep water jigging rod that is second to none with the Bunny Clark logo and my explicit stamp of approval. I also buy specialized line from them. Both businesses are top notch tackle stores, the best.

In the 2016 and the 2017 fishing seasons, I have bought all my snelled hooks and leaders from Sea Wolfe Tackle. The hook/leader combination is made by them or companies for them with my specifications. I find that Richard & Judy are very easy to work with and fair on price. Right now they are in the process of making me hook/leader setups that we can use with every day bait fishing but will also be strong enough to handle a significantly large halibut.
Our web site at http://www.bunnyclark.com continues to be the location where you can get information about the Bunny Clark operation on a daily basis during the season and off-season. We have a schedule and rates section, a photo section, a world records section and more. Our fishing update section provides anglers with up to date information on the daily catch, fish sizes, daily weather, angler deeds and fishery management information. This Guestletter resides on our web site along with some of my previous Guestletters. Although I can't personally answer all the email that comes in associated with the site, our staff does a great job with this while also answering reservation questions and scheduling fishing dates. We are still not planning to use the email/internet as a direct source of making reservations as the phone serves as a better means to take care of anyone on an equal basis.

This is the sixth season that I haven't worked on my groundfish tagging program. I just didn't have the time. I plan to start it up again in 2018. I know I made the same statement on last years Guestletter. But I plan to be more vigilant about it this year. The proof is in the pudding. Right?

We maintain a healthy Maine state trophy program in order to recognize larger than normal fish. During the 2015 season Jason Collier (VT) came close to breaking the whiting IGFA All-Tackle world record with his 5 pounder. The fish just wasn't close enough. During the 2016 fishing season, the whiting, again, was the only species close to making world record status. But the largest one, a 4.1 pounder caught by Jon Griffin (MA), wasn't even large enough to beat Jason's fish the year before. We did catch some large barndoor skates last season. At this time, the barndoor skate is not accepted as a viable world record species. This is probably because of it's endangered species status. Bryan Lewer (FL) came closest to a world record last season with his 47.5 pound Maine state trophy white hake. The existing world record white hake is 46 pounds 6 ounces caught by John Audet (ME) aboard the Bunny Clark on October 26, 1986, caught only a mile from Boon Island. Bryan caught his fish around mid-morning ninety-five miles off shore. Bryan's hake would have had to weigh 47 pounds 6 ounces in order to beat John's world record. There was just no way that Bryan's hake would have stayed the same weight after eight hours in the boat before getting an official on-shore weight. I will talk more about size relationships below with the accompanied trophy list. You may enjoy checking out all of our current and past world and state records by accessing the records link at http://www.bunnyclark.com or by going directly to http://www.bunnyclark.com/records.htm.

At the time of this writing there are no regulation specifics available to inform you about for the 2018 fishing season. I suspect we will not be able to keep cod as was the case last season, the 2015 fishing season and all but two months (August & September - one cod a person) of the 2016 fishing season. If we are able to keep cod at all in 2018, it will not be before May 1, 2018. This is because the 2017 fiscal Federal fishing season ends on May 1. That means that the recreational angler will have a 12 fish haddock limit with a seventeen inch minimum size from April 15 to May 1, 2018. What happens after this is up in the air at this time. The data from last year will not be available until Feburary. The Recreational Advisory Panel (RAP) meeting was held on January 24. I hold a seat on the Panel. In a nut shell, preliminary findings show that the recreational angler is still catching (killing) too many cod. The National Marine Fisheries Service (NMFS) feels that with trying to stay out to catch the haddock quota, recreational boats will again be catching too many cod. Despite this, I made a motion to keep the same regulations we had in 2017. The motion passed. And it also passed with the Council's Groundfish Committee the next day. It still has to be approved by the Council and NMFS. This could, potentially, have us facing the same problem with the regulations for the 2019 season. But the RAP believes that the cod mortality numbers are highly inflated in the private angler numbers. In fact, there is really no way to get accurate numbers. So I had no problem making this motion.

In the regulatory process, the way we fish for cod and haddock puts pressure on both species to some degree. If you are fishing for one species you are going to put pressure on the other. That is the way the scientific community sees the regulatory relationship. There is no way to ensure, for instance, that you are not going to catch cod if you are going for haddock. Nor are you going to get into the minds of the captains who go for groundfish. The cod, therefore, is the big problem. According to my most recent figures, the recreational angler caught more cod than we should have last year (fiscal 2017). This is the reason I feel that cod will be off the table again this season. The one determining factor will be the extent to which we need to protect cod and if looks like the cod are coming back. The recreational angler caught a lot of cod last year. To the casual observer, you might think that we should be able to keep some cod knowing that fact. We caught more cod so we should be able to keep more cod. But we share the resource with the commercial fisherman. If the overall cod quota goes up we may be able to keep some cod. I think this is a real possibility. We will not know this for sure until after the summer.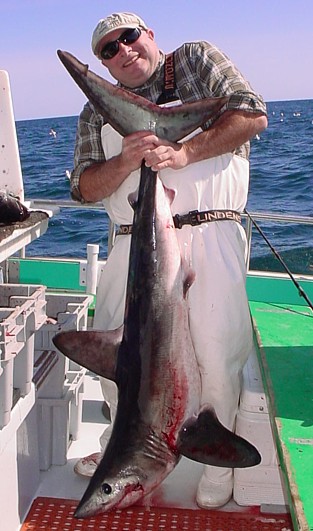 [On the October 3, 2017 marathon trip, Fred Kunz, shown left, won the boat for the largest fish with the largest fish, an 87.5 pound porbeagle shark. Also called a mackerel shark, this is Fred's first porbeagle and the second largest fish that Fred has ever caught. It was only the Bunny Clark's second porbeagle shark that was caught last season. Fred was reeling in a fish when this shark followed Fred's fish to the surface. While there, the shark bit on to Fred's bare jig. Fred held the shark there with enough time to gaff it had it been closer to the surface. Captain Ian Keniston did hit it with the gaff. But when he did, the shark took off and headed right straight toward bottom. Fred might have fought the fish for ten minutes before getting it close enough to the boat to gaff. It was a tough battle for a while. But the shark met its demise when it started rolling up in the line rather than trying to get away. Once the shark started doing that, Fred reeled it right in. Ian hit it with the flying gaff while I got a gaff in the tail. Ian, Fred and I rolled it over the stern and into the boat. Fred was gracious enough to let me have a steak off his mackerel shark which Deb and I ate the next evening. The best shark/swordfish steak I have had in many years! The digital image of Fred holding his shark appears on the left.]
We will not be limited in the areas we can fish except for the Whaleback Spawning Closure to the south and east of the Isles of Shoals. There will be a 12 inch minimum size on winter (blackback) flounder, a 19 inch limit on pollock (with no bag limit), a 9 inch limit on redfish (with no bag limit) and a 41 inch limit on halibut. Halibut landings are limited to one halibut per vessel per day Federally; state wise we are limited to five halibut per calendar year (Maine only). The question on halibut take will be taken up during Council meetings in late January. There is no size limit or bag limit on hake (both white, red & silver hake), mackerel and cusk. There is a minimum size of 54 inches (caliper fork length) for possessing mako sharks, porbeagle (mackerel) sharks & thresher sharks. You will be able to land a bluefin or two or three or four (per vessel) of an undetermined size (to be established at the beginning of the season on June 1, 2017). It is illegal to keep barndoor skates, eel pouts and wolffish.

The start date of Friday, April 13, 2018 has been determined as the date of our first fishing trip of the season, a marathon trip where I will be the captain and Captain Ian Keniston will be the deck hand. That Friday and Saturday, April 14th, we will not be able to keep haddock or cod. I have selected that date because I want to look around the fishing grounds. There should be plenty of redfish available. We can keep pollock. We may find a big cod or keep a halibut. Cusk will also be around at that time of year. Starting on Sunday, April 15, we will be able to keep twelve haddock per person.

I have also changed the time that reservations will be taken on Feburary 1, 2018. Reservations will start at 5:00 AM, February 1, 2018.
As of this writing, the NMFS has approved the Omnibus Habitat Amendment 2 but not in it's entirety. This Amendment is the one that would restructure the closed areas, opening up many new areas of bottom to commercial fishing that have been closed since 1996 or even earlier. The Amendment went to public comment last fall. The comments overall were in favor of keeping the status quo or, maybe, adding more areas closed to commercial fishing. Very few people, commercial or recreational, wanted the closed areas open in any way. Unfortunately, most of the provisions of the Amendment went through. What this means to us is that the Western Gulf of Maine (Jeffrey's Ledge) closure on the east side will be open to commercial fish including bottom trawling. With only 15 percent observer coverage, you know what this will mean. It will also prevent us from being as successful. And it will increase cod mortality, my biggest fear. At the present time the Cashes Ledge closed area will remain the same. But the Amendment leaves the door open to commercial exploitation in the future. I was very disappointed that this went through. It opens up too much bottom to very destructive fishing in the future. And it ruins a major groundfish habitat system [my opinion]. I'm happy to say that Area 2 on Georges Bank will remain closed. However, they will open Area 1 to the south of it. Not good. The closed areas have helped the fishery in general. They were responsible for the haddock coming back to the U.S. and Canadian waters. The protections they afforded brought back the barndoor skate and is protecting the many hake and pollock spawning areas. It is not a good idea to open any of the closed areas. And, opening the closed areas will make cod all that more vulnerable to exploitation or, even, economic extinction. Wouldn't that be nice!

As a note, right now, the mid-water herring trawlers are allowed to tow in the closed areas for herring. They are towing small mesh nets, sometimes with very large nets that can only be towed by two vessels. In the operation of towing these nets they are catching unlimited tons of other species, including haddock and cod, that die by the time the cod end (of the net) hits the deck. This, to me, is so contemptible as to defy the imagination; why would you allow commercial boats capable of killing cod in an area where we are protecting cod and haddock and no commercial groundfish boats are allowed in, even with large mesh? It makes no sense. But it is still allowed.

These are just a small number of the challenges we face in the New England fishery. And I know that I am just touching on them here. In the last two Guestletters I have put too much emphasis on the fishery management issues. I am backing off a bit this time. Suffice it to say, much work needs to be done in order for me to feel satisfied that the fishery management in New England is heading in the right direction.

As I feel that the greatest achievement in angling is the ability of a person to hook and land a trophy fish on their own, I have listed the guests who caught the top five largest of each significant species during the 2017 fishing season. Keep in mind that all the represented weights of these fish were taken aboard the Bunny Clark using a registered scale shortly after capture (the same way it has been done since our first fishing trip on the Bunny Clark in May 1983). I feel that this is the fairest comparison between the angler's fish since weight loss is proportional to the amount of time the fish is out of water. This also makes the weight of every fish caught on the Bunny Clark comparable through all of the past fishing seasons.
| | | | |
| --- | --- | --- | --- |
| NAME (STATE) | FISH - lbs. | LENGTH X GIRTH (inches) | DATE CAUGHT |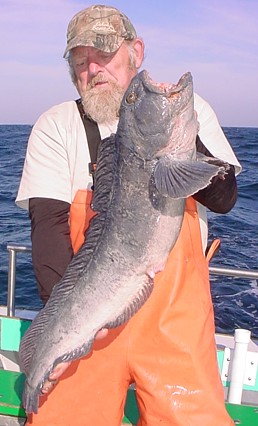 | | | | |
| --- | --- | --- | --- |
| Kevin Gilpatric (ME) | Monkfish 24 | | 08-08-17 |
| Jim Watson (NY) | Monkfish 13.5 | | 9-26-17 |
| Deanna Cupka (PA) | Monkfish 10.25 | | 10-23-17 |
| Bill Otto (PA) | Monkfish 9 | | 9-15-17 |
| Kory Kaulfers (PA) | Monkfish 6 | | 5-16-17 |
| Shaun Montgomery (NY) | Monkfish 6 | | 7-3-17 |
| Kevin Attanasio (MD) | Monkfish 6 | | 10-27-17 |
Bill Wallace (ME) can be seen on the right holding his 15 pound wolffish just before releasing it alive. When we used to be able to keep wolffish, that size was the minimum acceptance weight for a Maine state trophy. Bill's wolffish was the third largest wolffish caught on the Bunny Clark last season.
| | | | |
| --- | --- | --- | --- |
| Molly Williams (LA) | Atlantic Mackerel 1.9 | | 8-29-17 |
| | | | |
| --- | --- | --- | --- |
| Stephen Selmer (NH) | Barndoor Skate 27* | | 7-18-17 |
| Mike Bruce (NH) | Barndoor Skate 21.5* | | 9-7-17 |
| Serghie Rojco (NH) | Barndoor Skate 20.5* | | 9-11-17 |
| Liam Jenks (MA) | Barndoor Skate 20* | | 8-21-17 |
| Tom Staples (PA) | Barndoor Skate 20* | | 10-20-17 |
| | | | |
| --- | --- | --- | --- |
| Jim Chiapponi (CT) | Redfish 2.5 | 15.75 X 13.5 | 6-15-17 |
| Steve Selmer (NH) | Redfish 2.1 | 16.75 X 12 | 8-31-17 |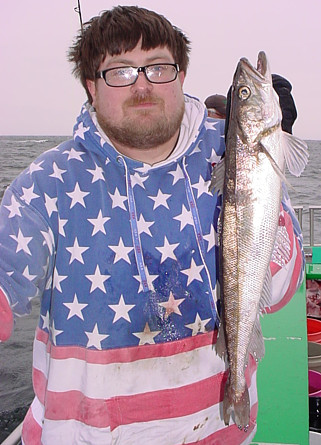 Dan Nye (MA)

Wolffish 17

***

10-5-17

Alyssa Wright (ME)

Wolffish 16.5

***

7-22-17

Bill Wallace (VT)

Wolffish 15

***

10-19-17

Robert Clarke (NH)

Wolffish 13

***

4-28-17

Bill Bolotin (MA)

Wolffish 12.25

***

9-12-17
Wade Colby (ME) tied for the second largest whiting caught on the Bunny Clark last season, a Maine state trophy of 3 pounds. I took a picture of Wade with his great fish. This digital image appears on the right.
| | | | |
| --- | --- | --- | --- |
| David Sei (MA) | Pollock 29 | 43 X 24 | 7-5-17 |
| Jonathan Griffin (MA) | Pollock 26.5 | 41 X 22 | 10-05-17 |
| Raymond Charles (ME) | Pollock 26 | 43.5 X 23 | 6-13-17 |
| Neil Chamberlin (NH) | Pollock 24 | | 9-26-17 |
| Josh Atkisson (MA) | Pollock 23.5 | | 8-3-17 |
| Martin Buskey (NY) | Pollock 23.5 | | 10-15-17 |
| Fred Kunz (NH) | Pollock 23.5 | | 11-2-17 |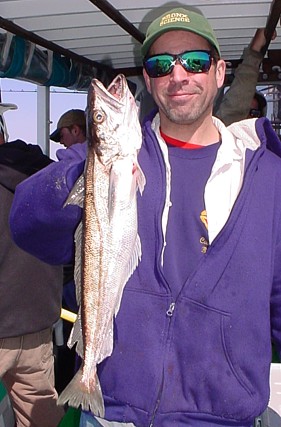 | | | | |
| --- | --- | --- | --- |
| Bryan Lewer (FL/ME) | White Hake 47.5 | 48 X 33 | 7-18-17 |
| Dan Killay (VT) | White Hake 43.5 | 48.5 X 32 | 7-18-17 |
| Bryan Lewer (FL/ME) | White Hake 41 | | 7-18-17 |
| Jonathan Griffin (MA) | White Hake 38 | 46.5 X 28 | 7-18-17 |
| Stephen Selmer (NH) | White Hake 38 | 45 X 30 | 7-18-17 |
We had an anonymous Individual catch another Maine state trophy whiting of exactly 3 pounds, a tie with Wade above. This individual's whiting was caught two weeks later than Wade's fish. I took a picture of this individual holding his prize. The digital image appears on the right. This whiting and Wade's whiting were the second largest whiting caught on the Bunny Clark last season.
| | | | |
| --- | --- | --- | --- |
| Wobbey Barnes (MA) | Haddock 8 | 29 X 16.5 | 4-20-17 |
| Chris Cote (ME) | Haddock 7.1 | 25 X 15.5 | 6-1-17 |
| | | | |
| --- | --- | --- | --- |
| Charlie Jacobs (NC) | Whiting 3.25 | 21.75 X 11 | 8-3-17 |
| Wade Colby (ME) | Whiting 3 | 22 X 10.5 | 5-25-17 |
| Errol Tabacco (VT) | Whiting 3 | 23 X 11 | 6-8-17 |
| Sias Hechel (NH) | Whiting 2.5 | | 10-11-17 |
Keith Wells (NY)

Lobster 2

**

5-25-17
| | | | |
| --- | --- | --- | --- |
| Jonathan Griffin (MA) | Cusk 23.5 | 36.5 X 25 | 7-18-17 |
| Bryan Lewer (ME/FL) | Cusk 22 | 37.5 X 23 | 7-18-17 |
| Bryan Lewer (ME/FL) | Cusk 21.5 | 35 X 24 | 7-18-17 |
| Stephen Selmer (NH) | Cusk 21 | 34 X 26 | 7-18-17 |
| Lewis Hazelwood (MA) | Cusk 20.5 | 34 X 22 | 7-18-17 |

Marie Harding (ME)

Cod 28.25

***

6-29-17

Neil Feldman (NJ)

Cod 28

***

7-11-17

Ny Nhath (VT)

Cod 27

***

6-1-17

Andrew Gaudio (MD)

Cod 26

***

10-19-17

Donna Moran (NYC)

Cod 24

***

7-11-17
On the last spot of the day, Labor Day last season, just as Captain Ian Keniston was about to call it a day on one of his extreme day trips, Justin Gage (VT), hooked into something big. Ian wasn't sure what it was at first as the fish was hooked on top and stayed on top for the fight. As the fish got closer, it became obvious that Justin had a small bluefin tuna on his line. For less than a half an hour Justin fought the fish until he had the fish doing small circles around the stern of the boat. He closed the circles until the fish came within gaffing range. And that was it. The first bluefin boated on the Bunny Clark in seven years. And it's not like we haven't had our opportunities between 2010 and 2017. We don't have a scale big enough to accommodate a fish over 100 pounds. So they had to weigh the fish in pieces. The pieces came out to 110 pounds, a little less than if it had been weighed whole, unbled. Ian took a picture of Justin trying to hold the fish, shown right. What was most interesting to me, the tuna took the fly above the jig and was hooked in such a way as the teeth didn't chafe on the loop holding the fly! Justin gave me a piece of the center cut near the shoulder. Deb pan seared it with olive oil and sesame seeds that night. It was really out of this world. Thank you very much, Justin (and Bernie!).
Lewis Hazelwood (MA)

Halibut 86

****

58

7-11-17

Tim Rozan (ME)

Halibut 68

****

53

7-18-17

Richard Lyle (NY)

Halibut 53

48.25 X 35

7-18-17

Neil Feldman (NJ)

Halibut 38

44

7-11-17

Lee Sovie (NY)

Halibut 36

44

6-14-17
| | | | |
| --- | --- | --- | --- |
| Phil Brown (NY) | Porbeagle Shark 282 | 81 | 5-25-17 |
| Fred Kunz (NH) | Porbeagle Shark 87.5 | 57.5 | 10-3-17 |
| | | | |
| --- | --- | --- | --- |
| Justin Gage (VT) | Bluefin Tuna 110 | 60 | 9-4-17 |
Where there is a tie in fish size, anglers are arranged in order of the date caught.
* Barndoor skates are presently on the endangered species list. All the skates listed were released back to the ocean alive after a quick picture of the angler with his fish.
** These fish (lobsters) were sub-legal or illegal to keep and released back to the ocean alive.
*** Federal regulation has prohibited the retention of wolffish for a few years now. Federal regulations for the whole 2017 season also prohibited the retention of cod. All wolffish and cod were released back to the ocean alive.
**** We had already boated a smaller legal halibut the day this fish was caught. Federal law prohibits retention of more than one halibut per trip! The boat rule says that the first angler to catch a legal halibut during a trip has the option to keep or release the fish alive. It that angler decides to keep the fish, no other halibut can be kept for that trip.
Bryan Lewer and Steve Selmer were the only anglers to appear four times in the top five trophy list for the 2017 Bunny Clark fishing season. Jonathan Griffin appeared three times. Fred Kunz, Lewis Hazelwood and Neil Feldman all appeared twice in the top five last year.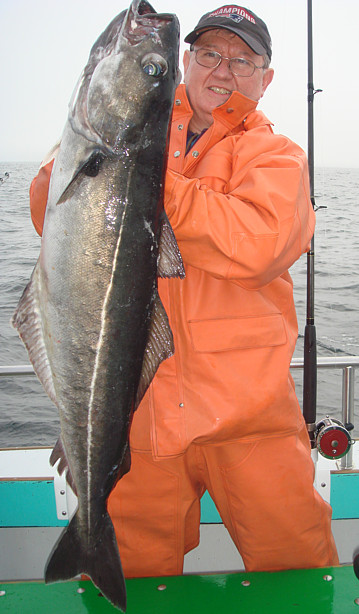 [On the October 15, 2017 extreme day trip, Marty Buskey won the boat pool for the largest fish with the largest fish, a 23.5 pound pollock. This pollock ties the fifth largest pollock landed on the Bunny Clark during the 2017 season. Captain Ian Keniston took a really good picture of Marty holding his prize pollock. This digital image appears on the left. Marty also caught the third largest fish of the trip, a 13 pound pollock on this day. The second largest fish, on that trip, was a 20 pound pollock caught by Marty's dory mate, Nick Costantino (NY). It was a great day to be Marty Buskey or to be on Marty Buskey's team!]
The haddock that appear in the trophy list above were all the trophy haddock that were caught during the 2017 Bunny Clark fishing season. Two! We had ten haddock just under 7 pounds.

The 2013 season was the first Bunny Clark season ever where we didn't see a cod over 20 pounds. In fact, it was the first season that we didn't see a cod over 30 pounds! And, because of that, I didn't take the time to list the top five cod in that Guestletter. After the 2014 fishing season I decided to list the top five, in keeping with every other Guestletter I have ever written. During the 2014 fishing season we did catch two cod of 20 pounds or better. During the 2015 season, Larry Kabat's 25.5 pound cod was the largest cod the Bunny Clark had seen since Liam Kennedy (NJ) caught a 32 pound Maine state trophy cod on May 15, 2012! Bryan Lewer's 45.5 pounder, caught in 2016, was the largest cod the Bunny Clark has seen in over five years! The 2017 Bunny Clark fishing season, last season, was the first season since the 2012 fishing season that the top five cod were all over 20 pounds. There were thirteen cod over 20 pounds caught last season. In comparison, there were ten cod caught that were over 20 pounds during the 2012 Bunny Clark fishing season. Since 99% of all the cod we caught last season were resident fish, I believe these cod are just growing more every year (primarily in the closed commercial fishing areas). Maybe the cod will be even larger in 2018!

We had an up-tick in the number larger monkfish last season. By no means were any of these fish considered "big" monkfish. The 24 pound monkfish that Kevin Gilpatric caught last year is the largest monkfish that has been caught on the Bunny Clark since May 17, 2012 when Bob Foster (NY) caught a monkfish that weighed 34.5 pounds. Bob's fish was caught on a marathon trip. Kevin's was caught during a full day trip. The largest monkfish that has ever been caught on the Bunny Clark was one that weighed 55 pounds, by Nancy Lee Regimbald (VT) on a full day trip on July 9, 1991. The official on-shore registered weight was 49 lbs 12 oz. It remained the IGFA's all tackle world record until it was beaten on April 12, 2008 by a monkfish caught off Gloucester, Massachusetts that weighed 51 lbs 4 oz.

Although the pollock average size was smaller than all but one other Bunny Clark fishing season, we caught only a couple less 20 pound pollock than we did the previous season. The largest pollock caught last season, by David Sei, a 29 pounder, is the largest pollock we have seen on the Bunny Clark since Tom Donaghy (ME) caught one the same size on August 12, 2015. Both were caught with Captain Ian Keniston. Both were caught during a full day trip. And both were caught on a Wednesday!

We saw many fewer whiting last season. The reason for this was the prohibition of cod retention. In 2016, we could keep a cod a person through August & September. Where we catch the cod that time of year is also where we catch some of our best whiting. Since we couldn't keep cod at all last year, we stayed away from the areas where our most cod and whiting are normally caught. It was a spacial problem more than anything else with regard to whiting landings.

Our hake last season, for size, was right up there with some of the biggest hake we have caught over the years, although nowhere near the sizes of hake we caught in the early 1980s. Bryan Lewer's 47.5 pound Maine state trophy hake is the largest hake that has been caught on the Bunny Clark since June 28, 2012, when Guy Hesketh (CT) landed his 48 pound Maine state trophy white hake. Bryan's hake is the fifth largest hake caught on the Bunny Clark since Jim Mailea (MA) caught his 49 pound white hake on November 3, 2003! Although last season was better for white hake than the last two years, we didn't catch nearly as many white hake as we caught during the 2013 season, our last good year for hake.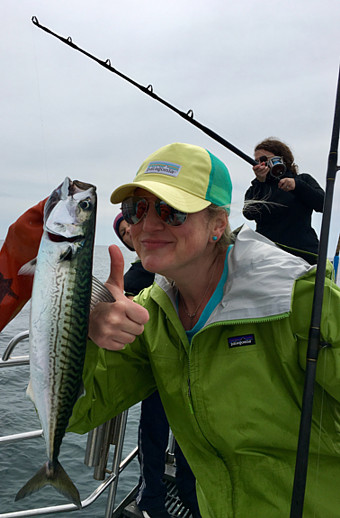 [During the full day trip on August 29, 2017, Molly Williams (LA) was high hook with eight legal fish, mostly pollock and a haddock. She was using a jig stick, jig and fly. She also caught the largest mackerel of the Bunny Clark season. It was just shy of 2 pounds! I took a picture that Molly gave me and edited it to fit this page. That digital image of Molly and her mackerel appears on the right. Her largest fish was probably a 7 pound pollock that day. It was her first trip on the Bunny Clark.]
Dick Slocum's 304 pound porbeagle shark, caught on May 17, 2015, is the largest porbeagle shark that has ever been caught on the Bunny Clark. That's impressive when you consider that he was only using one of our "cod rods". The second largest porbeagle shark was caught last season on May 25, 2017. Caught by Phil Brown, this shark weighed 282 pounds (see above). The third largest porbeagle ever caught on the Bunny Clark was Andrew Claehsen's 233.75 pound shark caught on May 10, 2016. The fourth largest porbeagle shark caught aboard the Bunny Clark weighed 217.5 pounds, caught by Jon Tesnakis (NY) on October 21, 2005. The fifth largest weighed 171.5 pounds and was caught by Dave Haberl (MO) on October 25, 2012. Mark Laroche's 135 pound porbeagle is the Bunny Clark's sixth largest porbeagle shark ever caught on the Bunny Clark. We have had many opportunities to land bigger porbeagles in the past. One that immediately comes to mind was Danny Angerman's 300+ porbeagle that he lost while fishing with us in the 1990's. This shark rolled up into the main line cutting 80 pound Dacron line with the coarseness of it's skin! I believe Fred Kunz was on the boat that day.

Last year was one of our weakest years for large redfish landings. Similar to the whiting, the diminished returns of big redfish were attributed to a spatial relationship. But, in this situation, the spatial relationship was associated with the white hake. Since we were finding less hake in the deeper water last season, I didn't spend as much time there. The deeper water is where we tend to find of our largest redfish. There were only two Maine state trophy redfish caught on the Bunny Clark last season, the least we have ever landed in a season.

As mentioned, last year was the second season in a row where many mackerel were caught on the groundfishing trips. Most were caught during the half day trips closer to shore. But a significant number were also caught offshore. Molly Williams caught the largest mackerel of the last few seasons. At 1.9 pounds, this mackerel was caught during a full day trip.

Last season was the first season a bluefin tuna has been landed on the Bunny Clark since Jim Phelon (NH) landed one that weighed 176.5 pounds on June 8, 2010. Caught on September 9, 2017 by Justin Gage (VT), this fish weighed 110 pounds. The largest bluefin tuna that has ever been landed, by "cod rod", on the Bunny Clark was a 365 pounder caught on July 17, 2009 by Paul McCullough (NH). I harpooned one that weighed approximately 775 pounds off the Bunny Clark on the way to the fishing grounds in July of 1984 and two others that year in the 600 pound range. At least one bluefin was landed, via cod rod, every year on the Bunny Clark through the years starting in 2004 through 2010. We even had a trip during those years when three bluefins were brought to gaff all at the same time!

There have been thirty-seven barndoor skates caught on the Bunny Clark since we caught our first one during the 2008 fishing season. Our two largest barndoor skates were caught during the 2015 Bunny Clark fishing season, a 33 pounder caught by Wayne Statham (QC), our largest ever, and a 31 pounder caught by Josh Cabral (RI). Steve Selmer's 27 pounder, caught last season, is the third largest barndoor skate that has ever been caught on the Bunny Clark. Rodney Lensing (IA) caught a 26.5 pounder on October 3, 2016, the Bunny Clark's fourth largest barndoor skate.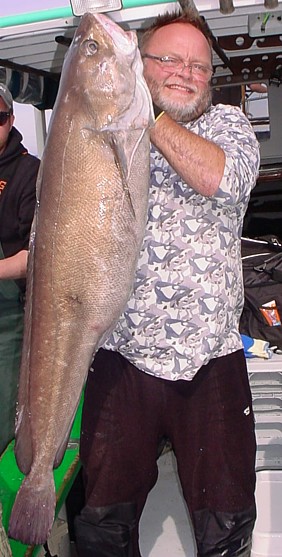 [Ray Westermann won the boat pool for the second largest fish with the second largest fish, a 32 pound Maine state trophy white hake, on the September 14, 2017 marathon trip. I took a picture of Ray with his big hake, one of the first hake aboard that day. This digital image appears on the left. Ray caught two other notable fish on that trip. One was a 15 pound Maine state trophy cusk. The other was a 22 pound white hake. Ray is a special person and an excellent angler.]
The 86 pound halibut caught by Lewis Hazelwood last season is the largest halibut that has ever been boated on the Bunny Clark. We have had many chances over the years to land bigger ones. Unfortunately, we had to release this fish since a legal halibut had already been boated and killed earlier that day. You are only allowed one halibut per boat per trip. The second largest halibut that has ever landed on the Bunny Clark was an 83.5 pounder that was caught by Ron Worley (NY) in June of 2007. Oddly enough, my son, Micah, had a halibut on at the same time that day that, I believe, was a bigger fish. But he was eleven years old at the time. And my devotion had to be with my patron first so Micah ended up parting off his fish alone in the bow while I was helping Ron with his halibut in the cockpit. Micah breaking his line was largely due to an over-wrap in the spool of his reel. His father had neglected to change the line in his reel the winter before! Ah, regrets! The Bunny Clark's third largest halibut was caught by Tim Rozan last season. Tim is Lewis Hazelwood's best fishing buddy. Tim's halibut weighed 68 pounds, caught a week later after Lewis caught his! Both anglers were aboard at the same time both big halibut were caught. Incidentally, Tim has caught three halibut with me on the Bunny Clark. The fourth largest halibut landed on the Bunny Clark was one that weighed 66 pounds caught by T. J. Jarvais (ME) on May 22, 2016. The Bunny Clark's fifth largest halibut weighed 59 pounds and was caught by Jack Rivers (ME) on June 5, 2016. The sixth largest halibut was a 55 pounder caught by Jeff Miller (NH) in May of 1984 only two nautical miles off Perkins Cove while Dick Lyle's 53 pounder caught last season is the Bunny Clark's seventh all time.

The lobster that Keith Wells caught was the only lobster, to my knowledge, that was caught by an angler off the Bunny Clark last season. Every season we seem to get a few. They are always snagged, mostly while the angler is using a jig.

Dan Nye caught his 17 pound wolffish at the end of the season, our largest of the year. However, it was only a half a pound larger than Alyssa Wright's cat that was caught in July. These are good sized fish but not close in size to many of the larger wolffish caught on the Bunny Clark in the past. This despite the fact that we caught more wolffish this season than many previous ones.

Last season was the first season in many seasons that all the top five cusk were all over 20 pounds. The last time that happened was during the 2004 Bunny Clark fishing season. We didn't get any cusk that were extraordinarily large. But we did get quite a few good sized ones during last season. Jonathan "Griff" Griffin caught the largest cusk of the season at 23.5 pounds, a Maine state trophy. Actually, Griff caught a 28 pound Maine state trophy cusk on the Bunny Clark during the 2010 fishing season. That 28 pound cusk is the largest cusk that has been caught on the Bunny Clark since June 10, 2008 when Dan Kelley (ME) caught a 29 pound Maine state trophy cusk. Incidently, Dan's 29 pound cusk at 43 inches caliper fork length is tied for the longest cusk that has ever been caught on the Bunny Clark. On October 11, 2002, Kenton Geer (HI) caught our heaviest ever cusk at 36 pounds and 43 inches caliper fork length! Griff's 23.5 pounder is the third largest cusk he has ever caught. His largest was the 28 pounder mentioned above. He also caught a 24 pound Maine state trophy cusk on the Bunny Clark during the 2013 fishing season.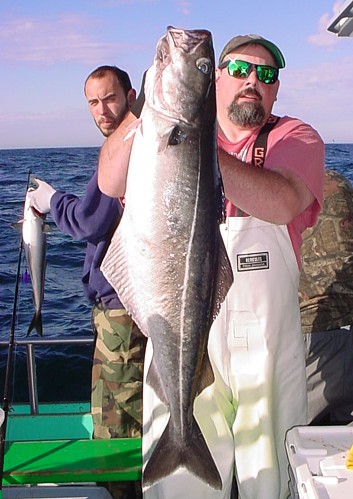 [The shot on the right is a digital image of FY '17 Jonathan "Griff" Griffin holding his 26.5 pound Maine state trophy pollock, one of only three trophy pollock caught during the 2017 Bunny Clark season and the second largest pollock of that season. ]
Before I end this Guestletter, I want to cite those anglers and experiences of note that deserve an honorable mention for their uniqueness and/or fishing prowess during the 2017 Bunny Clark fishing season. I realize that this is a value judgment on my part but I believe that my conclusions are recognized as a popular opinion and/or statistical fact among my crew and fishing guests and are based on many fishing trips and many seasons in the business. These special anglers and incidents are as follows:
Fisherman of the Year (FY-'17): Jonathan "Griff" Griffin (MA) wins this award for the third time in as many seasons. He has been close for many years including fourth place in 2014 and third place in 2013. The 2015 Bunny Clark fishing season was the first season that he won the award. He has been the Fisherman of the Year every season since!
As most of you know by now, the FY award is based on a point system that relates to specific achievements during each trip for a season on the Bunny Clark. Each achievement is worth a set of points. The individual with the most points at the end of the season wins. In order to compete in this category, you have to have paid for and completed at least 10 different trips on the Bunny Clark. I have had many excellent anglers who fish with us on a regular basis every season, any one of whom has the potential to become the Fisherman of the Year. Griff was the man again last season. Griff did very well in a number of categories that propelled him to the top.: He came in a close second in the "fisherman of the day" (high hook and largest fish on the same trip) category, he came in second for the most boats pools last season, he took a third place in the largest double keeper catch category of the Bunny Clark season, he caught the most trophy fish, caught the largest cusk, he caught the second largest pollock of the Bunny Clark season, he landed the fourth largest hake of the Bunny Clark season, he tied with Steve Selmer for the most Maine state trophy fish caught in a single trip with a count of six fish and he was high hook ten times, which was five times more than his closest competition. Griff is always in the running for the best angler in a season. He usually fishes with his dory mate, Ray Westermann, who could also be the Fisherman of the Year on any given season, Griff is technically one of the best anglers I take fishing, he adapts most easily in any situation, never gets flustered, always enjoys himself on every trip despite the weather and, honestly, I don't think he gives a rats ass if he ever wins the Fisherman of the Year award! One of my happiest moments during a season is when I see Griff and Ray walking down the ramp early in the morning while we are getting ready to take a marathon trip. There is always a lot of fun and laughter on those trips. And I know that if I can find the fish, they will catch them. It's always a pleasure to have you aboard, Griff. And, for this one reason alone, it will be a sorry day when the time comes where I have to hang up the oil gear for the last time. Congratulations, Griff, for a spectacular season on the Bunny Clark!

Griff's total point count was 153, ten more points than he won with last season. Norm Herrick (MA/ME) came in second place with a point total of 58. Ray Westermann was third with 57 points. [Ray came in second place after the 2016 Bunny Clark fishing season.] Tim Rozan was fourth with 53 points. Lewis Hazelwood was fifth with 41 points. Incidentally, Fred Kunz would have come in second with 78 points had he completed ten trips or more. Fred finished a trip shy last season with nine!
[In the digital image, left, FY '17 Jonathan "Griff" Griffin can be seen holding the largest cusk of the 2017 Bunny Clark fishing season, his cusk, weighing 23.5 pounds. This is a rare shot of Griff with his sou'wester on. Oh, cabin boy!]

Female Angler of the Year: We had less female angler participation than we have for many years. However, of the female anglers who did fish with us, no one was as consistently successful as Marion "Merv" Murphy (NH). She never had any real large fish. Nor did she win any boat pools; her dory mate, Brian Murphy, took care of that on three different occasions while she was aboard. But she was consistently in the top five for size and was always somewhere in the top three for fish count. If this doesn't sound significant to you, keep in mind that she never went on a single offshore trip, marathon trip or extreme day trip, where your chances of catching big fish is much greater. Her trips were confined to Saturday, full day trips where we take the most anglers, have the potential for most tangled lines and where the fishing time is the least of any trip, other than the half day trips. On top of this, there were no other anglers even close. Fourteen year old Erin Harris, who won the award last year, only went on one trip last season. On that trip she caught the sixth largest double of the Bunny Clark season. But she only attended that one trip. Ally Fuehrer (ME) went on several trips, mostly extreme day trips. But, aside from catching, an 11.5 pound wolffish on a trip late in April, her first wolffish ever, Ally didn't show the consistency that Merv showed. The closest female angler in the success side of things was Donna Moran (NY). She caught the fifth largest Bunny Clark cod last season. But she did so on the SOFT, a trip that is just shy of twenty-four hours, no less than seventy miles off shore and designed to catch bigger than normal fish. You can't compare that to a full day trip of eight hours. Donna made two trips with us last season. Both trips were long trips. Both trips were very successful. Congratulations, Merv! I only wish I were aboard to see you in action!


Best Bait Fisherman: Shameless Ray "The Pole Tossing Master Baiter" Westermann was back in the money again last season, his ninth season (out of the last ten) taking this award. Steve Brown (ME) might have given him a run for his money. But Steve attended less trips last season and was not as much of a stand-out as he was during the 2016 Bunny Clark season, the year that he captured this award and purloined it from Ray! But you can't hold your guard down for a second when Ray is fishing. Ray always takes advantage of every situation. He is as good a jig fisherman as he is a bait fisherman. But he does excel when it comes to fish that love bait best including haddock, cusk and hake. No, I could not find anyone to come close to Ray last year. And he caught eight trophy fish, the third most trophies for any angler on the Bunny Clark last season, all specifically fish that love bait. There are very few anglers with as good an attitude, success ratio and ability. It would really take a great bait fisherman, like Steve, who is really on his game to catch Ray. There was no one to fit that category last season. Congratulations, Ray. Always a wonderful time when you are aboard! Particularly if you are a person, like me, who loves to watch anglers catch fish!


Most Aces: For those who don't know, an angler scores an Ace when he or she lands the three (or more) largest fish during a single trip. There can be no ties in fish size with other anglers in order to achieve true "Ace" status. There was only one Ace landed during the 2014 fishing season, six Aces in 2013 and not a single Ace in 2012. The 2012 season was the first season that the Bunny Clark didn't see a single Ace. The 2015 season was the second! During the 2016 fishing season there was only one Ace. Last season there were five Aces caught, three of which were "Double Aces" (the four largest fish caught on a trip). I will list them in chronological order. On April 14, Chris Bergier (MA) caught a Double Ace during an extreme day trip. His four largest fish included a 9.5 pound cod, a 9 pound cod and two cod of 8.5 pounds each. On April 19, Tom Murphy (VT) caught a Double Ace, also on an extreme day trip. Tom's fish included a 7.5 pound cod, a 7 pound cod, a 6.25 pound haddock and a 6 pound haddock. On June 3, John Warden (ME) caught an Ace on a full day trip. His fish included an 18.25 pound cod, a 12 pound cod and an 11.5 pound cod. Adam Quimbly (ME) landed an Ace during an extreme day trip, June 6, 2017. His three fish included a 14 pound pollock, a 10 pound pollock and a 9 pound pollock. The most impressive, however, was a Double Ace that was landed by Colin Abbott (ON) during the August 8, full day trip. His fish included a 20 pound pollock, a 19 pound pollock, a 17 pound pollock and a 15.5 pound pollock. What was even more impressive was that two of those fish were caught as a double, two fish on the same line at the same time. Those two fish were the 20 pound pollock and the 17 pound pollock, the Bunny Clark's second largest double of the 2017 fishing season! And he's a Canadian!


Most Trophy Fish (including hake over 15 pounds, cod & pollock over 20 pounds, redfish 2 pounds or more, haddock of 7 pounds or more and the fish seldom caught with rod & reel including monkfish, barndoor skates, whiting, torpedo rays, porbeagle sharks, bluefin tuna, wolffish & halibut) of the Season: Griff caught the most with a count of twelve. Steve Selmer was second with nine trophy fish last season. Ray Westermann was third with eight trophy fish on the Bunny Clark in 2017. Tim Rozan and Lewis Hazelwood tied for fourth with five trophy fish each. Mark LaRocca (NY) was fifth with four trophy fish for the season.



[The picture on the right is a shot of Devaughn "D" Tyndall (PA) holding his 12 pound pollock which he caught on an offshore marathon trip in the spring. It was a beautiful day that day. And the picture was perfect, one of the best of the year. So I had to put it in this Guestletter!]

Top Five Largest Fish of the Bunny Clark Season: Phil Brown caught the largest with the 282 pound porbeagle shark. Justin Gage came in second with his 110 pound bluefin tuna. Fred Kunz was third with his 87.5 pound porbeagle. Lewis Hazelwood was fourth with his 86 pound halibut. Tim Rozan was fifth with his 68 pound halibut.


Most Trophy Fish during a Trip: Griff tied with Steve Selmer with six trophy fish each. Bryan Lewer, Tim Rozan and Bryan Lewer (again on another trip) tied for second place with five trophy fish each. Dave Miller (MA), Griff and Ray Westermann tied for third place with four trophy fish each. There was a tie for fourth among six anglers. Those anglers included Dan Killay, Dick Lyle, Lewis Hazelwood, Mark LaRocca, Neil Feldman and Ray Westermann. All six had a trip on the Bunny Clark in 2017 when they caught three trophy fish during a single trip.


Most Pools (largest fish of the trip): Fred Kunz and Norman Herrick (MA/ME) tied for the most boat pools during the 2017 Bunny Clark fishing season. Their count was four pools each. There was a tie for second among three anglers with three pools each. Those anglers were Brian Murphy, John Russell (ME) and Jonathan "Griff" Griffin. There was also a tie for third place among five anglers with two boat pools each. Those anglers included Tim Rozan, Frank Noble (ME), Nathaniel Wells (NY), Max Sokolova (MA) and Marty Buskey.


High Hook: Griff was high hook (the most legal fish on a trip) on ten different trips, the most for an angler during the 2017 Bunny Clark fishing season. Fred Kunz had second place with five counts. Ray Westermann & Norm Herrick tied for third place with three counts each. Brian Murphy was in sole possession of fourth place with three counts. All the rest of the anglers on the Bunny Clark last season had two or fewer times where they caught the most legal fish on a single trip.


Largest Double: (The most combined weight of two fish caught on the same line at the same time.) The largest double of the year was caught on the Ultra marathon by Tim Rozan last season. His double included a 29.5 pound Maine state trophy white hake and a 9 pound white hake. The second largest double was the previously mentioned (in the Ace paragraph) 20 pound pollock and 17 pound pollock caught by Colin Abbott (ON), that devout Canadiens hockey fan, on a full day trip with Captain Ian Keniston on a Wednesday in August. Third place went to Griff with his 20 pound white hake and 14.25 pound white hake which he caught during a marathon trip in September. Brian Tufts (FL/VT) caught the fourth largest double last season with a 20.5 pound pollock and a 12 pound pollock caught during Ian's extreme day trip in July. Bob Richard (ME) was fifth with a double that included a 22 pound pollock and a 10 pound pollock caught on the same day, same trip, as Brian's double.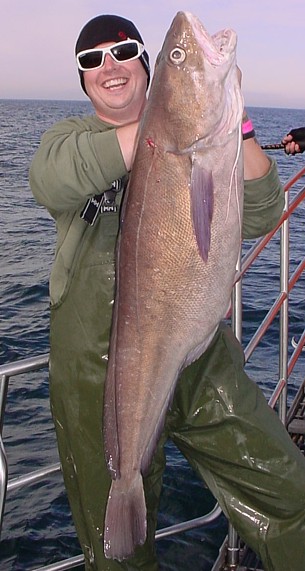 [Ben Austin (MA) won the boat pool for the largest fish with the largest fish, a 34 pound Maine state trophy white hake during a mid-September marathon trip. The digital image is shown left with Ben holding it in the pulpit. This is his first hake, the only hake he has ever caught and the only hake he caught that day. We were drifting and just starting to lose the fish when Ben came up with that one. Ben's fish tied for the tenth largest hake caught on the Bunny Clark in 2017.]
Hardest Luck: The hardest luck of the year goes to Tim Rozan while on an extreme day trip in late October. He had brought his daughter out fishing with him for the first time. While fishing in the bow on the port side, Tim had his line over the side and attempted to put his rod in a holder as he helped his daughter with a fish. Tim, unknowingly, missed the rod holder, paying the greater part of his attention on his daughter. When he turned to help his daughter his rod & reel flipped over the side so quickly he had no time to respond. Of course, his gear went right to bottom. They tried to fish the rod out with other equipment, to no avail. Tim told Ian later; "Losing a rod & reel?", "What are you going to do [in a situation like that]?", "At least my daughter had a good time." Ah, the vagaries of fishing! One often hopes that if there is a change out there, the outcome is a good one. After all it was Tim who caught two halibut in one day this year on an offshore trip. His biggest one on that trip was 68 pounds. Sometimes change is good! Not this day!

Second place has to go to Bob Mayer (ME). And I write this tongue-in-cheek because, in these two situations, he had to have good luck in order to render the bad! On a marathon trip during the end of May, mid-way through the second or third stop, Bob Mayer (ME) raised a porbeagle shark to the surface where it took a big bite of Bob's jig and got hooked in the process. Probably 250 pounds, at least, the fish thrashed on the surface enough to get Captain Ian Keniston and I running for the gaffs. We lost our opportunity; when we got to Bob we only managed a couple of chances to take a swipe at the fish before it broke Bob's line and swam away. Bob's drag was a little too tight. But, at the time, I thought; "We'll get this figured out in the future." I never really followed up on this thought. Fast forward to the July Special Offshore Fishing Trip (SOFT). Bob was fishing in the same spot that he was when he lost the porbeagle. Mid-day he hooked the biggest halibut of the day, a fish I would have loved to have boated. After getting to the point where we might get a visual, it screwed straight to bottom. I had a positive signature on the sounding machine which told me it was a very big halibut. I really believe it was a bigger halibut than the largest halibut we have ever caught on the Bunny Clark. Things probably would have been fine but Bob's drag was way too tight and it broke off half way to bottom. Bob didn't realize his drag was that tight as it had been taking line. But when I tested it, I was amazed that the fish had taken any line, as tight as Bob's drag was. So Bob had great luck in hooking two of the best fish of two different species where either one could have been a Bunny Clark record, and lost both. I can't help but think that with a little intervention on my part the outcome might have been different - at least when it concerned the halibut!

Third place goes to Mark Laroche (VT) during his trip on the SOFT in July. For a couple of reasons. First, he was sea sick, his emesis occurring early in the journey, the rest of the way to the grounds and most of the morning. Second, he fell on his favorite rod and snapped it in half at the reel seat! This rod had a beautiful butt wrap that took hours to make. Plus, it was very unique. Mark seemed heart broken. It was obvious that he had used the rod for a long time. I felt bad for him. Unlike most who have had the dreaded mal de mer over the years, he recovered for most of the fishing. And he ended up landing a 15 pound pollock along with some other good fish. I don't believe the fun of fishing that afternoon made up for the loss of the rod!

In general, this had to be the year where we lost the most halibut of keeper size.
Mike Zampieri (NH) lost a big halibut when his reel fell off his rod during an offshore marathon trip at the end of June. That was a really good fish too.
During and early August full day trip, Ed Parrow (NY) lost a halibut that took a baited hook. For a couple of runs the fish stayed straight up and down, never getting more than a hundred feet from the boat. But when it did get closer, it's runs were at more of an oblique angle, leading me to believe that he had a small tuna on. In fighting the fish, we did get a couple of easy-off tangles. At some point, Ed gave the rod to me. I had offered earlier. Except for the exaggerated head shakes, it felt all the world like a tuna. Maybe it was my imagination. I did get the fish close enough to the boat for Doug Connor (NH) to see that it was a halibut of about four or five feet long. At that point it made another run to bottom and broke the line at the hook. Only two other times have I seen a halibut act that way. Both times the fish were foul hooked.



In mid May I took an offshore marathon trip with a group from Pennsylvania and New Jersey organized by Liam Kennedy (NJ). This group includes some of my favorite anglers. On that trip, Kory Kaulfers (PA) fished alone on the bow. With so few anglers fishing there. I learned too late that Kory had a big fish on. It was heavy on the way up from bottom. And it came straight up. When I did get there the fish was almost to the boat or at least half way. It stopped and then headed straight to bottom. And it would have arrived there still hooked if Kory's drag hadn't been so tight. In fact, there was no drag! So the fish only went so far, bending the pole in half and, finally, snapping the rod. As I recall, Kory didn't lose the jig. Apparently, breaking the rod gave the fish enough slack to allow it to get off the line. Again, there was that distinctive signature on the sounding machine, headed straight to bottom!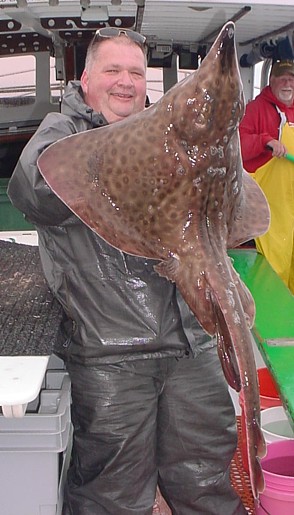 [ While fishing on one of our marathon trips in early September, Mike Bruce (NH) won the boat pool for the largest fish with the largest fish and won the boat pool for the second largest fish with the second largest fish. His largest fish was a 21.5 pound barndoor skate, the third barndoor of the season and the second largest one caught on the Bunny Clark last season. I took a picture of Mike with his skate just before he released it. This digital image appears on the right. His second largest fish was a 21 pound pollock, a tie for the Bunny Clark's fifteenth largest pollock of the season. ]
And then there was the afternoon trip on a "Tim Tuesday" where one of the anglers I was hosting was none other than the locally famous John "J.D." Daley (ME). J.D. used to work for me as a captain, one of the most fun years I enjoy recalling. He was a great captain. But that shouldn't be a surprise as he was a great captain on the Indian II, a party fishing boat out of Portland, Maine and, before that, the Sonny W., a very successful party boat out Kennebunkport, Maine. J.D. hadn't fished for a while. You could almost tell. And I enjoyed bantering with him all during the trip. At one point, I noticed he had a big fish on his line. It even stopped him from talking. So it must have been a fairly large fish. Again, he brought it half way to the boat, more or less, before it took off back to bottom. The fish was taking line and then broke the line. The drag could have been a little too tight. I could get line off the reel but it was a chore to do so. The extra drag created as the line went through the guides was probably enough to break the fish off. The line probably had a few light nicks or an abrasion from previous use. And, of course, the sounding machine showed that deep red signature of the halibut. It could have certainly been another species of fish. We didn't see the fish with our eyes. But I doubt it.

Rafik Bishara (MA) and his friend, John Reis (MA), attended a late April extreme day trip with Captain Ian Keniston and Captain Jared Keniston (the deck hand that day). Other than having a stronger tide (current) than normal, the weather was very good with mild air temperatures and a flat calm ocean. What could go wrong on a day like this? Well, Rafik lost his own rod & reel overboard. He might have thought all was lost. But he got his equipment back when Bob Mayer caught his rod & reel with his jig and brought it to the surface! John was not so lucky. He lost his cell phone (a smart phone) overboard. And, as you might suspect, the phone went to the briny depths, never to be seen again! I'm not convinced that it was a good day to be in the group representing team Bishara!


Most Improved Angler: Mark Weldon (NH) became one of our "frequent flyers" last season. I believe last year was his first year with us. We fish differently than most party boats in New England. My approach is also different. Not necessarily better but definitely different. Because of this an angler's fishing style has to change in order to adapt. Mark's style was completely different when he first stepped aboard. I have never seen him fish. But I kept paying attention to the reports. The reports got better. A very affable individual, I had questions every time I met the boat after a trip. He was always right up front with me as was Ian's and Jared's report. The reports got better. He kept telling us that; " I won't be able to go next week." But we kept seeing him again, "next week". By the end, it was almost like he was part of the crew. He didn't catch the largest fish many times. Once that I know of. Nor was he high hook very often. But he was close on both counts. No one showed more improvement. And my decision to put him in this category is probably not fair. He was a very good fisherman to begin with. But from the time he first walked on the Bunny Clark until the time he stepped off at the end of the season his improvements were most noticeable collectively by the crew and passengers. Mark may become a force in 2018. That is my prediction!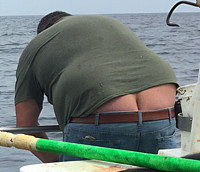 Best Team: The team of Brian & Marian "Merv" Murphy (NH) stood alone in this category last season. Both fish together on the bow. Both work together while fishing, rotating and casting. Both were very successful last season, amazingly so. Brian won three boat pools out of five trips they attended. Both anglers landed fish in the top five on every trip. And they were the most opportunistic in the chance of hooking the biggest fish of the trip or the most fish. I would liken them to the Patriots in football. If you were taking odds before a trip, you would certainly be looking at them to be the most successful. And if you bet on them last year, you never lost. Hell, whenever I see them coming down to the boat I feel that I have already won. You have to be doing something right if they chose to fish with you! Just wonderful people, fantastic fishermen and very fun for every angler aboard to fish with. It's been a long time since I have seen them on the boat when I was captain. I miss those days!

Exceptional Good Luck: We had many lucky trips last year. We had many anglers experience lucky situations. I think the most lucky situation took place on the SOFT when Louis Hazelwood boated his halibut. Lewis Hazelwood (MA) foul hooked an 86 pound halibut that took him just a little more than a half hour to land. The fish was so worn out from the fight, I was able, with Bryan Lewer's help, to lift the fish aboard, get a weight, take two pictures and release it back alive in a bit of a Chinese fire drill. We had quite a tide (current) that day. So during the fight when it came near the surface it held at that depth for a while but got carried aft with the line almost horizontal making it look more like Lewis was fighting a tuna. When we finally did get the fish near enough, you could see that the hook was lodged in the middle of the outside edge of the fish in the fin. It was amazing that we were able to get this fish close enough to the boat with the way it was hooked. It was heart breaking to have to release the largest halibut the Bunny Clark has ever seen! But we still caught the fish, weighed it and released it. Bragging rights for life!

Quotes of the 2017 Season: "You will never see me on the Bunny Clark again!" This from Justin "Yeti" Mason (VT) after we had just returned from a marathon trip in early June. Justin was never able to fish. As soon as we got to the fishing grounds he found his way down below and stayed in the "Hotel Bunny Clark" for the rest of the trip. If fact, he never got out of the bunk until the boat was back in Perkins Cove and the Bunny Clark had the wooden anchors out. When he emerged from the companionway, he saw me, shook my hand and gave me this quote. No, I wouldn't want to be here either under those circumstances.
One of the customers on the boat told Ian that "I'd rather roof your house for free [than be fishing out here in this weather] and I'm afraid of ladders." Glen Taylor (NY) landed the hard luck award for losing a jig. There were too many heavy hurlers to give the shirt to one individual that day!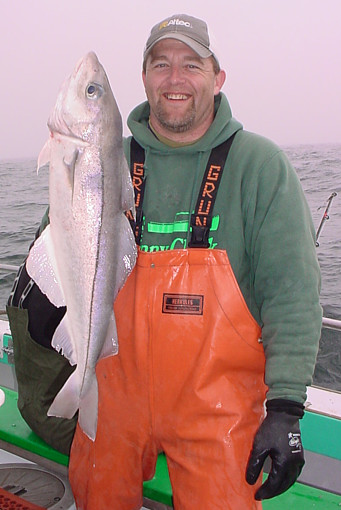 [The picture on the right is a shot of Tom Murphy holding his 6 pound haddock that he caught during a marathon trip in mid April. That day was probably the best day we had last season for good sized haddock.]
"It bit his own tail to take it's mind off the pain of being hooked in the ass!" A quote from Sue Utterstrom (ME) who hooked a dogfish in the vent during one of the last few trips in October. When the dogfish was hauled over the side, it had also, as they sometimes do, bit his own tail. Another angler fishing beside her saw this and made a comment about this odd occurrence. The quote was Sue's reply! I was told that the comment was made without any prior hesitation.
"They put on a clinic!" A comment made by Rich Gargan (NY) referencing the angling success of Brian Aiken (NY) and Aaron Aiken (NY) during an early August full day trip. Brian, Aaron and Rich were sharing the bow pulpit, all fishing with jig sticks and jigs. When someone with the angling skills of Rich Gargan makes a comment like that, it's certainly worth noting! Rich is one of the best regular anglers we enjoy seeing on the Bunny Clark. I always know it's going to be a good day when Rich is aboard!
"A fish and a half a cast." A quote from Steve Selmer (NH) during a late June offshore marathon trip after I asked him how the fishing was in the bow. This is the preferred spot where Steve likes to fish when on the Bunny Clark. He is another of my excellent anglers. Steve has fished with us for many years. He prefers the bow because there is plenty a room for him to launch a jig. He doesn't have to worry so much about tangling other anglers when he has a good fish on the line. The fishing was excellent that day. He hooked up every time his jig hit the bottom!

Most Unusual Catch: We didn't really have any catches that were extremely unusual. But I do want to key on an angler who was very successful last season. His name is Phil Brown. He can be seen in back of Keith in the lobster picture I have included in this Guestletter. On May 4, 2017, he caught the first dogfish of the 2017 Bunny Clark fishing season. It's certainly not unusual to catch a dogfish. It is, however, unusual to be the first angler to catch one. Twenty days later, he landed the first porbeagle shark of the season! Not only was it the first, it was also the Bunny Clark's second largest porbeagle shark ever caught! And there couldn't have been a more prepared angler to catch it either. Phil was fishing with a stand-up pelagic rig (rod), more suited for catching tunas, sharks and marlin than it was groundfish - although he had a very successful groundfish day as well. We hooked three very large porbeagle sharks on that trip. Bob Mayer hooked the first one and lost it. Phil hooked the second. That shark seemed a lot more aggressive, the line breaking after a fight of about five minutes. Three was the charm. Phil again. This time he was much more aggressive with the rod and reel. So much so that I almost wasn't ready for the shark. In five minutes he had the fish to the boat. Very soon after that the fish was wired, gaffed and tail wrapped! Quite a trip. Quite an angler! I was very happy to be there.

Unexplained Phenomena:
I think that having the opportunity to catch so many halibut was the most interesting part of fishing on the Bunny Clark last season. The Bunny Clark has never seen a year where there were so many chances to land a halibut. We may have had these same opportunities in the '70's had I known what I know now or had we ranged further off shore. But the fact remains, the halibut fishing was the best it has been for at least thirty years. I truly believe that this is the result of less commercial fishing pressure, dragging (trawling), in particular. And I can't help but be a little apprehensive about some of the future decisions that the New England Fishery Management Council will make in regard to closed commercial fishing areas. Certainly the move with OHA2 will set us back a few years.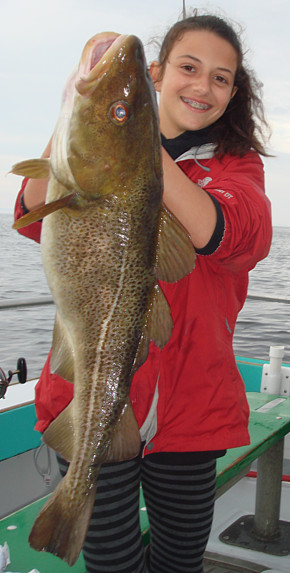 [Twelve year old Kassidy LaFlamme (ME) caught the largest fish during an evening half day trip in early July. The fish was an 8.25 pound cod, the largest cod we had seen on an afternoon trip to that point in the season. Kassidy was not in the boat pool. A quick picture was taken just before she released this cod back to the ocean alive. This digital image appears on the left.] (Captain Ian Keniston digital image)]
Ally Fuehrer (ME) catches her first wolffish. Of all the years she has fished with us, last year was the first time. The fish weighed 11.5 pounds.

Mike Lofaro (NY) wouldn't admit to catching any big fish even if you saw him do so! Does the fact that the fish is a cod really make a difference? Even if you can't keep them?

Cassie Nixon and Chris Uraneck, both researchers from Maine's Department of Marine Resources, came all the way down from Boothbay Harbor to take a survey trip on the Bunny Clark only to find that the boat had already left the dock? Sometimes it's best to be just a little earlier, even if you are a very welcome guest on one of our fishing trips.

How could both Joe Columbus (MA) and his daughter, Cindy (MA), both lose a fish at the boat large enough to win the boat pool on the same trip? Like father like daughter? Joe's was a halibut of about 15 pounds while Cindy lost a cod that was about 15 pounds, both fish that couldn't be gaffed because they couldn't legally be kept! They both would have counted had they been able to be weighed, and then released alive. The pool winner that day was a 12 pound cod!

James Jarvis (MA) hooked a good sized porbeagle shark or a small bluefin tuna, worked it around the boat, worked it out of various tangles and finally got it free. Once he was completely free and clear he lost it! Ain't that a bitch!

No Greg Veprek, again! I do hear from his occasionally so I know he's alive.

Brian Plasse (ME) was having a wonderful day out fishing. But it got better. He hooked a good sized fish and brought it to the boat. A cod over 20 pounds. I went to lift it out of the water by the jig when the treble hook broke off right at the turn of the hook. The fish hit the water and swam off like a shot to bottom. He would have won one of the two boat pools that day.

Richard Cranium? Really?

Bill Harding (ME) poses for a picture with the largest cod of the Bunny Clark fishing season at 28.25 pounds. I find out later that his wife, Marie, caught the fish but didn't want a picture with it! Is that fair? When I looked at the digital images later we got an extra bonus, if you could call it that. You would have had to have been there!

Donny Briggs (VT) was the most successful angler for shaking larger sized haddock off the hook when they got within range of the gaff. I guess it's good to be excited about fishing. But that excited?

Dave Miller (MA) gives us our best chance, our first chance in seven years, of boating a good sized bluefin tuna when the reverse dog breaks in his reel. It's hard enough to boat a tuna when everything is working perfectly. Maybe we would have landed that fish had I not offered my services. Obviously, those services didn't hold much water! But it's good that Dave didn't actually lose that fish!

Never underestimate the power of a little mako shark, eh, Ray (Westermann)?

Mark Konish (NC) comes up from the south for a week to fish on the Bunny Clark every year. Rave reviews usually follow with the pools won, all the legal fish released and the big fish landed. Last year the only highlight of his trip was that his biggest fish got eaten by a blue shark just as it reached the surface! That was his only shot at winning the pool that week! It's a proven fact that you just can't win them all!

Ian Biasini (VT) lost a trophy haddock on the surface on a day trip the end of July. Captain Jared Keniston saw it happen. His comment; "The tail [of the haddock] was as big as the working end of a snow shovel!" I wish I had been there!

Brian Shields (MA) hooks the Bunny Clark's fifth thresher shark, ever, on an afternoon half day trip. It didn't take him long to lose it. I don't think I will ever live to see one boated via "cod rod" on the Bunny Clark!

Nate Hartman (NJ) won the boat pool for the largest fish with the largest fish, an 18.5 pound sub-legal halibut during an extreme day trip in early August. He might have caught the third largest fish as well had his line not broken. Bob Marshall (ME) boated an 11 pound halibut with Nate Hartman's gear in it's mouth! Ouch!

Tom VanDyke (NJ) puts a cod fly through his ear on one of Captain Jared's Sunday day trips. That's one way to get your ears pierced and have a good time besides!

Where was Marie Harding (ME) in October when we really could have used a big cod? Oh, you say she was there?

What was the thought process involved when, for the second year in a row, the Maine Fish & Game charter has representatives from the Maine Department of Marine Resources doing a groundfish sampling survey on the same exact trip. I love it when a plan works out!

Steve Tassey (NH) hooked a blue shark as he was reeling a fish in. Taking him by surprise, he squealed! Jared took a poll; was it a Jamie Lee Curtis scream or a little girl scream? The consensus: a little girl squeal!

Well, if you can't hook something big and win the pool, you can always hook the chute of the sea anchor. Right, Dana Decormier (NH)?

I was told that Bob Mathews (NY) was remarkably quiet during the St. Lawrence River Rats charter last fall. Bob was high hook and never got into a single tangle! In fact, Tom Bruyere was heard to say; "It was like Bob wasn't even here." Indeed, I never did see Bob myself!


In Memoriam: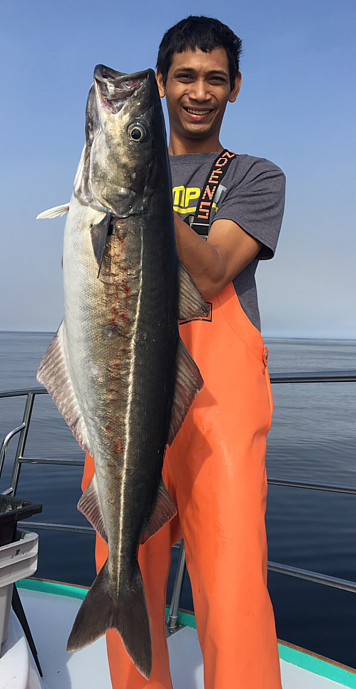 [I took two of my favorite Barnacle Billy's employees out at the end of September for their first trip, a marathon trip. Aaron Ham (ME), who has been with us for many years, was (on and off) sea sick for the day. However, between visiting the Hotel Bunny Clark, cradling his favorite bucket and fishing along side Mykola "Nick" Sych (UA), he did manage to catch a few fish, one of which was a 16 pound pollock, shown right, the biggest fish of his life. Nick worked for us all summer on a J1 visa from the Ukraine. One of the best workers and one of the nicest people you will find. Nick's best fish was a 15 pound pollock. I took plenty of pictures of both. It was the first time deep sea fishing for both as well. Nick is planning to come back and work for us this season. I will, hopefully, see Aaron as well. Aaron, by the way, landed the hard luck award t-shirt for being the sole hurler of the trip! Ouch! ]
A week or more ago I wrote a paragraph about John "J.D." Daley in the "Hardest Luck" section of this Guestletter. Today, January 15, 2018, I learned that J.D. passed away yesterday of an apparent heart attack in Canterbury, New Hampshire. He grew up in Littleton, New Hampshire. Maybe he was visiting family. I first met J.D. when he was captaining the Sonny W. And, as I said earlier, the Sonny W. was a very successful party fishing boat out of Kennebunkport, Maine. Being a contemporary of mine, we talked on the radio quite frequently. He later became the captain of the Indian II, out of Portland, Maine. In those days, much of my fishing on the Bunny Clark was in the area of Tanta's Ledge. I would always see J.D. and the Indian II when I fished up that way. At the time, Ian Keniston was working for him as a deck hand. We continued to be friends. Later, I enticed him to run the Bunny Clark. He captained the Bunny Clark during the 1997 and the 1998 fishing seasons. He was always a good one for finding big cod. And it was a fun competition between the two of us. In 1999, he started to run tugboats. Sometime after that he became a teacher in the Kennebunk system. When I talked to him last year he told me that he had been teaching in China when he wasn't teaching here. His daughter, MingGe, was adopted by he and his wife, Danelle. They had a son, Jack, well before that, after he had worked for me. He was always such a kind person. And always a lot of fun. That's what most people liked about him. I liked him because we thought so much alike. And because he was an intelligent caring person. Working with Ian over the years, has made me think of J.D. more than I think of most fishermen. Things he invented, sayings we remember and his uniqueness will always be remembered by me. He was 53 years old. It's very hard for me to believe he is gone. And I certainly feel sorry for myself, his family and everyone else who knew him. For to know him and know he is gone will always leave a hollow place in the heart that is distinctly J.D. I will really miss that guy.

The Maine Department of Marine Resources has a recreational program headed by Bruce Joule from the West Boothbay Harbor lab. Every year he sends out researchers to ride on various fishing boats to collect recreational data. It's a fact finding mission, of course. But it's also meant to improve data collection, so important to regulations affecting recreational anglers and businesses that rely on recreational anglers. The Bunny Clark has it's share of visits from Bruce's people. Cassie Nixon and Chris Uraneck are two of the most knowledgeable of Bruce's team who we see on a regular basis. Both have been with us many times. They are the best. But, then, we have never had any disrespectful individuals from the DMR on the Bunny Clark. We are hoping their good work leads the recreational fishery in the right direction. There is much evidence of this already. I am also hoping that the two Maine groundfish party boats in my area, one out of Wells and one out of Kennebunkport start allowing the DMR access on their boats and their fishing information. Without these boats, the DMR can't give us the whole picture. And, referencing my contemporaries again, I feel it's a bit selfish. Kind of like cutting your nose off to spite your face. After all, you can't complain if you don't participate. And there has been much complaining! I must also add, as a person who holds a seat on the RAP, the data coming out of Maine is much more accurate than the same data coming out of the other states in New England, despite the scope of involvement with all the participants. This is certainly a credit to Bruce's program.

I want to take some time here to thank the number one person running the Bunny Clark, Captain Ian Keniston. He started working for me in August of 1998 as a deck hand, under me, Captain J.D. and Captain Tom Corbett (ME). The rest is history! He has been the Bunny Clark's anchor to windward, the voice of reason and, indeed, the best thing that has happened to Bunny Clark Deep Sea Fishing. Whenever I bring an idea to the table, I always run it by Ian first. He rebuilds all the reels we use as well as customer reels. He reconditions all the rods. He is responsible for all the repair and cosmetic improvements that are completed during the winter on the Bunny Clark. And he helps me design all the trips. He also keeps me on the straight and narrow. Even if I wanted to keep an illegal fish, he would not let me do so. And for good reason. As he says, you can't start down that path. I wouldn't want to. I don't know how long it has been since he first attained his captain's license. Ten years? Since he has been the skipper, his trips have been very consistent and consistently good. And consistency is the mother of good business. I feel very fortunate to have the best captain on the coast of New England. I have bias in that regard. But how many times does he have to prove it to me? Whether I need confirmation or not, it's every day! Thank you, Ian, for being there and always giving it your all!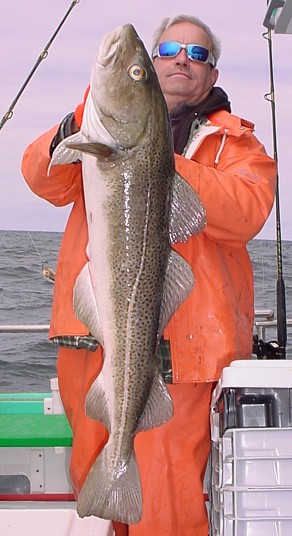 [Fred Tardie (MA) won the boat pool for the largest fish with the largest fish, a 20.5 pound cod on the April 18, 2017 marathon trip. At the time it was our largest cod (fish) of the Bunny Clark fishing season. I took a picture of Fred with his big cod just before releasing it. That digital image can be seen on the left. Some of his other fish that day included a 10 pound cod, a 13 pound cod, a 10.25 pound cod and a double keeper catch of cod that included an 8 pound cod and a 9 pound cod, all released back to the ocean alive - because he had to! ]

We lost one of our best deck hands/captains at the end of last season in Captain Jared Keniston, Ian's brother. He got a year round land job, a property manager's position, that he could not refuse. He has a family that includes three children. This will give him more time to be with them during the summer. Working for me is a hard job, harder for Jared because he was mostly a deck hand, captaining the Bunny Clark only one day a week. I think that if he were captain more often, he would still be with me. Regardless, I will miss Jared. He was the best. And certainly one of the most enjoyable and capable people to have aboard when you are the captain. He started working on the Bunny Clark in 2004, after helping to get the boat ready to launch in the winter. That's fourteen years with us! I appreciate all the years of excellent service he gave me and the Bunny Clark. And I wish him the greatest success in the future. He certainly deserves it if I'm any judge!


Anthony Palumbo was our "swing hand" last year, showing up when we needed him most. He had never been a mate before. But he had spent many years fishing on the Bunny Clark with us. An excellent fisherman, wonderful with the people, honest, a great sense of humor and a very hard worker, he was a quick study. It didn't take him long to learn the system and fall right into place. I was very happy to have him aboard. This season he will be taking over Jared's position, except as captain. I am very much looking forward to having him aboard again this season. Last year he received many compliments. That didn't surprise me. Thank you very much, Anthony. I'm very much looking forward to working with you again this season.


Last season we talked about Jared captaining the Bunny Clark one day a week during 2018. I'm not sure if he is still interested or if he can get away from his job for a day to do so. We shall see. Also, my son, Micah, has expressed some interest in captaining the Bunny Clark as well. All this is up in the air right now. The door to the swing captain's position and the swing deck hand's position is open at this time.


David Pease deserves a huge thank you as well. Dave was the person responsible for building the Bunny Clark to begin with. Yes, I did a lot of glass work in building the boat. But it was done under Dave's instruction. And many was the time I came in the next day to fix something I did that didn't turn out as well as Dave wanted it. Dave, of course, did all the technical stuff. During the winter of 2014/2015, Dave was responsible for the new engine installation. It is the best engine installation I have ever seen in a work boat. Dave has worried about every detail that has ever been part of the physical aspects of the Bunny Clark. Whatever I dreamed of doing, he created it. This boat is highly personalized because of Dave. It's truly my boat. And he's become one of the most important men in my life. At 80 years young, he still has the happiness and drive associated with individuals who really love their work and know what the hell they are doing. Dave's the best. No one will ever convince me otherwise. I don't think anyone would ever try.


Most importantly, I have to give a very special thanks to my wife, Deb, for all her dedicated years of service. She has been standing by me since the Bunny Clark was just an idea. She encouraged me when I went to the bank to float a loan to have the Bunny Clark designed, the hull laid up at Young Brothers and all through the building of the Bunny Clark during the winter of 1982/1983 at Dave's Boat Shop in York, Maine. She comforted me when the Mary E sailed out of the Cove with a new owner. She dove head first into managing the business of the Bunny Clark from the beginning. As the business grew she also took over the reservations, managing the reservationists and helping me make decisions in a changing volatile industry. She brought my two kids into the world and helped me make the transition into my father's restaurant business. She fought my battles ashore when I was taking customers to sea. And she did the things, too many to mention, that allowed me to enjoy the life I had chose for both of us without a single complaint.


Years ago when I was chartering my thirty-two foot six passenger fishing boat, the Mary E, the late Captain Lawrence Grant on the party boat, E-Z, used to ask me over the radio; "When are you going to get a bigger boat?" This conversation went on for three years. Often times it would be followed by a reference to Frank Blount (The Francis Fleet, Point Judith, Rhode Island), how his wife Christine was such a force in the business and how Frank was able to do wonderful things for us all by sacrificing his time in the fishery management scene. I didn't know Frank then. I assumed he was a seasoned fisherman thirty years my senior. Turns out I was eight years older than Frank. But the reason I mention this is that I was deeply interested in making fishing my life. I had not met Deb yet. And I could only imagine what life would be like with someone as dedicated as Christine by my side. Granted I don't have the large fishing business that Frank & Christine have. But Deb moved into the role like it was meant to be. She has put up with a lot, being with me. And not all of it was good. But through it all she is the engine of Bunny Clark Deep Sea Fishing and, certainly, the main reason that I can enjoy it like I do. Thank you, Deb, from the bottom of my heart!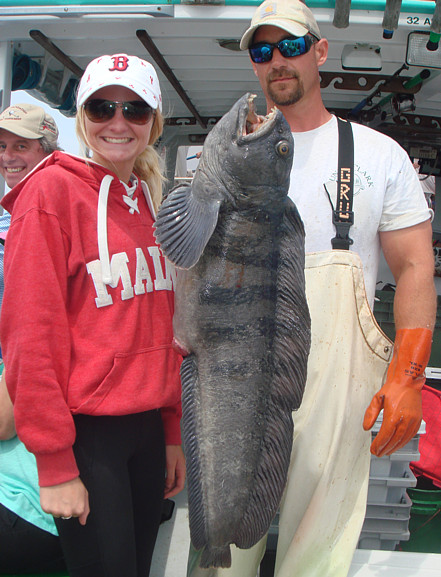 [Alyssa Wright (ME) won the boat pool for the largest fish with the largest fish, a 16.5 pound wolffish in late July. This was the second largest wolffish of the 2017 Bunny Clark fishing season. Captain Ian Keniston took a picture of Alyssa with her wolffish while Captain Jared Keniston held the fish for the camera. This digital image appears on the right. ]

Jane Staples is the number one reservationist ashore. She takes over when Deb can't, all year round. A Godsend, she rarely says no. She grew up in the same neighborhood that I did here in Ogunquit. So she knows all the local individuals I see every day. That makes for a great business relationship with the town and with our customers who might need information that others just can't give. If Deb and I leave for any period of time, she pays bills and runs the show here. She has been there for us for many years now. Thank you, Jane, again, for all the wonderful work you do and the part you play in our business. You are such a great help and I certainly appreciate it!


Last year marked my tenth season riding in the Pan-Massachusetts Challenge (PMC), an 192 mile, two day, cycling event that takes place the first Saturday of every August. The purpose of the event is to raise money for cancer research and care at the Dana-Farber Cancer Institute (DFCI), Boston, Massachusetts. I ride in the event and am sponsored for doing so with donations from anyone I can convince to give me funding. All the money goes to the Jimmy Fund, the fund raising arm of the DFCI, founded in 1948. At the time of this writing I have moved $286,703.77 in donations to the Jimmy Fund since 2007. Last year, I raised $26,009.00 from 236 donations. This figure is up slightly from the 2016 year's total in monetary value. I get a lot of support from my anglers. For this I am deeply grateful. I have already renewed my application for the 2018 PMC. I am looking forward to raising as much money as I can in a push to get to the new mark of $300,000.00, which I fully expect to do as long as I keep from dumping the bike too often! The money raised helps to maintain the most wonderful cancer facility in the country right in our own back yard. In the last few years I found that fifteen people became cancer free because of my direct involvement in the DFCI. They were going to be treated elsewhere until my writings changed their minds. Three people told me only after they became cancer free the year before, even though they had started treatment months before! I will continue to support the DFCI because of their track record, the fact that 100% of your donation goes directly to the DFCI and because the more money they receive the better their chances are of hiring the best researchers. I hope you can help me celebrate the joy I get from supporting a great cause at a wonderful place in the form of a future donation. Otherwise, let's go fishing!


So ends another Guestletter, our thirty-fifth. Thank you for giving us another great season on the ocean. Our success is due to the many anglers who ply the deck of the Bunny Clark, the businesses that support us through the year, the U. S. Coast Guard, the wonderful people who work the deck, our reservationists, my wife and the citizens of the Town of Ogunquit. Thank you. The cod moratorium is still holding us back from the potential of making it a profitable business. I have never thought that running the Bunny Clark was work but only a fun way to make a living and wonderful challenge every day in an environment I truly love. I'm looking forward to this coming season. Thoughts of bigger cod, finding new places to fish, wondering how the seasonal migrations will pan out with the winter weather and halibut have been running through my mind. I can't wait. The years dull the senses somewhat. I can't remember if I ever got more excited for a season to start. Deb tells me I'm that way every year. She can't know how I feel internally. But she probably has a better idea than I might think. Have a wonderful winter everyone. I'm very much looking forward to seeing your smiling faces again for another fishing season! Let's see if we can make it the most successful one yet!

If you want to send me e-mail, the current address is ttower@bunnyclark.com. My email address is sowhake@gmail.com.
With this web site in general, I hope to keep you current on all of the fishing particulars on the Bunny Clark and include updated information on fishery management decisions that could potentially affect us. For a current report go to the Fishing Update section from the link located on the index page of this web site. Thanks!