Dear Guests: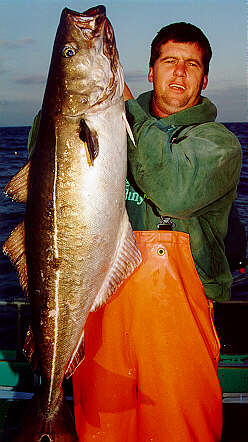 Here I am again, writing the sixteenth annual Bunny Clark guestletter! It seems like I just got through writing the last one! If I had to choose between all the seasons to write about, I believe that I would have chosen to write about this last one, as it was one of our best and most interesting fishing seasons ever. The weather overall was the calmest we have ever experienced. We still had a couple of rough days, just not nearly as many as other years. Since the Bunny Clark was launched in May of 1983, we have never landed as many haddock for a season as we did last season. Our total fish landings (pounds Ė this also includes the legal fish that were released alive) were the second largest we have ever experienced. This increase was due mostly to a better than average fishing year and the extra large recruitment of 7 to 15 pound pollock which were available starting in early September through the end of the season. (The largest pollock in New England (41 pounds) was caught by Jim Feeney (MA) on the Bunny Clark - the photo on the left - during that period of time. Jim scored the second most points towards the 1998 Fisherman of the Year award.) The numbers of individual legal cod landed declined by 15% as it did last year. However, the average cod size was larger. We landed more cod over 20 pounds during the 1998 season than every previous year since 1991. We released more legal fish back to the ocean alive than any other season. It was our second best season for numbers of individual cod tagged and released alive. We also tagged and released larger cod than we have since the early Ď80s. We completed the most fishing trips since the 1992 season. It was an excellent year.
There was a notable change in anglers and attitudes last year. Anglers didnít keep as many fish as they have in previous seasons. There was a lot more interest in tagging. Anglers were releasing fish that looked questionable in size rather than measuring them to see if they were legal. Many of my regular fishermen even went to single rather than double hooks. I believe Amendment 5 and Amendment 7 to the New England Fishery Management Plan (FMP) started all this. From its inception, the FMP advertised the need to conserve cod and haddock stocks. Amendment 7 went into effect in May of 1996. The new recreational rules, which included a no sale provision, an increase in cod and haddock size to 21 inches minimum length and a two hook per angler limit, hurt my business initially. Many regular anglers stopped going with us because they werenít allowed to sell their catch anymore Ė a practice that allowed anglers the financial benefits to sail on the Bunny Clark 40 to 80 times a season in some cases! After three seasons since the Amendment, our clientele has changed. Anglers donít seem as greedy as they once were. I think also, people can see that the stocks are improving because the rules are working. Recreational fishing philosophies are changing into a "take what you need" and not a "take what you can catch" philosophy. This appears to be a salient trend which I find refreshing.
Last season was also a great season for our reservationists, captains and mates. Captain Howard Cutler made a couple of cameo appearances running the Bunny Clark early in the spring. After that, Howard took the summer off with his wife and traveled the United States in a van. Howard was missed. Captain John Daley (JD) and I took turns running the boat during the season. I did all the marathons and some of the regular trips while JD took the rest until the beginning of September. Captain JD is one of the best and I was fortunate to have him. Captain Tom Corbett took JDís place until the end of the season. Tom did an excellent job and will also be working with us again this season. Captain JD and his wife are expecting their first child this spring. At this time I am not certain of JDís involvement as captain. Howard may work this season on a part time basis. I expect requests from anglers for both JD and Howard.
Satch McMahon was back as my number one and most loved mate. He had completed ten seasons with us by November of 1998. He secured his captainís license in the early spring and ran striped bass charters on his own boat, the Gath III, on his days off from the Bunny Clark. He will not be with us this season as he has chosen to concentrate on building his own charter business. He will be greatly missed. However donít discount the fact that he may make a surprise appearance. Bull Durham worked as the number two mate until the end of the summer, stopping before the season ended to pursue a career in lobstering. Bryan Tufts, Ian Keniston and Kenton Geer took Bullís place (He left a big hole!), all three working on a part time basis until the end of our season. Bryan worked as a mate on the Bunny Clark from 1990 until the end of the 1992 season. He was my best technical mate and I was very happy to see him back last season. He and Danny Angerman have been helping me out on the Petrel (my lobster/charter boat) this winter. Bryan will be working as a mate on the Bunny Clark this season part time and will also be working on his own lobster boat. Ian was the number one mate on the fishing party boat Indian II out of Portland, Maine for fourteen years before working for us. He was excellent and will be more involved with us this season. Kenton also worked as a mate for four years on one of the top party boats out of Hampton, New Hampshire, the Thumper. Kenton was also excellent and will be working for us this season.
Our reservationists were back in full force last season. Debbie, my wife and number one girl next to my daughter, Halley, coordinated the business (reservations etc), offered timely advice and was my best supporter. She asked me back for this season so expect a wise guy captain on the boat every now and then. Meghan Masi, the darling of the phone lines, worked all season. She is going to college in Massachusetts this winter and, I am happy to say, will be working for us this season. Caitlan West, our girl speaking four languages, was back with her sharp wit and soft voice. She is going to college in Australia this winter and next summer so she wonít be with us this season, I am sorry to say. Kate Lally did a great job working for us for the first time last season. Her science background certainly helped with the way our system works. She is going to college in California this winter and we are looking forward to having her back this summer. Renee Robichaud, our computer wizard, is our full time behind the scene girl. She helped me coordinate this guestletter and does a lot of our accounting and reservations. We are grateful to have her working for us this season.
As most of you know, the 8V-92 series Detroit diesel engine in the Bunny Clark was damaged by an uncompromising part failure during the late fall of the 1997 season. Thanks to David Pease, Dionís Yacht Yard (Kittery, Maine) and Power Products (Portland, Maine), the Bunny Clark was sailing again with a new more powerful (770 shaft horse power) Volvo engine ten days later. During the winter of 1997/1998, David Pease and friends reinstalled the engine to allow greater ease of maintenance, decrease noise (an improved mounting system) and to help the trim of the boat (weight displacement). The effects of Daveís work were greatly appreciated by all our passengers during the 1998 season. The engine is the quietest engine that has ever been enjoyed in the Bunny Clark. As Captain JD remarked: "Now I can hear them talking about me!" The Volvo engine was over 25% more fuel-efficient than the previous engine. Also, we were able to get three more knots of speed out of the boat in all applications. Although losing an engine is an expensive proposition, I think things may have worked out for the best. We certainly finished last season with flying colors and no engine problems Ė the first time in years!
Many other improvements were made before the beginning of the 1998 season. I listed most of these items in the previous guestletter. All that we tried worked as well or better than expected including the new state-of-the-art Furuno color sounding machine. I am not going to go through every item here but if you are interested in this you can refer to my web site at http://www.bunnyclark.com. On this site I have an explanation of all our fishing equipment, weather links, my last four guest letters, a fishing update section, etc. etc. There is a lot of information available there. I plan to expand on that this winter.
Most of our improvements on the Bunny Clark for this season will be centered around the fishing equipment, safety equipment (new fire detection equipment and items found below deck) and cosmetics. I am particularly interested in the new Pro Gear reels. These reels were unknown to me until an angler by the name of Mike Osborne from California went fishing with us last fall and brought one of these reels with him. It could be the best cod-fishing reel I have ever used. The company is only 4 years old. The reel reminds me of an Accurate reel (all aircraft grade aluminum) with many improvements. I will be showcasing the reels on my web site from time to time this winter. I will also be trying them out on the Petrel during the few fishing trips I have planned. I also plan to introduce the Pro Gear reel on a limited basis with the Bunny Clark jigging sticks this season. I will have three specific models of Pro Gear reels available for sale during the season.
Other improvements will include the rebuilding all the Penn 113H reels (our standard boat reels) with new lighter graphite frames and new backing plates. Some of these reels will also include the new side plate with a sealed bearing system. All the Newell reels (offered on our jigging sticks) will come with the new more comfortable handles that were provided by Ed Serafin (MA) and tested last fall on most of the reels. These reels will also be fitted with the new Shimano wet drag system for better and smoother performance over longer periods of time. I will be trying some of the new leader material that has now become available including the new fluorocarbon (invisible) lines. Some of the new thinner Spectra type lines will also most likely be introduced.
The world record scene was bleak in 1998 for potential International Game Fish Association (IGFA Ė the organization responsible for the records keeping and record fish awards) winners. There were two occasions when, had the conditions been right, Junior Angler world records in the "Small Fry" category (records for kids under the age of 11 years) could have been broken. The first great catch occurred on the August 18, 1998 afternoon half-day trip when seven year old Antonio Weinberg (FL) landed a 33.5 pound pollock. Captain Tom Corbett was running the Bunny Clark that evening. Antonioís line was so tangled with the lines of other anglers that it wasnít determined whom the fish belonged to until half an hour later. Antonioís fish would have become the new Small Fry world record, however, under the IGFA rules, lines that are tangled with the line holding a potential world record fish have to be cut or the angler is disqualified. It is thought that entangled lines may actually aid in the landing of a fish and the rules specifically note that a world record fish has to be landed unaided by the individual applying for this honor. The second great catch occurred on the evening half day trip of August 21, 1998 when another seven year old, Jonathan Arnold (VA), caught an even bigger pollock of 39.5 pounds. Captain Tom Corbett was running the Bunny Clark again that evening as well. Not only was Jonathan also disqualified due to the tangled lines that werenít freed but Jonathanís father, not realizing that the fish could have been a world record, took the rod and helped his son bring the fish in. Under the IGFA rules, no other person can touch the rod while a fish of potential world record status is being brought to gaff. Both young anglers received trophy awards from Maineís Department of Marine Resources for their efforts. Jonathonís fish was the second largest pollock caught during the 1998 Bunny Clark season while Antonioís pollock was the sixth largest.
At the time the 1998 guestletters were being mailed, we had five other world records that were pending with the IGFA, one line class world record and four Junior Angler (kids from 11 to 16 years old) world records. The line class world record concerned a pollock slightly under 7 pounds caught by Linda Paul (ME) on November 3, 1997. She was going for the six-pound test womenís pollock world record. Unfortunately, the line she was using over-tested and she was disqualified.
At the end of the 1997 season I sent two applications to the IGFA for the boyís Junior Angler pollock world record. The first fish to be caught that was large enough to qualify was a 36 pound pollock caught by Andrew Tuttle (GA) on the day trip of August 11, 1997, his sixteenth birthday. I would have sent the application sooner but I didnít realize how young Andrew was until I was filling out the application for Aaron LeBreque (MA), a thirteen year old, who had landed a 27 pound pollock on the November 12, 1997 marathon trip. The results were that Andrew grabbed the title and Aaronís fish was then too small to qualify. Aaron, however, also landed a 21 pound cod on the same trip in November. With this cod he captured the boyís Junior Angler world record for that species. On January 18, 1998 this record was broken by Marshall Sklar with his 36.5 pound cod caught out of Point Lookout Marina in New York.
Another world record application went to the IGFA, submitted as a potential inclusion in the girls Junior Angler program. On the Bunny Clark day trip of August 14, 1986, Dawn Hersom (NH) broke the womenís 50 pound test pollock world record with a 38 pound fish. Dawn was 15 years old at that time. She lost the womenís 50 pound test pollock world record to Linda Paul who on October 24, 1990 landed a 46 pound 11 ounce pollock, also off the Bunny Clark. This fish not only became the new 50 pound test womenís pollock world record but it also became the "all tackle" pollock world record as well. We resubmitted Dawnís former world record application in the hope that she would qualify in the Junior Angler category. This application was turned down because the fish didnít meet the requirement of being landed on or after the control date of January 1, 1997, the inception date of the IGFAís Junior Angler programs.
Our tagging program took off in a big way last season. As I mentioned earlier, this was our second best year for tagging and releasing cod. Our biggest tagging day occurred on the July 21st Ultra Marathon trip where anglers tagged 101 cod, most over 10 pounds up to and including 27 pounds, 1 pollock and 1 haddock for a grand total of 103 fish. We had to release 30 good sized cod and 3 pollock that day without tags because there was too long a wait for the fish out of water at the tagging table. Fred Kunz (NH) tagged 12 fish that day with an average size over 15 pounds each. Sean Devich (NY) tagged and released 19 cod that day with an average size over 14 pounds each. Seanís largest tagged and released cod was a fish of 22 pounds. This same fish was caught again on the September 18 marathon trip by Bob Paro (NH) almost 2 months later on the same spot the fish was released! The fish was still 22 pounds. Both anglers got credit for the same trophy fish with Maineís Department of Marine Resources. Unfortunately, we didnít see the tag in the fish until the fish had died so we were unable to release it again.
The largest fish tagged and released this season was a 30 pound cod caught and tagged by Sean Devich on the July 23rd day trip. During the very few fishing trips Sean attended on the Bunny Clark, he tagged a total of 31 legal cod. Irwin Libeskind (MA) tagged the most fish during a single trip with a count of 21 legal cod caught and released on the day trip of April 15. Fred Kunz tagged the most legal cod of the season with a count of 57 fish. Jim Feeney (MA) tagged the second most legal cod with a count of 55 fish. Dave Mycue (MA) tagged the third most legal cod for the season with a count of 41 fish. Many other anglers helped in the tagging effort. These anglers and their names are too numerous to mention here. However, I do want to thank you all for your efforts and concerns for the future of the cod stocks in New England. I assure you that this unique information will not go to waste.
The most interesting tag return of the season came to my attention on November 20, 1998. The groundfish dragger F/V Elizabeth fishing on Parker Ridge (an extension of Cashes Ledge to the south) landed a 43 pound cod with one of my tags in itís back. Parker Ridge is approximately 83 nautical miles (about 93 "land" miles) from Perkins Cove, half way to the western edge of the northern end of Georges Bank. This fish was first tagged on June 8, 1986 a few miles northeast of Boon Island Ledge Ė seven miles off Perkins Cove, Ogunquit, Maine. It was 19.5 inches long at that time. On April 27, 1987, we caught this same fish again on the same location. It had grown to 26.5 inches overall length or was about 5 to 6 years old according to the currently accepted growth curves on cod. We released this fish alive again. When this cod was caught for the third and final time last November, it had been at liberty for 148 months since it was initially tagged. This marks the longest time one of our tagged fish has been at liberty before being caught. According to Frank Almeida at Woods Hole Oceanographic Institution, it may be the longest time at liberty for any tagged cod recovered in New England waters. This fish was approximately 16 or 17 years old. At approximately 43 inches in length, this fishís length/age statistics correspond directly to the growth curve that was established through morphological studies (counting growth rings) alone.
Fishing success for the 1998 Bunny Clark season was measured in many different ways. We completed 53 of our 57 scheduled marathon (12 hour) trips with the same landings successes as we experienced the last three previous seasons. Our only ultra marathon trip of the season on July 21st was the single best trip for landings that we have ever had on the Bunny Clark. The average size for a pool fish last season, including about 80 half-day trips, was 16.1 pounds, probably one of our best pool fish years. Conversely, we had our worst year for landings on our half-day trips. We set a dubious record of sorts on September 21, 1998 when 18 anglers lost 67 jigs, 15 bait rigs and many good fish to blue sharks. This is the largest loss to blue sharks we have ever experienced and it influenced my decision on fishing locations for three weeks!
Three hundred and five trophies (cod & pollock over 20 pounds, haddock over 7 pounds, cusk over 13 pounds and wolffish over 15 pounds), 4,478 haddock and 310 wolffish were landed during the 1998 season. Over 70% of the trophy fish were cod and 13% were pollock. Less than half of all the haddock landed this season were sub legal. Ninety-five percent of all the wolffish landed were less than 15 pounds.
As I feel the greatest achievement in angling is the ability of a person to hook and land a trophy fish on their own, I have listed the guests who caught the five largest of each significant species during the 1998 season. Keep in mind that all the represented weights of these fish were taken aboard the Bunny Clark using a registered scale shortly after capture. I feel that this is the fairest comparison between the anglerís fish since weight loss is proportional to the amount of time the fish is out of water.
| | | | |
| --- | --- | --- | --- |
| NAME (STATE) | FISH/POUND | LENGTH | TRIP |
| | | | |
| --- | --- | --- | --- |
| Rita Sweenor (NY) | Redfish 03 | | 09 03-98 |
| Don Robinson (NH) | Redfish 02.5 | | 03-28-98 |
| | | | |
| --- | --- | --- | --- |
| Charlie Roberts (NH) | Monkfish 15 | | 07-08-98 |
| Jim Soldega (MA) | Monkfish 13 | | 07-14-98 |
| Bonnie Reed (ME) | Monkfish 10 | | 07-08-98 |
| Dan Whipple (VT) | Monkfish 08 | | 07-13-98 |
| | | | |
| --- | --- | --- | --- |
| Steve Wiater (MA) | Wolffish-21 | 40x21 | 09-14-98 |
| Bill Hudson (MA) | Wolffish-20.5 | 40.75x20 | 04-05-98 |
| Rob Zsofka (MA) | Wolffish-19.5 | 38.5x19 | 03-29-98 |
| Ed Serafin (MA) | Wolffish-19 | 38x20.5 | 09-01-98 |
| Dave Hoffman (NH) | Wolffish-18 | 35x21 | 03-29-98 |
| Mike Sabine (NH) | Wolffish-18 | 37.75x20 | 04-05-98 |
| | | | |
| --- | --- | --- | --- |
| Jim Feeney (MA) | Pollock-41 | 45x26 | 09-28-98 |
| Jonathan Arnold (VA) | Pollock-39.5 | 50.5x27.75 | 08-21-98 |
| Tom Yonskie (NY) | Pollock-35 | 41x27 | 09-23-98 |
| Tom Campbell (PA) | Pollock-34.5 | 44x26 | 10-28-98 |
| Jim Feeney (MA) | Pollock-34 | 43.75x25 | 10-21-98 |
| | | | |
| --- | --- | --- | --- |
| Nick Chiasson (NH) | W. Hake-11.5 | | 10-04-98 |
| Duane Moore (MA) | W. Hake-10 | | 10-27-98 |
| Tim Williams (CT) | W. Hake-10 | | 10-30-98 |
| Tom Yonskie (NY) | W. Hake-8.5 | | 09-23-98 |
| Ed Baisley (NY) | W. Hake-07 | | 09-28-98 |
| Fred Kunz (NH) | W. Hake-07 | | 11-09-98 |
| | | | |
| --- | --- | --- | --- |
| Jim Feeney (MA) | Haddock-11.5 | 30.25x17 | 06-09-98 |
| Carl Chudzik (CT) | Haddock-11 | 31.5x18 | 09-01-98 |
| Mark Williams (CT) | Haddock-10 | 29.25x16.5 | 11-06-98 |
| Gene Spencer (NH) | Haddock-09 | 28.5x16 | 09-30-98 |
| Phil Bodanza (NY) | Haddock-08.5 | 27.5x16 | 06-09-98 |
| Dave Lawrence (VT) | Haddock-08.5 | 27.25x16.2 | 07-03-98 |
| | | | |
| --- | --- | --- | --- |
| Tim Williams (CT) | Cusk-22 | 37.5x21 | 10-26-98 |
| Perry Maxham (VT) | Cusk-21.5 | 35.5x25 | 09-26-98 |
| Brett Fusco (NY) | Cusk-17 | 32x20 | 07-01-98 |
| William Vasquez (MA) | Cusk-15.5 | 32.5x17.5 | 06-26-98 |
| Jack Boyles (MD) | Cusk-15.5 | 34.5x17 | 08-07-98 |
| | | | |
| --- | --- | --- | --- |
| Nancy McClumpha (NY) | Cod-45 | 49X28 | 07-29-98 |
| Bruce Hills (ME) | Cod-43.5 | 48.5X27 | 10-31-98 |
| Tim Williams (CT) | Cod-43 | 46X26 | 10-23-98 |
| Fred Kunz (NH) | Cod-42 | 46.5X27 | 10-21-98 |
| Jim Gray (VT) | Cod-41.5 | 46x28 | 10-28-98 |
Rita Sweenor (NY) landed the largest redfish we have seen for many years. Jim Feeneyís (MA) 11.5 pound haddock is the largest haddock that has been landed since Mike Stevens (NY) landed his 11.5 pound haddock in 1994. Jim Feeneyís haddock, Mike Stevensí haddock and Danny Angermanís 11.5 haddock (Dannyís fish was caught during the 1991 season) tie for the seventh largest haddock that has ever been caught on the Bunny Clark. Jim Feeneyís 41 pound pollock is the largest pollock that has been landed on the Bunny Clark since Steve Hamel (NH) landed his 41 pound pollock in 1995. Steveís pollock was the largest caught that season as well. Steve and Jim take their place with 63 other anglers who have caught pollock over 40 pounds on the Bunny Clark since she was launched in 1983. Jim submitted his application in the IGFAís international fishing contest to see if he can establish himself as the angler with the largest pollock in the world caught with rod and reel for 1998. Tim Williamís 22 pound cusk is the largest cusk that has been caught during the last two seasons. Seventeen year old Nancy McClumpha (NY) landed the largest cod of the season last year beating out all of my regulars and big guns. This is the first season that our largest cod wasnít over 50 pounds, the threshold weight that designates a cod as a "whale cod". This is also the third season where the largest cod hasnít been over 60 pounds. It is also the first season where I havenít been captain when the largest cod was landed, a landmark of sorts. This year Captain JD gets the buck! And I thought Captain Howard Cutler was the only one I had to worry about!
Before I end this Guestletter, I want to cite those anglers and experiences of note that deserve an honorable mention for their uniqueness and/or fishing prowess during the 1998 season. I realize that this is a value judgment on my part but I believe that my conclusions are recognized as a popular opinion among my crew and fishing guests and are based on many fishing trips. These special anglers and incidents are as follows: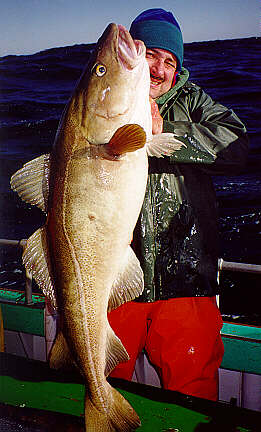 Fisherman Of The Year (FY-í98). For the third time in four seasons, Fred Kunz becomes the undisputed Fisherman of the Year for the 1998 season. (The photo on the right is a shot of Fred holding his largest fish of the season, a 42 pound cod caught on a particularly windy day in October 1998.) After the 1996 season, Fred became the first angler to win this award more than once. Now he becomes the only angler to win it three different times. Fredís ability to land the most legal fish a trip, his savvy in catching the most and some of the biggest trophies of the year and his unquestioned drive in some of the hardest conditions elevated him above the rest last year. As most of you know by now, the Fisherman of the Year award is based on a point system that relates to specific achievements during a trip and during the year. Each achievement is worth a set of points. The individual with the most points at the end of the season wins. In order to compete in this category, you have to have fished on the Bunny Clark at least 10 different trips. I have many excellent anglers who fish with us on a regular basis every season, any one of whom has the potential to become the Fisherman of the Year. Last season I had the good fortune to have an angler who did so well that his closest competition was left quite far behind after all the points were added up. Thanks Fred, you made it easy for me!
Female Angler Of The Year. Linda Paul (ME) wins in this category again. Her never say die attitude, the remarkable trophy fish she lands and her ability to catch the most fish on the boat on any given day always intrigues me. Indeed it has always been an honor to me that she chooses my boat as a fishing platform. Of course, one has to remember that she has a great support team and fishing partner in Lester Paul, her husband! Linda was the Fisherman of the Year for the Bunny Clarkís 1990 season. During that season, she landed 27 trophy fish over 30 pounds each, three world record fish and one state record fish!
Best Bait Fisherman. Forest Woodruff (VT) was my choice for the best bait fisherman in 1998. He caught so many more fish than everyone else did on the trips he attended last season that I never needed to count his fish to know. He caught many fish on jigs as well. It was his uncanny ability to know when to go to bait and then capitalize on the change that made him the best. Of course, catching the most haddock in a trip didnít hurt either!
Most Trophies. Fred Kunz landed three pollock 20, 26 and 32 pounds, two haddock 7 and 8 pounds and twenty cod between 20.25 and 42 pounds for a total of 25 trophies in 1998, the most he has ever landed with us in a season. Jim Feeney was second with 18 trophies. Emile Gallant (ME) landed 14 trophy fish for third place. Tim Williams, Sr. (CT) took fourth place with 13 trophies.
Most Trophy Fish During A Trip. Fred Kunz landed 5 trophy fish on two different trips for a total of 10 trophies. Fredís best of the two days was October 21 when he landed 5 cod with an average weight of 27.6 pounds each. Emile Gallant landed 5 trophy fish on one trip, all cod. The average weight of these fish was 24.6 pounds each. Tim Williams, Sr. landed 4 four trophy cod in one day for the second most trophies caught on one trip. The average weight of these four fish was 28.25 pounds each.
Most Pools (largest fish of the trip). Jim Feeney landed the most pool fish with a total of 5. Fred Kunz was second with 4 pools. Tim Williams was third with 3 pools for the season.
Largest Double Header. Fourteen year old Daniel Gayer (ME) landed an 18.5 pound cod and a 27.5 pound cod on the same line at the same time on the November 6 marathon trip. He was using a jig with a cod fly a couple feet above the jig. Paul Wilcox (VT) caught the second largest double header of the season on the September 18 marathon trip. His two fish were also cod weighing 17 and 27.25 pounds caught in the same manner and the same position on the boat as Danielís fish. Daniel proved to be the best up-and-coming young angler and one of our best anglers of the 1998 season.
Most Improved Angler. Jim Bowersox (CT) was the most improved angler for the 1998 season, without a doubt. When I first met Jim, he didnít know if the bite was coming from the front end or the back end of the rod! By the time he finished his last trip with me last fall he had won the pool for the second largest fish of the day, he had caught a trophy cod and he had landed many fish all day long!
Most Dependable Angler. Although Ken McLaughlin (ME) never went out on any of the high powered offshore marathon trips, he was one of our staunchest full day trip regulars. Almost once every week Ken would show up to go fishing on the Bunny Clark. He was high hook on almost every trip he attended. He may have been the one angler to catch the most fish on a single day trip and he also caught the largest fish of the year Ė although I am not supposed to tell anyone about that one!
Most Positive Changes in an Angler. Gil Ranta (NH) used to be known on my boat as a casual angler, a nice guy who always fished bait with one of my boat rods. He always did OK. Somewhere along the way he was introduced to jigging. This year jigging became a vesture and, believe me, he wore it well! No longer did Gil fish in the cockpit. Only the bow would do. He brought his own jigging sticks, reels and Spectra line and was consistently one of the top anglers on every trip he attended. The best he did when I was captain was on July 5th. On that trip, a regular day trip, he landed cod of 16.1, 12, 12.5, 14.75, 25, 11, 10 and 15 pounds as part of his catch. He did so well this season that I thought I would put him in a category of his own.
Most Unusual Catch. On April 29, 1998, Jake Levenson (ME), a friend of Stan Wasserman (MA), was fishing with one of my hand made custom jigging sticks in the bow. Jake hadnít jigged before but it wasnít long before he got the hang of it and was landing some decent cod. He tagged and released quite a few of these fish. Later in the day, Stan landed a 10 pound wolffish which I had to gaff in order to bring it aboard. The fish was snapping its jaws and flipping around on the gaff when I brought it behind Jake to get to the fish box. As Jake turned away from the fish I grabbed Jakeís calf. Startled, Jake jumped and threw the rod overboard. We tried to get it back but it was not to be. And, of course, it wasnít Jakeís fault that the rod went over in the first place. I thought that was going to be the last we heard of that rod and reel. Not so. Later in the season, Don Robinson (NH, See the trophy list above) caught the same rod and reel on a party boat out of New Hampshire. Will I ever see this rod and reel again? That is a good question. Had a Maine fisherman caught it, I would be getting it ready for this upcoming season. Maybe Don doesnít think I deserve to get the rod back! He may be right!
Saddest Day. Charlie "C. B." Hobbs died on October 6, 1998 after what turned out to be a long illness. Charlie meant a lot to me as a person and I will miss him very much. Those who knew him for any length of time will probably feel the same. Charlie was one of my best regular anglers. He loved fishing the pulpit and there are fishing spots out there that will always remind me of him and the great spirit he always carried with him wherever he went. He was the Bunny Clarkís "FYí94" at 79 years old. He beat the best fishermen in New England for this award fair and square. Of course, a lot about winning this award involves luck but you have to be a very good fisherman in order to have the luck. And, as someone once said, you make your own luck. Charlie made his and never gave up, obviously the best part of being a winner such as he was. I always thought in my heart that C.B. was going to come back fishing with us some day. I guess that wonít happen now. Losing special people like this is life, I know, but itís the hardest part of doing my job as a party boat captain.
Hardest Luck of the Year. Bob Lo (Partie Quebecois) wins this dubious achievement award for missing trips and Al Turner (NY) also wins for missing Bob. Bob had to cancel many marathon trips under doctorís orders, waiting for a special physical test that was ordered for a particular health condition. Unfortunately for him, they kept putting the test off until three for four months had gone bye, all that time when he could have been fishing! Al also wins in this category because, without Bob, the most famous Bunny Clark fishing team of Turner & Lo was broken up. I believe this situation contributed to Al Turnerís normal fishing season Ė usually his seasons are far above normal!
Quote of the Year. "Öwhat you (Tim Tower) did would be (like) me (as a lieutenant in the fire department) ordering the men in my crew into a burning building that I knew was going to collapse!" Quote in a letter from Anthony B. (MA) in which he described going out on a day trip on May 13 with Captain JD where he thought the weather was too rough to be out. Although it may have seemed rough Ė in this business perception is everything, Captain JD told me that after leaving the harbor he never even considered turning around. Indeed, Jim Dauchy (VT), a regular passenger also on the trip that day, told me that it was about half as rough as the last trip he took when I was captain. On the date the quote refers to, there was a small craft warning out for swells (8 to 12 feet in height) along the shore but winds were only 10 to 15 knots out of the northeast and (later) southeast. No doubt, sailing at 15 to 18 knots into any opposing wind with a large swell would have seemed rougher than it actually was to the uninitiated. Sorry about that!
Best Fishing Team. John Verga (NY), the pride of Queens, and Pio Castracane (NY) win in this category. Both anglers are excellent fishermen by themselves but they seem to put together a winning catch and performance when both are fishing together. The most notable trip was the one on September 25. During that trip, they caught the two largest fish of the day. Pioís fish was a 31 pound cod and Johnís fish was a 26.5 pound cod. Both fish were the largest cod either angler has ever caught. Another great team was the powerhouse duo of Bill Klager (NY) and Diane Mann-Klager (NY). They caught the most fish on every trip that they attended. On the September 28 marathon no one could touch them!
Unexplained Phenomena. What are the chances that a person who organizes three pools for the three largest fish on a trip, collects the money and then holds the money to be distributed when the trip is over, actually wins all three pools? Iím not a statistician so the probability of such an occurrence alludes me. However, thatís exactly what happened to Ben Barzousky (MA) on the May 28th marathon trip. His three largest fish were a 20.5 pound cod (a Maine state trophy fish), a 15.5 pound wolffish (also a Maine state trophy fish and the eleventh largest wolffish of the Bunny Clark season) and a 14 pound cod. Premeditated, you think? No, this was the same guy who, rumor has it, was pulled over for speeding in the Lake Ontario region while on a fishing trip and was found to be without pants. When asked, he told the trooper that he had forgot to put them on before he got into his vehicle!
Before I end this guestletter, I want to tell you that it was a great pleasure and honor to have so many wonderful people fishing and working the business with me last season. Without people of this caliber, fishing on the Bunny Clark would be just party boat fishing. The guests aboard the Bunny Clark have always made fishing a special event for me. Itís always great to catch a nice fish and Iím very appreciative of the wonderful fish that have been landed on my vessel. However, without the anglers who took part, it would just be another fish. Although I will never remember all the good situations that have taken place on my boat, I cherish the ones I do remember and I will until the day I die. Thank you, every one of you, for providing me with another great season worth remembering!
Best Fishes,
Tim Tower
P.S. After this guestletter had been at the printers for a week, I found out that Bob Lo had passed away. From what I understand, the cancer took its toll mercifully quick. Many people will miss Bob. He was an excellent fisherman and an incredibly nice person for anyone who was fortunate enough to be his friend. He spent most of his life in North America teaching. After he retired, he gave up a lot of his personal time to go back to this previous vocation. He was very much in demand. Bobís passing should be a message to those whom he left. Life is something that many take for granted living here in the United States. Please make the most of yours and take a moment to appreciate the freedom to make your own choices.
With this web site in general, I hope to keep you current on all of the fishing particulars on the Bunny Clark and include updated information on fishery management decisions that could potentially affect us. For a current report go to the Fishing Update section from the link located on the index page of this web site. Thanks!