Dear Guests: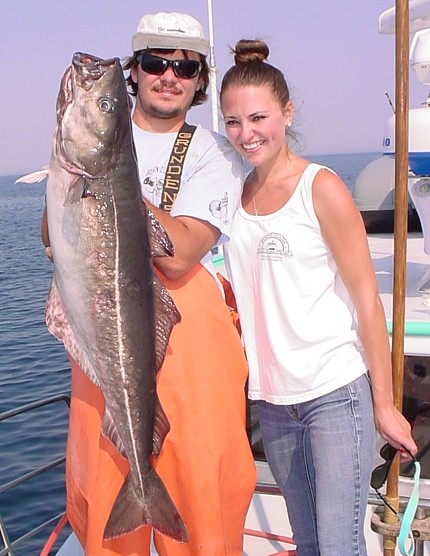 Welcome to another edition of the Bunny Clark experience in words as seen through the eyes of your consummate host and daily scribe, Tim Tower.

The end of the 2013 Bunny Clark fishing season marked the thirtieth season we have been in business. Thirty-one years from the time we finished our season last year, I had already decided that I was going to have a forty foot Young Brothers lobster type boat laid up to be made into a combination dragger/deep sea fishing boat. And I had already decided that David Pease, in York, Maine, was going to finish it off for me. And, to my delight, Dave had agreed to do so. In May of 1983, the Bunny Clark was launched at Dion's Yacht Yard. And I have never regretted a single day that the Bunny Clark has operated since. She was and still is the wettest, most sea kindly boat of her size that I have ever been on. And having my mother's name on her stern gave her all the luck she needed to be a more successful fishing boat than I would have ever dreamed. The boat has caught a lot of fish over the years. But, most importantly, she has made a lot of people happy, made anglers out of ordinary people and has recognized more world record holders than any other deep sea fishing boat in New England. Thank you all for allowing me to get this far.

As every season is different from the next, the 2013 Bunny Clark fishing season was no exception. Even though the 2012 season was the second calmest season the Bunny Clark has ever seen, the 2013 season was calmer still. This makes 2013 the second calmest season and the 2012 season the third calmest season ever. Surface water temperatures got back to reasonable levels last year after a more normal winter. It was still a bit warm on the surface of the ocean but not like the record breaking warm surface water temperatures of 2012. There were no hurricanes last year in our area. The National Weather Service had predicted the worst hurricane season in a century. The 2013 season ended without a single one effecting the east coast. This is a first. We always have at least the remnants of a hurricane going by in the fall. Not last year. Along with the calmer than normal winds and seas, we had very warm summer. It wasn't exceptionally warm but it was nowhere near as cold as some summers we have had. I would call it a great advertising summer. [The picture on the left is a shot of Micah Tower (ME/HI) holding his 25.5 pound Maine state trophy pollock, the Bunny Clark's largest pollock of the 2013 fishing season. His sister, Halley Tower (ME), is standing next to him in the shot.]

Boat problems were few last season as well. We were broken down for three days in June when a freezer plug let go on the side of one of the cylinder heads. This showed up as a coolant leak in the engine room. Each individual head had to be removed, parts obtained, all freezer plugs changed out and the engine reassembled with all new gaskets, "o"-rings and seals. In the meantime, during the second day at the dock, there was a minor northeast blow where we probably wouldn't have sailed anyway. We had other minor breakdowns during the season but we managed to fix each problem before the trip the following day. A tensioning arm broke off on one of the engines alternators at 9:00 PM on a Sunday. We would have missed the next day's trip had it not been for New England's best welder, Mike Dumas, getting out of bed, driving to his shop to meet me and welding up a new arm before I left to go back to Perkins Cove. I won't forget Mike's son, Nick, who helped me get in touch with his father. Nor will I forget the help of my son, Micah, who stayed up and worked with me until the job was done. In October, we had a starting battery terminal melt under the connection, keeping the engine from starting on a trip at sea. Ian Keniston, the captain that day, drilled and tapped a hole in the in the lead that was left, put in a big stainless screw and "vice-gripped" the connector to the screw to get the boat home. Later that night we replaced both 130 pound starting batteries with new. And the head (toilet) stopped functioning on a warm July night when a piston lever arm snapped during use on a trip. Micah and I started rebuilding the head that night and had it working again before the midnight hour.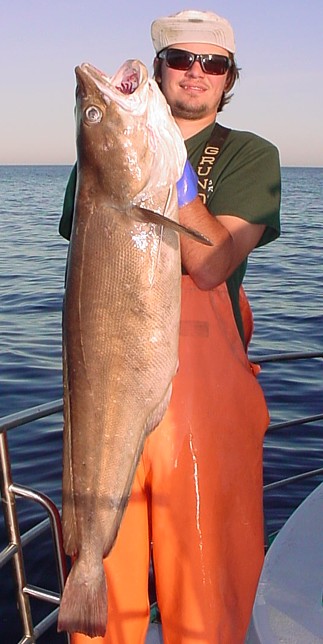 We had a very early start to the fishing season last year. The haddock were on the fishing grounds to meet us the first day out. Normally, we don't see that many haddock that early. But other species were also available on the first day as well. Mackerel were caught from the first day, through the season and to the last day of the season. We usually first see the mackerel in May and rarely into October. Dogfish were found all year long when, normally, we first start seeing numbers of dogfish in June. They were worse in the summer months as they normally are. But they were never horrible except for one or two trips. We can have as many as sixty days with horrible numbers of dogfish attacks, the results of which sometimes show up as a bad "Yelp" rating. But not last season. Collectively, we experienced the least number of dogfish blitzes ever in a season. And we only caught a couple of dogfish total on the half day trips, by far the least we have ever seen inshore! However, we did see them every day of the season outside the inshore fishing bottom (during day trips, extreme day trips and marathons). But when they don't bother it's just another added species to be seen. Pollock were also present during the first week of fishing, a very early show for them.
A noted difference last season was the size of the fish. The average pollock size has been going down every season. This is a trend we have noticed for the last seven seasons. But it was more noticable last year. Some of the spots we catch pollock had to be abandoned during the 2013 because the size of the pollock was so small. No one wants to catch short fish just to throw them back. Still, we had plenty of pollock all season. Like previous seasons there were many times where we had plenty enough to leave them for another species. The size was just a curiosity to me for this species and, possibly, worth noting.
The number of haddock releases were many this year, the best year for juvenile haddock that I can ever remember seeing unless it was when I was too young to remember or even consider it. We had a ratio of two to one sub-legal haddock to legal haddock. Boats that fish further south in "haddock country" gave reports of a five to one ratio or even higher on some days. The average haddock size was the smallest we have seen for years. The total catch (numbers) of haddock (legal & sub-legal) was the largest I have ever seen (by 293 fish) caught with rod & reel since I started taking charters in 1977. Our second best year occurred during the 2000 Bunny Clark fishing season. [Micah Tower can be seen on the right holding his 34 pound Maine state trophy white hake. Caught drifting off a deep edge during an offshore marathon trip in the fall, the hake was the biggest fish of the trip and the sixth largest white hake of the season.]
Cod sizes were way down this year as well. This was the second full season where we could keep cod under twenty-four (24) inches. The Federal minimum size limit was set at nineteen (19) inches during the fiscal fishing year of 2012. I have felt that this is too small (the mortality rate on returned cod is 30% at worst). In the closed areas we fish on the base level of cod where the recreational angler has maintained an upper limit of twenty-four (24) inches for many years until 2012. Most recreational boats didn't tolerate a minimum size as small as nineteen inches last season. Of the charter boats we fish around, most stayed as we did for the season, at a minimum of twenty-one (21) inches. The odd thing about the cod last season was that, as expected, we had quite a few cod in twenty-one to twenty-six inch range with very few fish above that level. We caught only a hand full of cod in the teens and not a cod over 18.5 pounds! This is the first time in my life that I haven't seen a cod of 20 pounds or better boated in a season on one of my boats. Some of this is bad luck as there were big cod landed by other recreational vessels last year. But the big cod were very few indeed everywhere and you really had to be in the right place at the right time. And we do not target cod spawning areas so our chances were diminished in that arena as well. But the other odd thing was that there were very few sub-legal cod caught this year, fish under 19". As the overall season matured and finished, it was one of those seasons where I could have guaranteed anyone a legal fish on every trip except the half day trips if they used the equipment as shown. So it was a very good season indeed. It was just very different.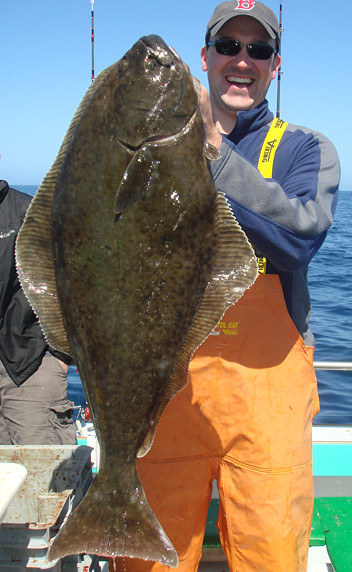 Last season was our third best halibut season. We caught a total of nine. Three of the halibut were of legal length, the rest were very sub-legal. Our best year for catching halibut, the 2012 fishing season, saw sixteen halibut. Our second best season, 2011, we saw ten halibut brought to the surface. Some other vessels had similar halibut seasons. And three other vessels caught larger halibut than we did. I think there is a direct relationship between the increase in the halibut population and the time since the closed fishing areas were established. I truly believe that the halibut population is most hurt by dragging (bottom trawling). As long as halibut spawning areas are protected from dragging I know it is possible to recoup a halibut fishery again. Even in the past, catching a single halibut was big news with rod & reel. To catch so many halibut with regularity the last three years has to be good news and certainly an upward trend in the halibut stock.
Our hake fishing was just about as good as it has been. We didn't see as many white hake landed last season as other seasons but we didn't fish for them as often as we have other seasons. We stayed away from them more last season because the majority of our anglers wanted to catch cod. And the cod fishing was much better than most seasons, albeit they were smaller as well - which makes the perfect fillet size. And in many cases, the best cod fishing this year was in the shallow water and much further away from where we catch hake (white hake) to make it impractical to do both. However, we did have some great white hake catches. And they were consistently our largest fish this year. [Captain Ian Keniston took the picture on the left. It shows Chris Albert (ME) with his long and lean 22 pound halibut which he caught during a spring extreme day trip. Chris has been fishing with us for many years and is excellent at it.]
We did see an increase in silver hake (whiting) landings. We never really targeted them. But when we caught them in an area, we would concentrate on them until we landed a few. One of the most dramatic days that this happened was during a September marathon trip in which Fred Kunz (NH) caught eight whiting in a row from 1.5 pounds to 2.75 pounds, all while using a jig and fly combination. We also caught one of the largest whiting we have caught on the Bunny Clark this season in June.
We didn't see as many cusk on our normal trips as we have seen in the past. Some of this was because we stayed away from the areas that they frequent. But there also weren't as many cusk in the deep water as we are used to seeing. Where we did see an increase was on the inshore half day trips. On these trips we saw more cusk than we have seen in years. I think the reason for this is that lobstermen don't set their traps on the hard bottom as much as they used to. This is because lobstermen aren't allowed to use "float rope" between their traps. If you don't use float rope in these hard bottom places, the rope between traps gets hung up in the rocks. This is a good way to lose a lot of lobster gear. Lobster traps catch cusk because the preferred bait is herring, one of the cusks favorite food. And cusk are territorial. So when the traps aren't there, the cusk flourish and increase in those areas, my theory. Whatever the reason, the half day fishing was the best it has been for years because of the cusk. And, of course, we had no dogfish on the half day trips last season.
We caught only one monkfish of size last year. The redfish were about normal. Although, we did land three 3 pound redfish. This is about as big a redfish as we ever get. And one of these was particularly long (old). We did catch one barndoor skate. Our wolffish catch was down but not as far down as it was during the 2008 and the 2009 fishing seasons. The 2008 Bunny Clark fishing season saw the lowest number of wolffish caught with a total count of 46 fish. The catch has never been that low since. May 1, 2010 saw the prohibition of landing wolffish. We stopped targeting them since that date and only catch them incidentally while targeting other species. We did catch some big wolffish last season. My feeling is that we could have caught more wolffish last season had they been legal to keep. We were able to get some nice pictures on a couple of occasions before releasing the wolffish back to the ocean alive.
The shark scene was different this year. The porbeagle sharks (mackerel sharks) were there when we started but left the grounds earlier than usual. The blue sharks arrived on the scene two weeks earlier than planned (the first week in July). They bothered us bringing fish up from the bottom as they normally do. And it was the first ultra marathon that they were really a pest and were the difference between landing a cod of 20 pounds or not. But they only really bothered us on the offshore grounds and only in certain areas. It used to be that when you got into the blue sharks they were everywhere. Not last year; in most cases, you could move a little bit further away and get away from them. Strange. And they left us earlier than normal which I thought was different. When they left the porbeagle sharks took their place in the fall. We never did land a porbeagle shark last year. We did have many chances to do so. And, from what I heard, the porbeagle sharks hung around the fishing grounds for weeks after our last trip on November 4.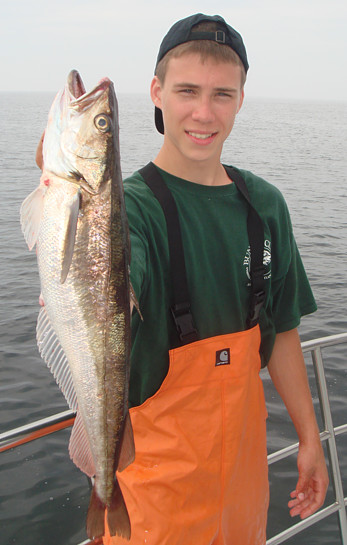 We did not land a single bluefin tuna last season. We might have had two hook-ups or more. The hook-ups I remember were with fish much too large for us to handle with recreational groundfish equipment.

The improvements made the winter before the 2013 season set us up for a more comfortable season. These were items that helped in engine maintenance, cosmetics (which help when cleaning after a day of fishing) and function. These were not things that the regular angler would notice and not worth mentioning here.

Improvements this winter will include all the normal cosmetic work that Ian Keniston and Jared Keniston are so good at. They have made a science out of making the Bunny Clark look beautiful every spring. We are replacing our secondary sounding machine with the new CHIRP (Compressed High Impact Radar Pulse) technology machine. This sounding machine outperforms the best traditional sounding machines at all depths to 10,000 feet. Depths of 400 to 600 feet can be really tough with the traditional machine. And when you increase power to get a better look at the bottom, you lose resolution. With the CHIRP machine, you can get resolution down to a half inch at all depths as opposed to resolution in feet at just over 600 feet with the traditional machine. I'm not going to tell you how it works because I can't explain it to myself. What I do know is that instead of seeing a mass of fish in a school, you can see different individual fish in groups. It also allows you to see the bottom without interference due to water bubbles in the water column regardless of speed. It's an expensive machine but it would be at this junction anyway. This machine was not available at this time last year. Other improvements will include two new AGM batteries to replace the older house batteries that have been in place for too many years now. We will be changing out and reinforcing the deck beams on the port side of the engine room the same as we did on the starboard side two years ago. There will be a few lighting changes. And, of course, we have repairs that we have been waiting to address since we discovered the items during the season. These items including replacing a cracked hydraulic pump bracket, replacing a worn Delron bushing at the rudder shoe, reinforcing the steering wheel, etc., etc. The list to address every fall is seventy-five items long (more or less). Some of the items (like cosmetics) appear on the list every year. Some are new. [Justin Hopkins is shown right in a Captain Ian Keniston digital image holding his 4 pound whiting, the largest whiting we have seen in many years. ]

There were no new improvements on fishing equipment for the beginning of the 2013 fishing season. There was no need. Two of the places I rely on most heavily for our rod and equipment purchases are Surfland Bait & Tackle, Newbury, Massachusetts (Kay Moulton, proprietor) and the Saco Bay Tackle Company in Saco, Maine. Each of these places builds a specific Bunny Clark jig stick to my specifications and offers them to the public. When we need new rods I order appropriately from either place - as I did at the beginning of last season. They are also a great source of groundfish tackle in general. My jigs are almost exclusively purchased from John & Elsa Tenczar at Fish-On Tackle. They can be reached by going to their web site at www.lavjigs.net or by emailing John at johnfishon@comcast.net. We use their 16 ounce Lavjig almost exclusively as we consider it to be the most versatile jig for all depths and conditions. They make an excellent chrome version of that jig which we have great success while fishing in less than forty fathoms of water. We believe the dull Lavjigs work better in the deeper water. And that's not to say his other jigs don't work as well. I am reminded (by John) that he caught a 50 pound cod while using one of his new 10 ounce jigs within sight of the Bunny Clark (on a day when I was captain) in April. Ouch! Please, John, no more!

Our web site at http://www.bunnyclark.com continues to be the location where you can get information about the Bunny Clark operation on a daily basis during the season and off-season. We have a schedule and rates section, a photo section, a world records section and more. Our fishing update section provides anglers with up to date information on the daily catch, fish sizes, daily weather, angler deeds and fishery management information. This Guestletter resides on our web site along with some of my previous Guestletters. Although I canít personally answer all the e-mail that comes in associated with the site, our staff does a great job with this while also answering reservation questions and scheduling fishing dates. We are still not planning to use the e-mail as a direct source of making reservations as the phone serves as a better means to take care of anyone on an equal basis.

This is the second season in which we didn't continue our cod tagging program. This was mostly the result of an inadequate amount of time to spend tagging fish, a reluctance in angler participation and a decrease in cod landings over the last two seasons. There were several trips we could have taken advantage of a tagging program. But, in all of these cases, I was unprepared to do so. And you really need a larger sample of cod to conduct a viable tagging study.

Although we maintain a healthy Maine state trophy program to recognize larger than normal fish, we had no potential world or Maine state records. Justin Hopkins (RI) came close to the whiting world record when he boated his 4 pound whiting during the extreme day trip on June 26th. The All-Tackle IGFA world record for whiting, also called a silver hake, is 4.51 pounds caught by Erik Callahan on the Bunny Clark in August of 1995. The other close call involved Paul Smegal (MA) who landed a 43 pound Maine state trophy white hake on June 20th. The All-Tackle IGFA world record white hake is currently 46.25 pounds and held by John Audet (ME) who caught his fish off the Bunny Clark in October of 1986. You can check out all of our current and past world and state records by accessing the records link at http://www.bunnyclark.com or by going directly to http://www.bunnyclark.com/records.htm.

The Federal recreational fishing regulations will remain the same as they did last season until May 1, 2014 or until the beginning of the 2014 fiscal fishing season. Those regulations include: a nineteen inch minimum size limit on cod with a nine fish bag limit and a seasonal closure for cod possession from November 1st until April 16th, a twenty-one inch minimum size limit on haddock with an unlimited bag limit, a 12 inch minimum size on winter (blackback) flounder, a 19 inch limit on pollock, a 9 inch limit on redfish and a 41 inch limit on halibut. Halibut landings are limited to one halibut per vessel per day federally; state wise we are limited to five halibut per calendar year (Maine only). There is no limit on hake and cusk. It is illegal to keep barndoor skates and wolffish.

As far as upcoming 2014 fishery regulations for the angling public in the Bunny Clark's part of New England, the rules have not come out yet. What I can tell you is that at the end of January 2013, the National Marine Fisheries Service (NMFS) went forth with the New England Fishery Management Council's vote to approve an ABC (acceptable biological catch) value of 1550 metric tons of cod for fishing year 2013 (beginning on May 1, 2013 and ending April 30, 2014). Of that, the recreational portion (called the sub-ACL) was 486 metric tons or about 38%. Preliminary figures are showing that the recreational angler caught 706 metric tons or 145% of the recreational sub-ACL. Even worse, the preliminary figures for haddock show that 246% of the recreational haddock sub-ACL was also caught. The recreational angler was given a total of 74 metric tons of haddock for the season. The NMFS is saying that the recreational angler caught 256 metric tons of haddock during fiscal 2013. Tables pertaining to the findings were put out by the NMFS showing the landings per vessel type on a per month basis. Those figures, even by their own standard of precision, are inaccurate and show that many more fish were landed than common sense would tell you actually were landed. The first meeting to discuss this will take place on February 19, 2014 at the Recreational Advisory Panel meeting. From there it will go to the full Councl meeting on February 25, 2014. Based on how the Council votes, NMFS will come out with a ruling before May 1, 2014. And, at this rate, it might come out just before May 1. I am optimistic that we can make something work for this season. And, remember, the same regulations we had last year will apply until May 1, 2014.

As I feel that the greatest achievement in angling is the ability of a person to hook and land a trophy fish on their own, I have listed the guests who caught the top five largest of each significant species during the 2013 fishing season. Keep in mind that all the represented weights of these fish were taken aboard the Bunny Clark using a registered scale shortly after capture (the same way it has been done since our first fishing trip on the Bunny Clark in May 1983). I feel that this is the fairest comparison between the anglerís fish since weight loss is proportional to the amount of time the fish is out of water. This also makes all our big fish comparable through all the seasons since the Bunny Clark was launched.
| | | | |
| --- | --- | --- | --- |
| NAME (STATE) | FISH - lbs. | LENGTH X GIRTH (inches) | DATE CAUGHT |
| | | | |
| --- | --- | --- | --- |
| Pat Sweenor (NY) | Horsepipe Clay 7 | | 09-16-13 |
| | | | |
| --- | --- | --- | --- |
| Marco Forte (ITA) | Cod 18.5 | | 10-02-13 |
| | | | |
| --- | --- | --- | --- |
| Arnie Ulrich (NJ) | Monkfish 14 | | 05-04-13 |
| | | | |
| --- | --- | --- | --- |
| Stuffy House (NY) | Barndoor Skate 18 | | 09-16-13 |
| | | | |
| --- | --- | --- | --- |
| Justin Hopkins (RI) | Whiting 4 | | 06-26-13 |
| | | | |
| --- | --- | --- | --- |
| Don Johnson (MA) | Redfish 3.0 | 18.25 X 14 | 07-16-13 |