Dear Guests: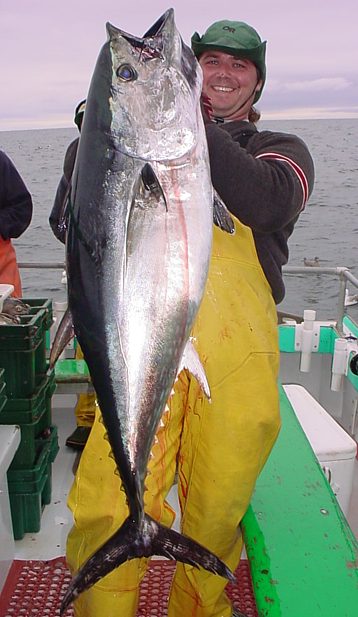 Welcome back to another heralding of the New Year and our twenty-fifth primer to the 2008 fishing season ahead. If someone had asked me twenty-five years ago if I were going to be running the Bunny Clark for this long, my reply would have been; "Hell, yes!" However, I probably would have assumed that the fishing would have been fairly similar and, indeed, a lot has changed in that amount of time.
[The image on the left is a shot of Dan Kelley (ME), the Bunny Clark's runner up in the 2007 Bunny Clark's Fisherman of the Year award. He is holding his 81 pound bluefin tuna caught with conventional - actually, nothing is conventional with Dan - cod fishing gear on the last stop of the October 24, 2007 marathon trip. This was the second largest fish of the 2007 Bunny Clark fishing season. It was the largest tuna, of four, that were caught on the boat in 2007.]
No discussion of the 2007 fishing season would be complete without a mention of last year's weather. As most of you can remember, April weather was horrible after a somewhat normal, if not a calmer, March. Our first trip in April was flat calm. It was so calm, in fact, there wasn't enough drift to catch the fish that were showing up on the sounding machine. We ended up with a fair catch, Tom Miller (NH) winning the boat pool with a 12 pound cod. It was all down hill after that. In the next eighteen days of April, we canceled twelve days (trips) including the now infamous Patriots Day Storm. The Patriots Day Storm started during the afternoon of Sunday, April 15th and continued with northeast winds in excess of forty knots (during the height of the storm) until the afternoon of April 19th. This storm brought a lot of rain and coincided with an astronomically higher than normal tide. That much wind pushing the water toward the shore at that particular time with all that rain and very high tides caused a lot of flooding damage. Barnacle Billy's restaurant, near where the Bunny Clark resides had water in the building a foot above the dining room floor from the rising tide alone. Large floor plugs had to be pulled in the floor and all the windows had to be opened to allow the water in and out so as not to carry the building away. The second and third worst Aprils occurred in 1996 and 1987 when we lost nine days/trips to weather related events in each year.
The rest of April and May, noted as rainy months, were about normal. We had a slightly dryer than normal June with normal winds. July was very nice and warm with calm weather throughout. It would have been considered normal except for the greater number of thunder storms. One storm in particular on July 9th took a tree down (at 3:00 PM EDT) at the head of the Cove and eliminated electrical power in Perkins Cove, closing down all the businesses there for the rest of the day and canceling our evening trip as well. August went down as the calmest August we have seen since the 1983. And I don't think I have ever seen a calmer, warmer and dryer combination of September, October and November in my life. It was unnatural, it seemed so nice. We only had strong winds from the after effects of one hurricane (Noel - on November 3rd and 4th) and, other than that, never missed a day of fishing since June 4th (that due to a one day brush from the very fringe of Tropical Storm Barry). There were fewer hurricanes formed in the Atlantic than many other years. It was an excellent advertising summer and fall.
The fishing was very similar to last season for total pounds and numbers of fish we could keep. The numbers of sub-legal cod were higher by a larger margin than the previous two years. The numbers of legal cod landed were down to the lowest level we have ever seen (only 3.1 percent of the total gross landings from the seasons 1996 through 2007, or more than half a percent less (1,051 cod less) as compared to the previous season's percentage - the best year being 1996 with 13 percent of the gross total). However, the numbers of haddock landed were our highest since 2001 and very similar to the previous six seasons. Considering the fact that we don't target haddock, the numbers show a much healthier haddock population. Numbers of pollock were way above the last few seasons. Many more trips last season would have taken big numbers of pollock had maximum landings been our goal. On a given trip, we took what was needed and moved on to target other species. In some cases this took less than an hour. We had a normal year for monkfish, caught slightly more wolffish than we did in 2006, caught five halibut with our first two keepers in years (and lost three others that we know were halibut) - double the norm, caught the normal number of cusk and didn't see as many mackerel as in previous years. We got a boost in the white hake population around the northern area of our fishing grounds, most associated with the open bottom, an unusual phenomenon as compared to the last ten years (not so thirty years ago when hake "areas" were established). The hake could be coming back.
The herring situation improved this year. Mid-water trawlers were banned from Area 1A (basically the area from Provincetown, Massachusetts to Eastport, Maine from shore out to fifty miles - including Jeffrey's Ledge) from June until October and the positive results were immediate. We saw more marine life on the surface than we have seen in years. Many more whales were observed on a regular basis enhancing the quality of our fishing experience. However, we also saw bait fish schools on the surface, many more tuna, an incredible display of bird life (particularly the fulmar) and groundfish located by the presence of herring schools showing up on the sounding machine. I sincerely hope that in the herring industry, the move will be to eliminate the mid-water trawler completely in favor of the much more environmentally friendly purse seiner.
Although we saw many bluefin tuna schools throughout the season, mostly of the small variety, it wasn't until August that we hooked a few. It wasn't until late September that we landed one. In all, we boated four bluefins (See the following trophy list.). The last two bluefins were caught on October 25, 2007, the latest in the season (by a month) that I have ever seen bluefins caught off the coast of Maine.
Blue sharks were not as prevalent as they have been in previous years. They bother us particularly on the offshore grounds in September. We might have lost ten jigs on one occasion and had two other equally bad days on other trips. Considering that we lost sixty-seven jigs to them on our worst trip in the past, this year's "attacks" were barely notable.
Our first good (if there is such a thing) run of dogfish occurred on the June 17th day trip with over seventy-five hooked. From then on, we saw the most dogfish we have seen in many seasons. I would like to say that we saw more of these unwanted critters than any other season but I do not have the means to qualify that statement.
Our best months for fish this year were May, August, September, October and November. I wasn't surprised that September, October and November were good months. We depend on these months for bigger fish and our best fishing. We weren't disappointed. I was very surprised that May was as good as it was. In the last twenty-five years, it ties as the best May that we have seen on the Bunny Clark. We caught most of our big cod then and our pollock showed up in May, our first pollock blitz occurring on May 15th. This also coincided with the time of our most abundant herring schools. When the herring left, it seemed that all the good cod moved with them. We continued to catch pollock after that but, initially, not as many. June was only above normal in one aspect; we saw a "school" of halibut and ended up hooking two at the same time and maybe a third. Watching these fish chase the jigs up and down via the sounding machine was certainly a treat for me. July gave us normal fishing; some days were very good and others were not. August wasn't a stand out but it is usually our slowest month (as is May) and that wasn't so last year. April was a wash (normally our best haddock month) because of the weather.
Improvements introduced last year, I am pleased to say, all worked as well as planned. Maybe better than planned. We included the new Penn Baja Special (113HN) reels with some of our jig sticks along with the Nixon Machine modified Penn 113H jig stick reels. Like the Nixonized Penn reels, the Bajas stayed on the jig sticks instead of being taken off, brought home, washed, taken apart and dried (as was the case during the 2006 season when we first introduced them). At the end of the year we only had one that went down for repairs! When Ian Keniston and Jared Keniston pulled them apart last fall, they found the reels totally sound with the only parts needing replacement being the dogs, eccentric springs and some side plate screws. This is a simple repair with parts that cost pennies. So not only does Penn produce a wonderful reel that doesn't need to be modified to be a wonderful jig stick reel, the reel doesn't need any special requirement to remain sound. Plus, they are one of the best casting reels and one of the most comfortable reels to fish with on the market.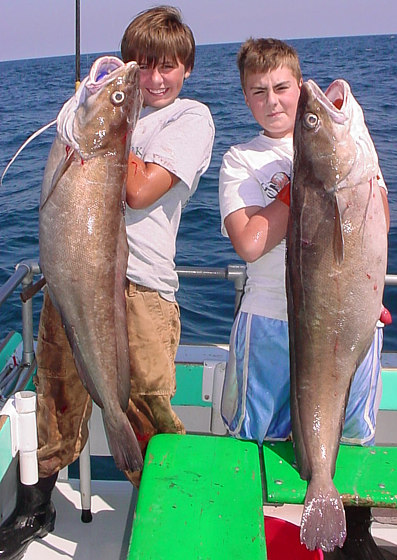 [The shot on the lower right show thirteen-year-old Micah Tower (ME) holding his 23 lb. white hake (left) with thirteen year old Ryan Keniston (ME) holding his 32 lb. white hake. Both fish were caught at the same time on the same trip in August. ]
The Lavjig became the Bunny Clark's standard lure for jig fishing. We provided these jigs to anyone who wanted them. All my big guns used them on a regular basis and had better success. They were the jig of choice last season (We provide three quality brand jigs). They come in four different sizes but the sixteen ounce jigs worked the best. They are available as a lead colored jig or as a shiny jig, each kind having the preferred time of use. They are also an easy jig to buy yourself by emailing lavjigs@yahoo.com.
We added the Extreme Day trips last season for the first time replacing twenty-six of our Full Day trips. These trips leave the dock at the same time as our day trips but they are two hours longer and we take a third less anglers, opening the boat up and allowing more fishing room. They became our most popular trip of the year.
We are also going away from the 80 pound test Izorline Spectra line used on the jig sticks and replacing it with Cortland's 65 pound test Master Braid. This is another Spectra line as thin as the Izorline 65 pound test but with more of a weave making it a rounder line (for better casting, thumbing and less twisting), improving durability and handling. The Cortland Company has also found a way to bond different colors into the line allowing the line to be more visible without fading over time. We will have this line available in three colors including high visibility yellow, aqua marine (light) green and white. This will help you see the line better and help distinguish your line from the lines of other anglers. If this weren't enough, Cortland has added a unique hydrophobic coating to the line which will make it run through the guides better (further casts), allow it to cut the water better than other Spectra lines and will come back to the reel dry without feeling like wire. We have tried it and think this line will improve fishing quality and be more sensitive for fishing in current conditions.
Our website at http://www.bunnyclark.com continues to be the location where you can get information about the Bunny Clark operation on a daily basis during the season and off-season. We have a schedule and rates section, a photo section, a world records section and more. Our fishing update section provides anglers with up to date information on the daily catch, fish sizes, daily weather, angler deeds and fishery management information. This guestletter resides on this web site along with some of my previous guestletters. Although I can't personally answer all the e-mail that comes in associated with the site, our staff does a great job with this while also answering reservation questions and scheduling fishing dates. We are still not planning to use the e-mail as a direct source of making reservations as the phone serves as a better means to take care of anyone on an equal basis. Also, unless you specifically ask for a hard copy (see the attached coupon), this guestletter will only be available via my web page. From there, you can download it to hard copy. If you sent in a coupon last year, you will not be required to send another this year in order to receive your guestletter through the U. S. Postal Service.
We did not tag and release any groundfish last season. Instead, we released a lot of cod without allowing them as much time out of water as in previous years. I've always encouraged the release of legal sized fish, particularly cod of 20 pounds or better as they are the better breeders. This is an unselfish act on the part of the fare paying angler and something that doesn't get as much attention as it should. To promote the release of big fish, we provide a unique Tag & Release (Tag Team) t-shirt that is given free to the angler who releases (tagged or not) alive a cod over 30 pounds. We stopped this practice of giving away shirts during November when the federally imposed no cod possession limit went into effect.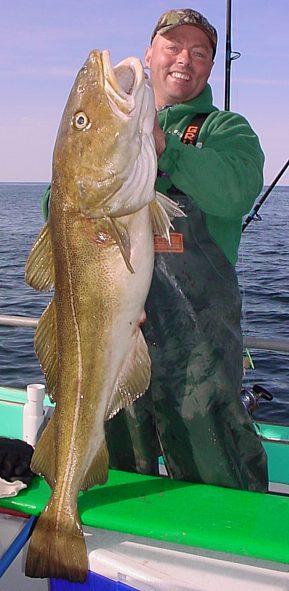 [The shot on the left was taken on the marathon trip of April 25, 2007. The happy angler is Mark LaRocca (NY) holding his 38.5 pound Maine state trophy cod. This was the second largest cod released off the Bunny Clark during the cod possession season (Apr. 1 to Nov. 1). It is also the largest cod that Mark has ever caught. Right after this one picture was taken the cod was released and we all witnessed it swim like a shot straight down, actually tracking it's decent to bottom via the sounding machine.]
Among my regular anglers, there are many who release legal fish (mostly cod) back to the ocean alive on a regular basis. Ron Roy (NH), Marian "Merv" & Brian Murphy (NH), Tim Williams (CT), Dan Kelley (ME), Dave Gray (VT), Gardner Murphy (NH), Rebecca Hammer (NH), Dick Lyle (ME), Sean Devich (NH), Norm Herrick (MA), Robert Herrick (MA), Don Johnson (MA) and Dave MacDonald (MA) released the most legal cod consistently last season.
The anglers who released the ten largest cod back to the ocean alive appear as follows. Fred Kunz (NH) released a 49 pound cod and Travis Dressel (ME) released a 41 pound cod, the two largest released fish of the season. Dick Lyle released the fourteenth largest cod at 26 pounds. However, these three fish were caught in November when it was illegal to keep them anyway. The following anglers released big cod during the cod possession season. Ron Roy released the largest at 41 pounds and the fifth largest at 32 pounds. He also released cod of 19, 19.5, 15, 12 pounds and many others to keeper size. Mark LaRocca (NY) released the second largest fish, a cod of 38.5 pounds. Tim Tower, the great guy that he is (I'm being facetious), released a 38 pound cod and a 29 pound cod, the third and seventh largest of the season. Dan Kelley released a 33 pound cod (the fourth largest) and a 22 pound cod plus many in the teens and below. Merv Murphy released the sixth largest cod at 31 pounds. Tim Williams released a 28 pound cod and a 25 pound cod, the eighth and twelfth largest fish to be released during the regular season. Willy Vollmerding (NH) released a 27.25 pound cod, the ninth largest. Carl Vanderwood (NY) released the tenth largest cod weighing 26 pounds. Tim "T" Williams, Jr. (CT) released the eleventh largest cod (caught later than Carl's) at the same size, 26 pounds. All of the top twelve cod released during the cod possession season qualified for trophy status (25 pounds or greater) in the state of Maine as did the other three caught in November.
Tim Williams (CT) would have released one of the largest cod of the season at 33 pounds. However, it was double tagged by a group associated with the Northeast Regional Cod Tagging Program out of Portland, Maine and we felt that the information this fish yielded (dead) was more important than it swimming off alive. There were also two other tagged fish caught that day including a green NRCTP tag on a haddock caught by John Fisher (NY). This is the first tagged haddock we have ever caught on the Bunny Clark and is worth up to $500.00 if returned. John did return the tag but I didn't get notice on his financial outcome. I believe there was only one other tagged fish caught last season, a new low since the NRCTP program was first started a few years ago. You can find out more information on this program by going to http://codresearch.org/ on the Internet.
We got very near a new white hake all tackle world record with Dan Kelley's 46 pound hake (see trophy list and following discussion) caught in November. However, we did break the male Junior Angler (males of 16 years or younger) Maine state record for white hake.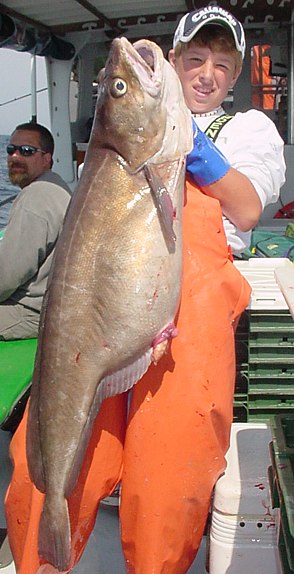 The previous record was held by (then) ten year old angler Ryan Keniston (ME - note the more recent picture of Ryan just before the preceding picture in this monolog) with a 26 pound 13.7 ounce white hake caught aboard the Bunny Clark on August 19, 2004. The new Maine State Junior Angler record is now held by thirteen year old Alec Levine (ME) with a white hake of 35.2 pounds caught on July 4, 2007 (a picture of Alec with his state record hake taken by Captain Ian appears on the right). When it first came out of the water, this fish was unofficially weighed at 36 pounds even. Less than an hour later on that same trip, Alec also caught a white hake of 32.5 pounds. Had he not caught the larger hake earlier, this also would have qualified him for the new Maine state record. These two fish were both Maine state trophy fish for size (of course) and were the two largest fish caught on the boat (Captained by Ian Keniston) that trip. The third largest fish caught on that trip was a 25 pound Maine state trophy white hake caught by Mark Tittemore (VT).
You can check out all of our current and past world and state records by accessing the records link at http://www.bunnyclark.com or by going directly to http://www.bunnyclark.com/records.htm.
When President George W. Bush signed into law the Magnuson-Stevens Reauthorization Act of 2006 on January 12, 2007, none of us realized how much different the new Act would be and how far reaching it's implications. We are just coming to grips with it right now. The Act was designed, basically, to end overfishing and rebuild fish stocks to manageable levels. To do this, the Act asks the Regional Councils (ours is the New England Fishery Management Council referred to as the Council here) to set Annual Catch Limits (ACLs) and to adopt Accountability Measures (AMs). This presumably will be done by sectors. Our sector (the recreational sector) includes the recreational angler in general and the party/charter industry. To the best of our Council's knowledge, the recreational sector is responsible for 21 to 22 percent of the cod catch (the stock of most concern right now) and it is reasonable to assume that this sector will become responsible for that percentage in the future (the question of future allocation is one of great debate right now). In order to stay within the bounds of this limit or Total Allowable Catch (TAC), the Council is adopting management tools. They almost have to do this because it has got to be impossible to know when the TAC has been reached - and it's more important, this time around, not to exceed the limit. The tools they have adopted include the ability to adjust the fishing season, the fish length limit and the bag limit.
Along with this, the new Magnuson-Stevens Act mandates improving the heavily flawed Marine Recreational Fishery Statistics Survey (MRFSS) - the Council doesn't trust the figures coming out of the present day MRFSS. The Act also mandates a "new angler registry". Whether this takes the form of a national saltwater fishing license or some kind of accountability measure is anyone's guess. However, I think you can see the writing on the wall.
This whole mess will be driven by the third Groundfish Assessment Review Meeting (referred to as GARM III - the present state of the stocks) due out in August 2008. If the results of the GARM are as onerous as one could expect with respect to the cod stocks, the wheels of government progress won't be able to come out with new regulations supporting this assessment until 2009. So, from our standpoint, the 2008 fishing season will embrace the same regulations we had last season: A cod season from April 1 to November 1 (you can catch cod after November but you can't keep them), a minimum size limit on cod of 24 inches and a ten cod bag limit. There is no bag limit on any other groundfish species except halibut at one fish per boat per day. All the size limits that have been in place on the other groundfish species for the last few years with remain the same for 2008.
Regardless of what regulations are implemented in the future. My fervent hope is that the goal of decreasing overfishing on the cod stocks can be attained, that the fish stocks in general don't decrease any more than they have already and that we can maintain a viable recreational fishing industry that serves the public well and affords a platform for all the citizens of the United States.
As I feel that the greatest achievement in angling is the ability of a person to hook and land a trophy fish on their own, I have listed the guests who caught the five to seven largest of each significant species during the 2007 fishing season. Keep in mind that all the represented weights of these fish were taken aboard the Bunny Clark using a registered scale shortly after capture. I feel that this is the fairest comparison between the angler's fish since weight loss is proportional to the amount of time the fish is out of water.
| | | | |
| --- | --- | --- | --- |
| NAME (STATE) | FISH/WEIGHT - in pounds | LENGTH X GIRTH - in inches | DATE CAUGHT |
| | | | |
| --- | --- | --- | --- |
| Dan Kelley (ME) | Bluefin Tuna 81 | 50.5 (length) | 10-24-07 |