Dear Guests: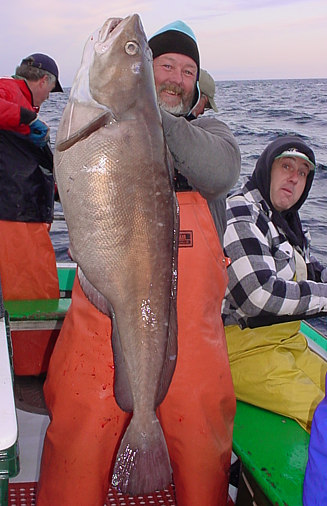 When I start to write this letter at the end of the fishing season, a lot of research is completed where I read over all that I have written and, in so doing; relive all the year's Bunny Clark experiences. One part of me rejoices in another wonderful season completed while the other part of me regrets another season gone by. So here I go again, writing about last year's experiences and this coming season's expectations. Welcome back to another Bunny Clark Guestletter, our twenty-sixth!

[The image on the left is a shot of Tim Williams (CT), the Bunny Clark's runner up in the 2008 Bunny Clark's Fisherman of the Year award. He is holding his 38 pound Maine state trophy white hake. Caught on the October 6, 2008 marathon trip, this was the largest fish of the trip and, Tim, it's pool winner for the largest fish that day. This was Tim's biggest fish of the 2008 fishing year and a tie for the sixteenth largest hake of the 2008 Bunny Clark fishing season. ]

No discussion of last season would be complete without mentioning the world's oil situation and how it altered our business. New records for fuel prices in the United States were being broken before our season started on April 1st. By April 19, we were paying $4/gal. for fuel oil, the highest, by far, we had ever paid. I had already raised the price of a fare for our two longest trips but the extra price of fuel meant a continued decrease in profits. I held out as long as I could until May 16th, when I implemented our first fuel surcharge. Surcharges continued on a daily basis. Mid July saw fuel prices go to $4.62/gal., another new record. That was the highest it went. August saw fuel prices decrease but never to the point where we could eliminate the fuel surcharge - until the season was over. In all, we paid $35, 000.00 more for fuel in 2008 than we did during the 2007 fishing season. Fuel surcharges compensated for all but $7, 000.00 of that increase. This coming season we are not going to raise the price of a fare. We will hope that fuel prices stay down as they are now and use the fuel surcharge again if necessary.

We had one of our better weather seasons last year. Aside from the first few days of April, April and May were calm. The fishing was very good and those anglers who booked at that time had comfortable fishing to enjoy it. Rainfall was below normal for April and May. The summer saw more rain than normal with thunderstorm activity higher, on average, than normal from mid July to mid August. The last three months of the season were calmer than normal, including November. We had no major ocean storms last season.

Landings were up over last year with increases in the number and size of haddock, cod, pollock and white hake. Haddock were found everywhere as were the pollock. The pollock were so thick at times; it prevented us from boating other species. Cod landings were up around fifteen percent over last year, not quite as good as in 2005 but better than both the 2006 and the 2007 fishing seasons. The average size was up as well. We found more white hake on the open bottom this season than any previous season making them more attainable on the drift and, thus, more relaxing and fun to catch.

We saw no halibut landed last season, although we did hook a couple that were lost. The redfish catch was about average with some larger than normal redfish caught. Wolffish were down to the lowest level we have ever seen, half of what was landed in 2007 and 2006 which were our worst wolffish years ever. We hooked a larger than normal number of bluefin tuna but boated only one. They were larger in size last season as compared to the season before and the equipment was just a bit under sized to handle them effectively. In general, we caught more pounds of legal groundfish than the 2007, 2006, and 2005 fishing seasons, falling a little short of the 2004 fishing season. And, we had this increase while taking many fewer passengers. The decrease in passenger count coming as an almost direct result of adding many more extreme day trips (with ten fewer anglers by definition per trip) and, thus, eliminating a half day trip on the same day in the process. It was also one of our best years for customer satisfaction in many years - a very good year indeed!




Our bait fish and predator index was down this year, most dramatic being the big decrease in the numbers of dogfish caught as compared to the 2007 season. After the 2007 season was over I figured that, with more dogfish in 2008, we would hardly be able catch good groundfish. Thankfully, I was wrong. Blue sharks bothered us for a very small window of time in September. Herring, although prevalent enough in the early season, were more scarce than normal for the second half. This probably helped in decreasing the cod catch through the summer and fall just as it helped increase the cod catch in the first half of the year. Mid water trawling for herring remains the most destructive and dirty (with it's huge by-catch of groundfish) commercial fishery in the Atlantic ocean today. Why this fishery with no history in New England waters still exists in the face of the much cleaner and conservative herring seine fishery is beyond all sense of reason. Let's get smart, provide herring for everyone and make the commercial fishing for herring by seine only, please!

Improvements for the 2008 fishing season centered on the previously mentioned increase in our newest specialty trip, the extreme day. We added more of these trips in the spring and fall and included Monday's during the summer as an extreme day too. We received more compliments on these trips than any other, particularly during the warmer months. Other improvements included adding Cortland's "Hi Vis" Master Braid 65 pound test Spectra lines to our jig sticks (Our only tuna was landed using this line.). We also dropped the pound test from 80 to 65 on the Izorline braided Spectra lines, used with our jig sticks. Having lighter Spectra lines afforded longer casts and better water cutting ability in high current situations and deeper water. That combined with a line that has zero stretch virtually eliminates adjusting the stroke (while jigging) for different depths and situations. We also added more of the Penn Baja Special (113HN) reels to our jig sticks. This reel, the nicest reel that you can buy off the shelf for cod fishing, has been discontinued by Penn Reel Company. However, we are still rebuilding them in house and continue to be able to buy them. Our back-up jig stick reel was the Penn 113H modified by Nixon Machine, also a wonderful reel and very close in function to the Bajas. We are still using the McLaughlin and Merv series jig sticks made for us by Saco Bay Tackle Company, Saco, Maine as well as the Surfland jig sticks made for us by Surfland Bait & Tackle, Newbury, Massachusetts. After twenty years designing quality jig sticks, I haven't been able to find a better jig stick than these.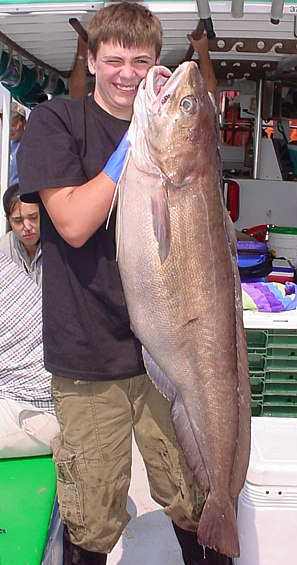 [The shot on the lower right shows fourteen-year-old Micah Tower (ME) holding his 34 lb. Maine state trophy white hake. This is the largest fish that Micah has ever caught and it was the second largest fish of that trip, the full day trip, on July 1, 2008. ]
Improvements for this years fishing experience will be focused mostly on the Bunny Clark herself. We are stripping the first three layers of fiberglass off the hull and replacing it with new glass layers using a new type of (state of the art) fire retardant resin, not available when I had the hull laid up originally. This along with a new type of water proof barrier coat and a new "paint job" will give the old girl a fresh new look. There will be other changes made to the hull and engine room area to improve safety and use by us during the regular routine of running the boat. Anything that makes boat handling less of a worry allows us to concentrate more on the fishing. Except for experimenting with a new type of monofilament for the boat rods, the fishing equipment will remain pretty much the same. " Our trips and schedule will also remain very similar to what we provided last season. And last, but not least, we will also be providing the most successful jig we have used on the Bunny Clark again this year, the Lavjig (to purchase these jigs yourself you can email: lavjigs@yahoo.com). My choice is the 16 ounce Lavjig (plated or un-plated) but all models have been very successful.
Our website at http://www.bunnyclark.com continues to be the location where you can get information about the Bunny Clark operation on a daily basis during the season and off-season. We have a schedule and rates section, a photo section, a world records section and more. Our fishing update section provides anglers with up to date information on the daily catch, fish sizes, daily weather, angler deeds and fishery management information. This Guestletter resides on our web site along with some of my previous Guestletters. Although I can't personally answer all the e-mail that comes in associated with the site, our staff does a great job with this while also answering reservation questions and scheduling fishing dates. We are still not planning to use the e-mail as a direct source of making reservations as the phone serves as a better means to take care of anyone on an equal basis. Also, unless you specifically ask for a hard copy (by writing us or calling using the information at the heading in this newsletter) this Guestletter will only be available via my web page. From there, you can download it to hard copy. If you sent in a coupon last year (or in previous years), you will not be required to send another this year in order to receive your Guestletter through the U. S. Postal Service.
We ramped up our tagging program last season. Ninety-seven legal cod were tagged and released alive last season by anglers aboard the Bunny Clark. The largest was a 32 pound Maine state trophy cod caught by Dan Kelley (ME) in late April. Dan also tagged the most legal cod with an actual count of thirty-five. Some of the other larger cod of his that were tagged included a 26.5 pounder, a 20.25 pounder, two cod of 20.5 pounds each and a 20 pounder. Tim Williams came in second with twenty-two cod tagged. His best ones included cod of 20.5 pounds, 25 pounds, 24 pounds and 21 pounds. Dave Gray (VT) and Dick Lyle (ME) tied for third with six tagged cod each. Dave's two largest tagged cod included one of 19.5 pounds and another of 23 pounds. Dick's largest fish was a cod of 13 pounds. Other anglers who tagged & released good fish included Bob Nixon (NH) with a 21 pounder, Dave MacDonald (MA) with one 19.5 pounds, Steve Selmer (NH) with one weighing 24.5 pounds and fourteen year old Alec Levine (ME) with a cod of 14 pounds.
We only got one tag return last season and it was from a cod that was tagged June 5, 2008 by Dick Lyle (ME) well to the northeast of the northern end of Jeffrey's Ledge. This cod was caught commercially by Captain Jim Ford, an excellent fisherman (by the way), aboard the F/V Lisa Ann II, thirty-two miles straight line distance south on the southern end of Jeffrey's Ledge in thirty-eight fathoms of water on October 12, 2008. This fish was twenty-seven inches when tagged and thirty inches when it was caught again over four months later.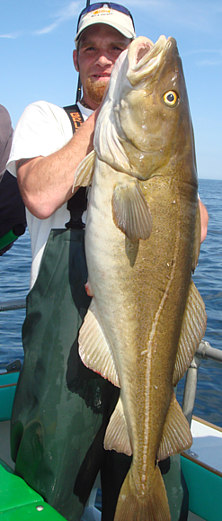 [The shot on the left was taken by Captain Ian Keniston on the full day trip of June 14, 2008. The angler is Jay O'Connor (ME) holding his 38.5 pound Maine state trophy cod. This was the largest cod that was caught and released alive during the 2008 cod possession season on the Bunny Clark. A quick weigh-in, a quick picture (one) and the fish was dropped over the side where it swam quickly to bottom.]
We also had many anglers who released cod alive (without tags) on a regular basis with a total figure close to five hundred individual legal fish. The largest released cod weighed 38.5 pounds, a Maine state trophy, and was caught by Jay "Sanford" O'Connor (ME) in the spring. This remains the largest cod that Jay has ever caught. And, with his luck, he may catch that same one again - only a little bit larger this time! The second largest released cod was a 24.5 pounder caught by Dennis Reissig (NY). Rich Lusis (MI) came in third with a cod that weighed over 20 pounds. Incidentally, Steve Levine (ME) tried to release his 46 pound Maine state trophy cod when he caught it on July 1, 2008. However, it floated around for twenty minutes until, finally, we retrieved it as it had died.
To promote the release of big fish, we provide a unique Tag & Release t-shirt that is given free to the angler who releases (tagged or not) alive a cod over 30 pounds. We stopped this practice of giving away shirts during November when the Federally imposed no cod possession limit went into effect.
As most party boats have anglers who fish on a regular basis, so does the Bunny Clark. The Bunny Clark could quite possibly carry the best regular anglers in New England. At least, I think so and my crew would concur. Of these wonderful individuals, some go the extra distance to release legal cod on a regular basis. This noble act should be rewarded so, below, is a list of those unselfish Bunny Clark regulars including: Tim Williams, Dan Kelley (who probably released the most legal cod tagged or not back to the ocean alive), Dick Lyle, Dave Gray, Bob Nixon, Chip Chiapponi (CT), Dave MacDonald, Steve Selmer, Rich Lusis, Marian & Brian Murphy (NH), Gardner Murphy (NH), Rebecca Hammer (NH), Frank Noble (ME), Jay O'Connor, Sean Devich (NH), Eric Pysar (NY), Steve & Alec Levine (ME), Norm, LuAnn & Robert Herrick (MA), Don Somers (ME), Don Johnson (MA), Fred Kunz (NH), Shawn Rosenberger (PA) and Steve LaPlante (CT). If there are others I have forgotten, I humbly apologize.
The male Maine State Junior Angler (males of 16 years or younger) record for white hake was broken on July 4, 2007 aboard the Bunny Clark by thirteen year old Alec Levine (ME) with a fish of 35.2 pounds. This after ten year old angler Ryan Keniston (ME) had secured this record with a 26 pound 13.7 ounce white hake caught aboard the Bunny Clark on August 19, 2004. Last season, on June 17, 2008, the Maine State Junior Angler record was almost broken again when twelve year old Reece Dinofsky (FL) boated a 36 pound Maine state trophy white hake. The problem was that it was too close to the existing record when it was boated. The fish would have lost just enough weight to put it under had we gone through the motions of icing the fish, making the trek to get back and bringing it to a registered scale ashore. However, as fate would have it, Reece got a second chance a little more than a week later when, on June 26, 2008, he boated a 41.5 pound Maine state trophy white hake. On a registered scale ashore (at the local USPS), this fish weighed out at 40 pounds 6.6 ounces. The Maine State Saltwater Records Committee doesn't meet until January 2009 so this is still a potential state record. Barring any unforeseen problems, Reece should have the new male Maine State Junior Angler white hake record. We wish Reece a lot of luck in this endeavor and in all his future fishing adventures.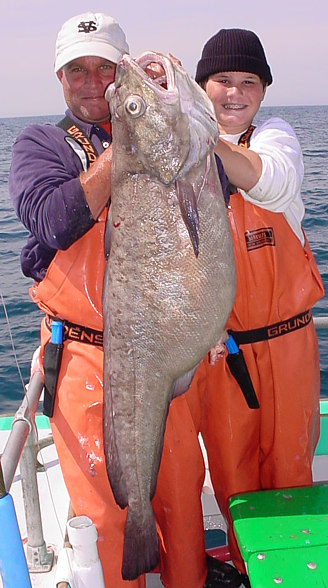 As an aside, Reece's father, Adam Dinofsky, fished as a boy on the Bunny Clark; his mother taking him on many a fishing trip. It was because of his previous trips and fond memories, he told me, that he chose to bring Reece aboard the Bunny Clark. I'm sure glad he did!
Note: Almost a month after Reece boated his potential (male) Maine State Junior Angler record (on July 21, 2008), fourteen year old Alec Levine, the current record holder (until officially beaten), boated another Maine state trophy white hake of 39 pounds. This would have broken his previous state record by at least 3 pounds but it was shy of besting Reece's bigger one. Just a month too late! It's great fun watching these kids, let me tell you.
[The digital image on the right shows Adam Dinofsky (left) and Reece holding Reece's potential Maine State Junior Angler white hake record an hour after it was boated on June 26, 2008.]
You can check out all of our current and past world and state records by accessing the records link at http://www.bunnyclark.com or by going directly to http://www.bunnyclark.com/records.htm.
At the time of this writing, new recreational fishing regulations for the 2009 fishing season (the fiscal calendar year starts May 1st) had not come out. As they exist right now (or until April 31st), we have a 24 inch length limit on cod, a 19 inch limit on pollock, a 19 inch limit on haddock, an 11 inch limit on redfish and a 38 inch limit on halibut. There is no limit on wolffish, hake and cusk. There is also a ten fish bag limit on cod and a seasonal closure for cod possession from November 1st to March 31st. The National Marine Fisheries Service (NMFS) is coming forth with an interim measure that is supposed to further restrict the retention of cod but these new regulations haven't been available to the public yet. My own feeling is that these will be measures that will only affect us during times where high grading or big landings of cod could be a concern. At any rate, I don't think these regulations will be so onerous that it will keep us from fishing as we have for the last two years. We'll see.
[A month after I wrote the above paragraph, the new interim Federal fishery regulations for 2009 were published (January 14, 2009). However, the Guestletters (in hard copy) had already been printed at that time. As I predicted, the new regulations weren't too bad. Starting May 1, 2009, the minimum possession size limit on haddock will drop from 19 inches to 18 inches. Starting on November 1, 2009, there will be a no cod possession season that will extend until April 15, 2010, or fifteen days later than the previous season. Recreational vessels like the Bunny Clark will still be able to sail and fish on those first fifteen days of April but they won't be able to keep cod. The cod will have to be released alive.]
As I feel that the greatest achievement in angling is the ability of a person to hook and land a trophy fish on their own, I have listed the guests who caught the five to seven largest of each significant species during the 2008 fishing season. Keep in mind that all the represented weights of these fish were taken aboard the Bunny Clark using a registered scale shortly after capture. I feel that this is the fairest comparison between the angler's fish since weight loss is proportional to the amount of time the fish is out of water.
| | | | |
| --- | --- | --- | --- |
| NAME (STATE) | FISH/WEIGHT - in pounds | LENGTH X GIRTH - in inches | DATE CAUGHT |
| | | | |
| --- | --- | --- | --- |
| Dave Henderson (MA) | Bluefin Tuna 158.5 | 68.5 X 44 | 9-5-08 |
[The picture on the right shows Dave Henderson (MA), left, holding his 158.5 pound bluefin tuna along with Captain Ian Keniston (middle in white oilskins) and Matt Hausmann (NY).]
| | | | |
| --- | --- | --- | --- |
| Dan Kelley (ME) | Redfish 3.0 | 17.5 X 13 | 10-27-08 |