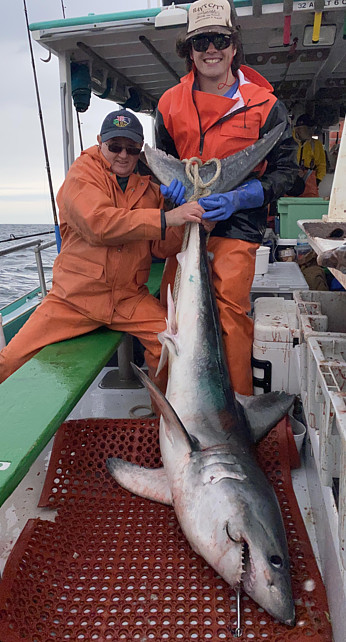 The F/V Bunny Clark (edited May 16, 2014)


Map, Directions & Location (Edited Feb 1, 2007)


Captains & Crew (Revised Feb 1, 2007)


2021 Season Reservations, Rules & Info. (Revised Jan 16, 2021)


2021 Season Schedule & Rates (Revised Jan 16, 2021)



Bunny Clark Guestletters (New Guestletter added Feb. 17, 2021)



"Tim Reidsema, Lee Dykas, Jason Ridolfi & Dennis Pietro" Photo Gallery (May 20, 2006)


Short Bunny Clark Fishing Videos(New Mar 6, 1997)


2010 Moon Phases (Revised Jan 30, 2010)


The Best Charter Boat in the World!


The New England Herring Problem (Who is taking our baitfish?)


Federal, State & Private Fishery Regs & Links


Favorite Bunny Clark Weather Links


Current Month Tide Chart for Ogunquit


2007 Accommodations & Services In Ogunquit Area
The fishing trip on May 2, 2021 was probably our best trip of the season so far. We caught more haddock than any other trip, we caught our second halibut of the year and the boat pool was won with our first porbeagle shark of the season. Of course, that makes it our largest porbeagle shark, also called a mackerel shark, of the season as well. Shown right in a digital image taken by Captain Ian Keniston, the 153 pound shark can be seen on the deck of the Bunny Clark , the tail held by the angler who caught it, Marty Buskey (NY), in the orange oil gear on the left and deck hand trainee, Kai Rosenberg. Marty was fishing with a jig on the bottom when the shark hit. These sharks more often hit a fish hooked on a line as it's coming up from the bottom and end up getting hooked themselves. This shark hit a bare jig as close to the bottom as a jig can be. Marty, at first, thought he had a halibut on his line as the first five to ten minutes of the fight the fish kept running straight to bottom as a halibut would do. However, after it was more than half way off the bottom, the shark started to make circles, denoting the same behavior patterns as a hooked pelagic fish, as it was. At this time of year that can only mean one thing; a porbeagle shark was on the line. The fight took Marty just shy of thirty minutes. The rest is history. During a season we hook many of these sharks. Most get lost or break off well before they are brought close enough to gaff. It takes a fair amount of time to land one, during which, no one else can fish. So we limit the amount of time an angler can fight one to an hour. The porbeagle is not a target species on the Bunny Clark . We do not encourage people to bring shark rods specifically to catch them. However, if one does get hooked we encourage the angler to land it - as long as it doesn't take too much time. A mackerel shark does count in the boat pool. And they are a very good eating fish, reminding one of the most tender swordfish steak you have ever eaten, with some exceptions. Marty couldn't fish with us last year due to Maine state imposed restrictions due to the coronavirus. So I think he directed all this pent up energy to hook and land this shark. He was also the angler who caught the sub-legal halibut. The haddock limit was just a couple fish shy of being caught. So catching the shark and splitting up the shark steaks to all the anglers aboard was certainly a bonus. It's always great to have Marty aboard the Bunny Clark . But it's just a little bit better when he preforms as his did on this trip. Special fish like Marty's are the kind of fish we like to see caught on the Bunny Clark .
Captain Tim Tower text & photo - unless otherwise noted


For information and reservations, telephone: 207-646-2214

For information and reservations:
Call: Bunny Clark, Corp. at - 207-646-2214
Write (Mailing Address): Tim Tower, P.O. Box 837F, Ogunquit, Maine 03907-0837
GPS Location to the dock: 70 Perkins Cove Road, Ogunquit, Maine 03907
Email Address (click here): bunnyclarkdsf@gmail.com
Schedule & Rates
Information & Boat Rules
For a Link To Our Favorite Restaurants, Please Click To Visit:
Barnacle Billy's and Barnacle Billy's etc.




Ogunquit, Maine.



Parts of all these Bunny Clark, Corp. web pages and, indeed, most of the innovations, means to ideas and tons of help came from Chamber Works, Inc. All rights reserved. If anybody in the world is interested in the internet, web pages or ideas for computer displays, kiosks and advertising, these are the companies to go with. Bank on it, baby! Best Fishes, Tim Tower.