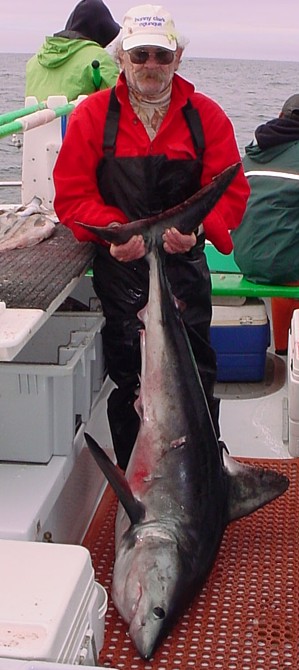 The F/V Bunny Clark (edited May 16, 2014)


Map, Directions & Location (Edited Feb 1, 2007)


Captains & Crew (Revised Feb 1, 2007)


2019 Season Reservations, Rules & Info. (Revised Jan 4, 2019)


2019 Season Schedule & Rates (Revised Jan 4, 2019)



Bunny Clark Guestletters (New Guestletter added Feb. 5, 2019)



"Tim Reidsema, Lee Dykas, Jason Ridolfi & Dennis Pietro" Photo Gallery (May 20, 2006)


Short Bunny Clark Fishing Videos(New Mar 6, 1997)


2010 Moon Phases (Revised Jan 30, 2010)


The Best Charter Boat in the World!


The New England Herring Problem (Who is taking our baitfish?)


Federal, State & Private Fishery Regs & Links


Favorite Bunny Clark Weather Links


Current Month Tide Chart for Ogunquit
(The Portland tide is the closest match (within two minutes) to the Ogunquit tide schedule)


2007 Accommodations & Services In Ogunquit Area
The digital image on the right is a shot of Bob Mayer (ME) holding his 101 pound porbeagle (mackerel) shark that he caught on the marathon trip of May 30, 2019. This is the first porbeagle shark that has been landed on the Bunny Clark this season. It may be the only porbeagle shark that gets landed on the Bunny Clark if the season continues to go as it has been going. Maybe it's the colder than normal surface water. Or it could be the bait source. Or maybe the population of porbeagle sharks is huge. Whatever it is, we have seen more this year than I can ever remember. There have been several times where they have been as thick as blue sharks, enough so that I had to move the boat on several occasions. And, yet, we haven't been able to boat even one of them until Bob boated his. Partly it's because the sizes of these sharks has been above normal and Bob's was one of the smallest sharks we have seen this year. Bob has had many experiences losing porbeagle sharks. The most notable example was two seasons ago in May when he lost one that was about 250 pounds along side the boat. That fish ended up breaking Bob's line before we were able to gaff it. Later that year, Bob broke off what should have been our largest halibut ever. We didn't remind him of his porbeagle loss too many times that day! But we have lost many porbeagle sharks over the years. The porbeagle is a species of shark in the same family as the mako and the great white. All of those sharks share a reverse circulatory system which allows them to maintain a constant body temperature within about eight degrees, the only family of sharks designed that way morphologically and physiologically. They aren't warm blooded but they do "thermoregulate" like the bluefin tuna. Often times called a cold water mako, the porbeagle usually moves with the colder water and are replaced by the mako and, later, the great whites as the season moves toward late summer early fall. As a kid, I saw many caught in mackerel nets along the shore. In those days nylon was a brand new material. The softness of this material would allow the shark to roll up in the net like a cocoon. Regardless, whenever we land one it is something very exciting. They are also very good to eat, which is why we bother to boat them in the first place. Special fish like Bob's are the kind of fish we like to see caught on the Bunny Clark .
Captain Tim Tower text & photo - unless otherwise noted


For information and reservations, telephone: 207-646-2214

For information and reservations:
Call: Bunny Clark, Corp. at - 207-646-2214
Write (Mailing Address): Tim Tower, P.O. Box 837F, Ogunquit, Maine 03907-0837
GPS Location to the dock: 70 Perkins Cove Road, Ogunquit, Maine 03907
Email Address (click here): bunnyclarkdsf@gmail.com
Schedule & Rates
Information & Boat Rules
For a Link To Our Favorite Restaurants, Please Click To Visit:
Barnacle Billy's and Barnacle Billy's etc.




Ogunquit, Maine.



Parts of all these Bunny Clark, Corp. web pages and, indeed, most of the innovations, means to ideas and tons of help came from Chamber Works, Inc. All rights reserved. If anybody in the world is interested in the internet, web pages or ideas for computer displays, kiosks and advertising, these are the companies to go with. Bank on it, baby! Best Fishes, Tim Tower.