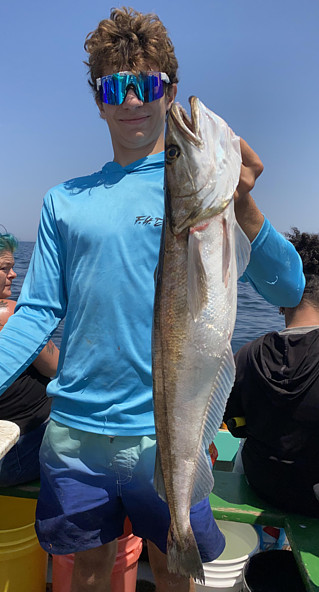 The F/V Bunny Clark (edited May 16, 2014)


Map, Directions & Location (Edited Feb 1, 2007)


Captains & Crew (Revised Feb 1, 2007)


2023 Season Reservations, Rules & Info. (Revised Jan 3, 2023)


2023 Season Schedule & Rates (Revised Jan 3, 2023)



Bunny Clark Guestletters (New Guestletter added Jan. 30, 2023)



"Tim Reidsema, Lee Dykas, Jason Ridolfi & Dennis Pietro" Photo Gallery (May 20, 2006)


Short Bunny Clark Fishing Videos(New Mar 6, 1997)


2010 Moon Phases (Revised Jan 30, 2010)


The New England Herring Problem (Who is taking our baitfish?)


Federal, State & Private Fishery Regs & Links


Favorite Bunny Clark Weather Links


Current Month Tide Chart for Ogunquit


2007 Accommodations & Services In Ogunquit Area
The picture on the right, taken by Captain Ian Keniston, is a digital image showing Clinton Sousa (NH) holding up his 4 pound 8 ounce Maine state trophy whiting landed on July 20, 2022. This fish is tied with the fifth largest whiting ever caught on the Bunny Clark . Clinton's whiting was the second largest fish caught on Captain Ian's full day trip that day. Called a silver hake in most official documents the International Game Fish Association's all tackle world record whiting comes in at 6 pounds 12 ounces. Caught by John Kapeckas on June 20, 2019 it was landed not fifteen miles south of Perkins Cove. Since that time, the all tackle world record was held by Erik Callahan (RI) who caught his 5 pound whiting with me in August 8, 1995 on the Bunny Clark . He held that record until John Kapeckas bested him in 2019. We caught a larger whiting in 2018 on another trip run by Captain Ian Keniston but the angler who caught the fish had no desire to register it. The whiting is not much of a fighting fish but, then, they don't get very big anyway. The minimum acceptance weight for a Maine state trophy silver hake is 3 pounds. The whiting is an excellent fish to eat. Part of the hake family, it's meat is very delicate and flavorful, one of the most delicious fish caught in the north Atlantic ocean, my opinion. It used to be used exclusively in fish sticks found on the shelves in super markets. Fish sticks were delicious in those days. At one point in the past, the whiting became overfished to the point where it became more economical to use pollock instead of whiting for fish sticks. Fish sticks never tasted as good after that. Instead of Gorton's whiting fish sticks, Mrs. Paul's pollock fish sticks became the standard. Now the whiting seems to be coming back, probably because the commercial fishing pressure has been much reduced on them. Mostly landed by trawlers, the number of these vessels have been greatly reduced over the years. In some cases, the whiting are found in the closed commercial fishing areas where trawlers aren't allowed to fish anyway. Since the return of the whiting, recreational fishing vessels have been seeing larger and larger individual whiting. For me, it's great because it's just another species of fish that we can expect to show our angling patrons. It's just that much better that they are so good to eat. Special fish like Clinton's are the kind of fish we like to see caught on the Bunny Clark .
Captain Tim Tower text & photo - unless otherwise noted


For information and reservations, telephone: 207-646-2214

For information and reservations:
Call: Bunny Clark, Corp. at - 207-646-2214
Write (Mailing Address): Tim Tower, P.O. Box 837F, Ogunquit, Maine 03907-0837
GPS Location to the dock: 70 Perkins Cove Road, Ogunquit, Maine 03907
Email Address (click here): bunnyclarkdsf@gmail.com
Schedule & Rates
Information & Boat Rules
For a Link To Our Favorite Restaurants, Please Click To Visit:
Barnacle Billy's and Barnacle Billy's etc.




Ogunquit, Maine.



Parts of all these Bunny Clark, Corp. web pages and, indeed, most of the innovations, means to ideas and tons of help came from Chamber Works, Inc. All rights reserved. If anybody in the world is interested in the internet, web pages or ideas for computer displays, kiosks and advertising, these are the companies to go with. Bank on it, baby! Best Fishes, Tim Tower.