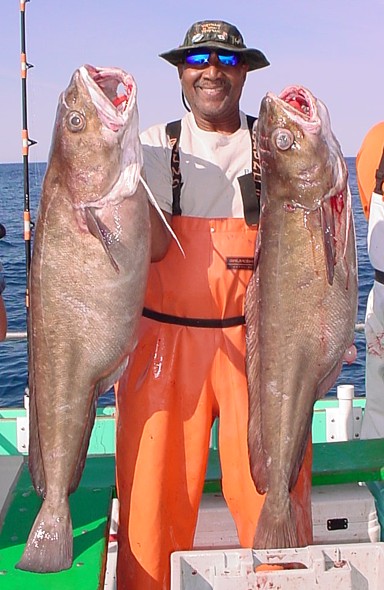 The F/V Bunny Clark (edited May 16, 2014)


Map, Directions & Location (Edited Feb 1, 2007)


Captains & Crew (Revised Feb 1, 2007)


2019 Season Reservations, Rules & Info. (Revised Jan 4, 2019)


2019 Season Schedule & Rates (Revised Jan 4, 2019)



Bunny Clark Guestletters (New Guestletter added Feb. 5, 2019)



"Tim Reidsema, Lee Dykas, Jason Ridolfi & Dennis Pietro" Photo Gallery (May 20, 2006)


Short Bunny Clark Fishing Videos(New Mar 6, 1997)


2010 Moon Phases (Revised Jan 30, 2010)


The Best Charter Boat in the World!


The New England Herring Problem (Who is taking our baitfish?)


Federal, State & Private Fishery Regs & Links


Favorite Bunny Clark Weather Links



Current Month Tide Chart for Ogunquit


2007 Accommodations & Services In Ogunquit Area
Every year I hold a special offshore trip for some of my best regular anglers, some of whom have been fishing with me since I started taking anglers in 1975. By the way, one of those fishermen, David Gray (VT), couldn't make this trip because he had planned to have some dental work done. We missed him! Called the Ultra Marathon, the trip is designed around discovering new fishing spots, catching big fish and taking chances where it wouldn't be accepted on other trips. This mainly because you might not get any fish! And this has happened before. This year's Ultra was anything but. There were plenty of fish caught, many big fish and we saw things that we might not see again for some time. One thing we did see is quite a few larger than normal white hake. One of the hake, caught by Steve LaPlante (CT), weighed 54 pounds. Oddly enough anther angler, Steve Selmer (NH), caught a 54 pound hake on last year's Ultra that became the International Game Fish Association's all tackle world record. Theoretically, that could have happened on this year's Ultra, July 9, 2019. But chances were so slim as to be not worth going through the trouble. Regardless, both hake are the largest two hake we have seen on the Bunny Clark since Tom Giorgio (NY) caught a 55 pound hake with me during the summer of 1985. Lewis Hazelwood (MA) had a great day on this year's Ultra with the hake. In the digital image on the right, he can be seen holding holding up two white hake, one in each hand. He caught both those fish as a double, both hake caught on the same line at the same time! I record all our biggest doubles of the year, the top five get placed in my newsletter after the season is over. It is highly unlikely that anyone will beat Lew's double this season. Lew has been a regular angler of mine for many years. He usually fishes with his "dory mate", Tim Rozan (ME), who was also on the Ultra this year. In fact, Tim caught the only halibut at 30.5 pounds. His fourth out of the last three Ultras he has attended. Other feats of angling prowess included Adam Towle's (NH) 29 pound Maine state trophy cusk (tied for the Bunny Clark's tenth largest cusk ever caught) , Bryan Lewer's (FL/ME) first monkfish and Mark LaRocca's (NY) largest white hake at 43 pounds. It is a trip of anticipation that usually pans out but, on occasion, doesn't. And the best thing about it is that whatever happens, these anglers know that I'm trying my best to give them something special, regardless of the outcome. That makes this trip something I look forward to every year. Special fish like Lew's are the kind of fish we like to see caught on the Bunny Clark .
Captain Tim Tower text & photo - unless otherwise noted


For information and reservations, telephone: 207-646-2214

For information and reservations:
Call: Bunny Clark, Corp. at - 207-646-2214
Write (Mailing Address): Tim Tower, P.O. Box 837F, Ogunquit, Maine 03907-0837
GPS Location to the dock: 70 Perkins Cove Road, Ogunquit, Maine 03907
Email Address (click here): bunnyclarkdsf@gmail.com
Schedule & Rates
Information & Boat Rules
For a Link To Our Favorite Restaurants, Please Click To Visit:
Barnacle Billy's and Barnacle Billy's etc.




Ogunquit, Maine.



Parts of all these Bunny Clark, Corp. web pages and, indeed, most of the innovations, means to ideas and tons of help came from Chamber Works, Inc. All rights reserved. If anybody in the world is interested in the internet, web pages or ideas for computer displays, kiosks and advertising, these are the companies to go with. Bank on it, baby! Best Fishes, Tim Tower.